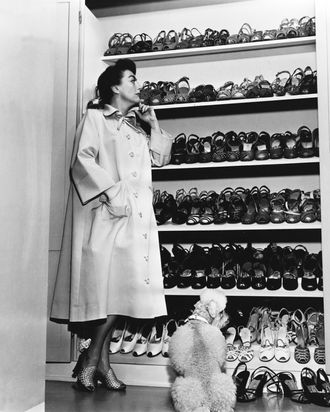 Joan Crawford's shoe collection.
Photo: Hulton Archive/Getty Images
I spent the bulk of my 20s visiting a pair of Frye harness boots at my local Nordstrom store. I'd stop in and pet them at least once a week until I finally got a real, grown-up job as a costume designer that allowed me to splurge on them. That was over 20 years ago, and those boots are still going strong — partly because they're very well made, but also because of the care and attention I've lavished upon them. I've taken better care of those boots than most children I've babysat for, and it shows. Not many people realize it, but almost every leather product you own can benefit from regular cleaning, conditioning, and care. If your fancy all-leather items (jackets, belts, bags, boots, or shoes) tend to look drab and dull after a fair amount of use and you're considering ditching them, don't — they probably just need a little TLC.
My personal handbag and boot collection has reached the triple digits over the years (I would very much not like to share the actual number with the class), and I've kept them all in tip-top shape by being a dedicated user of the products below. It took a lot of trial and error to figure out what really works — and what should never come within a country mile of your fancy leather goods.
One caveat: Unless otherwise noted, these products are only meant to care for smooth, pebbled, or untreated leather (such as vachetta, also known as the light-colored leather found on the handles of Louis Vuitton bags that takes on a patina with age). They aren't meant for use on suede or patent leather — I have a special secret for those that I'll share at the bottom of this post.
Leather bags and shoes are obviously more resistant to dirt than fabric versions, but that doesn't mean that leather can't still get filthy. It's never a great idea to subject leather items to a soap-and-water cleaning, but using a little leather cleaner will work wonders. If you spend much time trolling the PurseForum like I do (it's basically a giant chat room for half a million handbag addicts), you'll see that two leather cleaners reign supreme among users: Coach and Cadillac. I tried both of them on a pair of vintage Chanel bags that I scored that were super dirty and discolored, and let me tell you, those PurseBlog babes are dead right. These two cleaners are inexpensive, easy to use (apply with a soft cloth, let it sit for about a half-hour, then wipe off dirt and product residue with a clean, soft cloth, and you're done), and will remove far more filth from your shoes and bags than you ever realized was there — without damaging the leather at all. If your bags and boots are exposed on a regular basis to the salt that big cities use to melt snow and ice, frequent cleaning is a must — as salt can dry out and ruin your leather pieces in one single season.
The bane of everyone who has ever owned a light-colored handbag is color transfer. If you've ever carried a white or beige purse while wearing dark denim, you know what I'm talking about. The dye from clothing can do a number on your bag, and it's not always easy to remove. I like to use an escalating series of products to get it out, starting with the gentlest one there is, and bringing out the big guns only if necessary. In most cases, using the inexpensive, alcohol-free baby wipes from Simple Skincare is enough to get a fresh dye stain out of leather. Work the wipe into the leather in firm circular motions, then let it dry overnight to see how much it removed. (It may seem as if it didn't remove everything at first, but the stain will likely lighten up overnight as the product gets to work.)
If you're still stuck with a stain, kick your efforts up a notch by using a leather cleaning wipe. I like these by Lord Sheraton — they once got a shocking amount of denim dye out of a white Gucci bag I'd owned for exactly eight hours.
If all else fails, it may be worth giving the nuclear option a try: Hit the stain with a Mr. Clean Eraser, taking care to go slow — and don't use it any more than you need to in order to get the stain out, as it can tend to suck the oil out of leather. Conditioning afterward will help, but you always run the risk that your leather won't be quite as shiny as it was before.
Leather bags and shoes all started out life as a hide on an actual live animal, so they are prone to becoming dry, dull, and cracked — unless you keep them conditioned and moisturized. Some modern leather goods are already coated with a sealant that gives them an invisible, impenetrable barrier against drying out, but it can deteriorate over time — and you'll want to make absolutely sure that the leather underneath remains in good shape, so conditioning is still a must. My go-to product for conditioning high-end leather goods is Cadillac's Select Leather Lotion, and it was actually recommended to me by a sales associate at the famous 31 Rue Cambon Chanel boutique. Chanel likes to say that their leather items don't need any care whatsoever, but when pressed, this is the one they begrudgingly recommended. I use it on my fanciest handbags, prized leather motorcycle jacket, and small leather goods (like my wallet). This stuff brings back the smooth, supple feeling these items had when I bought them — and never leaves a waxy buildup. It literally sinks into the leather's pores and brings it roaring back to life.
For boots, shoes, belts, and larger leather travel bags that take a beating due to heavy use, I like this Moneysworth & Best all-in-one cleaner and conditioner — as it makes the whole maintenance process miles faster. I'm usually against two-in-one products for leather care, as they are either way too harsh or just don't do anything at all, but this one manages to be gentle yet effective at the same time.
A guiding strategic offensive principle of war is that the best defense is always a good offense, but it's also true in leather care as well. Another excellent product the PurseForum denizens turned me onto is Apple Brand's Gardé Rain & Stain Repellent (it's something the Cut's Diana Tsui has recommended), meant to be used before you ever take a new handbag or pair of shoes out for their inaugural spin. The word repellent is a bit of a misnomer, though, as no product can completely keep rain at bay; all you're really doing is improving the item's ability to withstand water. I like Apple's silicone-based spray over old-fashioned mink-oil-based waterproofers, as oil will almost always darken leather. Apply it in light coats using a wide, steady, sweeping motion, holding the can at least eight inches away from your bag or shoes, and allow it to dry a good 12 hours before using the item. It might look like it's darkening or spotting your leather as it dries, but it will eventually dry perfectly clear. You'll need to reapply it every year or so, depending on how much wear and tear your item gets.
Taking care of suede and patent leather is an entirely different animal than maintaining smooth leather. No cleaning fluid should ever be used on any suede item — your best bet is to gently brush any dirt or grime off using a stiff bristled brush. Patent leather is the most carefree leather there is: A brisk swish with a lint-free cloth is all most patent items will ever need, while minor scuffs can usually be removed with a cotton swab dipped in mineral oil — or with a brisk hit from a gum eraser. But the old wives' tale that a slice of white bread will remove scuffs from patent leather is totally false. An actor I once worked with on a military drama swore by this fix, so we tried it once — and wound up making sandwiches for each other with the leftover loaf of bread when we realized that it didn't work at all.
The Strategist is designed to surface the most useful, expert recommendations for things to buy across the vast e-commerce landscape. Some of our latest conquests include the best women's jeans, rolling luggage, pillows for side sleepers, ultra-flattering pants, and bath towels. We update links when possible, but note that deals can expire and all prices are subject to change.
Every editorial product is independently selected. If you buy something through our links, New York may earn an affiliate commission.