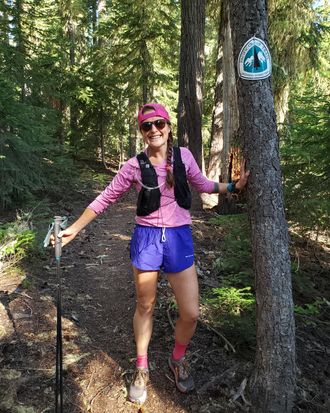 Welcome to On the Run, a Strategist column where we ask discerning runners to tell us everything they wore and brought on their most recent run, from shoes and socks to headphones and energy gels. Running-gear preferences are very personal and change depending on the season, so instead of declaring one pair of shorts or one sports bra the categorical best, we hope this series captures what works best for one particular runner on one particular run — and that maybe you can find something in it that works for you, too.
For this installment, I spoke with writer and runner Emily Halnon, who holds the record for the fastest known time running the Oregon section of the Pacific Crest Trail, covering 453 miles in seven days and 19 hours (or an average of 57 miles per day). Halnon took on the challenge in honor of her mother, who died of cancer last year. She ended up raising over $34,000 for the Brave Like Gabe foundation, created by the late professional runner Gabriele "Gabe" Grunewald to fund rare-cancer research. When she's not running, Halnon writes about her outdoors adventures in her newsletter, Trail Mix. Here, she shares everything she wore and brought on a 50-mile run in the Grand Canyon on a hot and sunny day this May.
While Halnon says everything she owns from women's running brand Oiselle is "high-quality and reliable," for running in the Arizona heat, she especially likes this "light and airy" tank top that keeps her as cool as possible. (For colder days, I'm a fan of the brand's long-sleeve shirts, which feature an ingenious "watch window" for viewing your GPS watch while keeping your hands warm.) "It's easy to want to support Oiselle," says Halnon, "because they're doing really important work in the running community driving conversations around social justice and equality." For example, last fall, the company organized a Womxn Run the Vote Relay, a virtual relay race raising money for Black Voters Matter.
"BOA is actually a short that I was first attracted to because they're so fun," says Halnon of the California-based brand known for its wild styles like trompe l'oeil denim or colorful donut-patterned running shorts. Both she and her friend Eli, who ran with her in the Canyon, wore BOA shorts on this run. "We both like to wear really fun things while we're doing these hard things because it reminds us that we're out there for fun, and that we can insert a lot of fun and joy into these really hard and rugged runs and adventures that we do," she says. Beyond their playful looks, Halnon adds that she's impressed with how these shorts can "hang for long distances," and she's worn them on runs as long as 100 miles. "They're so comfortable, they don't chafe, they're made of this flowy, barely-there fabric, and they've got a nice generous split on the side," she says.
Halnon admits that in her first 100-mile race, her socks were "an afterthought" and her feet paid the price. Afterwards, she made the effort to research and test out socks that wouldn't leave her with painful blisters and determined that Stance crew-length socks worked best. "For most long-distance runs, Stance socks do really well with my feet and [help with] avoiding blisters or any other foot issues," she says. These socks are also favorites of Harlem Run co-founder Amir Muhammad Figueroa and running coach David Roche.