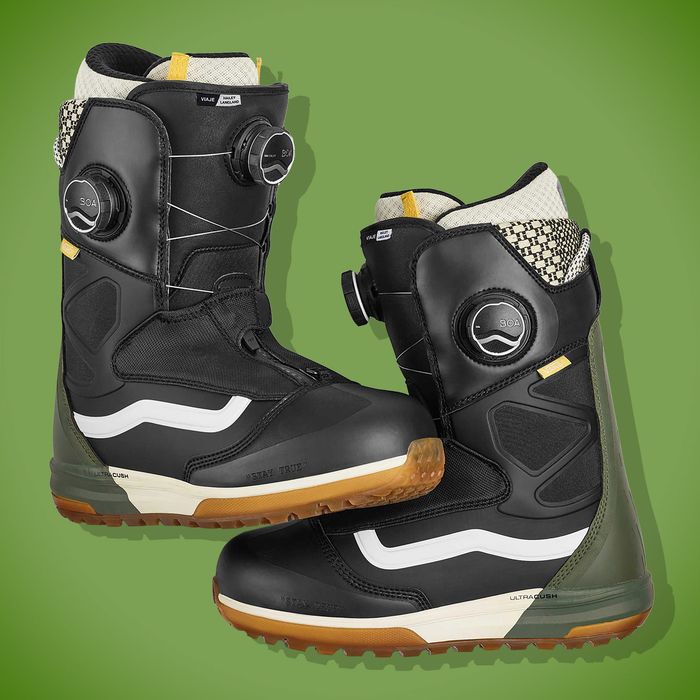 Photo: Courtesy of the vendor.
Last winter, after wearing a pair of poorly insulated boots to do a "skimo" (or ski mountaineering) course in my hometown of Crested Butte, Colorado, in 10 degrees Fahrenheit, I came down with a case of superficial frostbite. Days after the event, my feet were a patchwork of purple and white, with swollen, red-blistered digits. But my feet weren't the only thing bruised. As someone who grew up at 8,750 feet above sea level in Telluride, Colorado, I had spent decades snowboarding and skiing (and, more recently, splitboarding) before getting into skimo, so I was completely caught off guard when a piece of gear that I relied on before had failed me.
Once I recovered, this case of (debilitatingly) cold feet prompted me to begin a hunt for a better women's snowboarding boot that could hold up during both in-bounds riding and the daylong, off-piste splitboard trips I like to take. As a journalist who specializes in the outdoors, I relied on my knowledge from covering both products and sporting trends for initial research, before spending hours (safely) trying on contenders at REI's flagship store in Denver. One thing I learned? There are, in fact, only a handful of women's snowboard boots built to withstand the rugged backcountry and uphill climbing that are hallmarks of splitboarding; I found nearly three times as many men's boots in that category. Another thing: The best such boots come from a brand that might surprise you.
That brand is Vans, the iconic maker of sneakers beloved by skaters (and wannabe skaters) the world over. A few decades after it started outfitting skateboarders in the '60s, Vans debuted its first snowboard boot in 1993 and has grown a reputation in that space ever since. The Vans Viaje is a women's snowboard boot inspired by the men's Vans Verse. The Viaje's latest generation — the style I ultimately bought — purports to be its warmest and is constructed with the brand's so-called Heat Retention 360 technology, which is basically a heat-trapping layer that's embedded between the (removable) liner and outsole, beneath the foot, and wrapped around the entire toe box. The boots also have a set of waterproof valves on either side that allow airflow to help keep feet drier (and thus warmer). When it comes to support, there's an interior harness that holds the liner tightly in place and a soft, butterfly-style heel-hold to prevent heel lift. The boots' stiffness is rated as 6 to 9 (10 being the stiffest); it's a sliding scale because the Viajes come with removable plastic stiffeners that slip tightly into two perpendicular pockets inside each boot's tongue. And instead of traditional fabric laces, the boots have what's called a dual Boa lacing system made of thin wires that are easily tightened or loosed by dials.
You might be wondering: How do all these details translate into performance? For starters, that Boa lacing system means it's incredibly easy to make micro adjustments to my boot before I hit any slopes as well as a cinch to take them on and off. (There is even a waterproof fabric shield you can zip up over the bottom portion of the laces to prevent ice and snow from freezing or deteriorating them, which is key when splitboarding miles away from civilization.) I find the boots hit that sweet spot of being supportive without being restrictive; I always ride with the stiffeners, whether at a resort or in the backcountry, because that level of reinforcement works well for me. But my favorite feature of the Viajes is the liner, which is made of a proprietary fabric called FlashDry (it's actually designed by the North Face) that pushes moisture from sweat or snow or water to the surface of the liner instead of absorbing it. This means that whether I'm snowboarding at Crested Butte Mountain Resort at 7 a.m. in zero-degree weather or spending back-to-back days splitboarding in the backcountry, the boots not only insulate my feet but also dry fast — as in, overnight.
More
of
my
go-to
splitboarding
gear
While most people are pretty familiar with skiing and snowboarding, splitboarding, while not new, is ballooning in popularity amid the pandemic as a way to get outside — and away from people at resorts and in lift lines. While the Vans Viaje boots are versatile enough to snowboard or splitboard, there are a few more things you'll need specifically for the latter. The rest of my go-to splitboarding gear is below (and if you want to learn more about splitboarding, check out the Strategist's complete guide to it here).