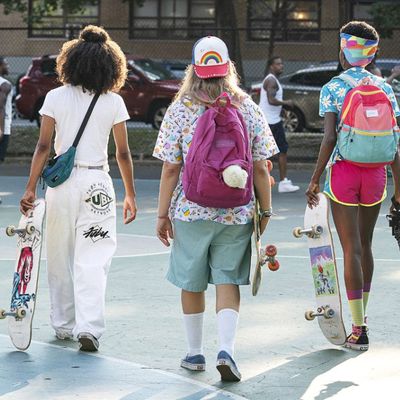 Maybe you've tried roller-skating, hiking, biking, and scooting and want a new outdoor activity. Maybe you watched a lot of Betty and got inspired. Or maybe you want a more fun way to get around the city. Whatever the reason, if you're looking to take up skateboarding, you might be wondering where to start with a sport that can get very technical very quickly (trucks and bearings, anyone?).
To help true skateboarding beginners get the hang of the sport, we talked to eight skaters, skateboarding instructors, and skate-shop owners about the best boards and gear you'll need. While you can certainly buy the right equipment online, every expert we spoke to says that paying a visit to a local skate shop is worthwhile not only to give you a more hands-on sense of equipment but also help build relationships within your local skating community. "Shops are going to be the local experts, not just in the gear but also in some of the community-based stuff, like places to skate and events," says Kevin Banahan, founder of the Brooklyn-based skateboarding school SKATEYOGI. Still, sometimes, as during a pandemic, you just can't make an in-person visit — so with the help of our experts, we've put together this guide to the best boards and accessories for beginners, all of which can be purchased online (or, of course, at a brick-and-mortar outfitter, for anyone who would rather). First up: the boards themselves, followed by all the extras the pros say will help you to perfect your new hobby.
A complete skateboard has six main components: the deck (or top of the skateboard, which is typically made of wood), wheels, trucks (which attach the wheels to the board), bearings, grip tape (which goes on top of the board), and hardware. If you wanted, you could put a skateboard together by getting each of these things from different brands or retailers. But Banahan admits that finding all the right parts to make your own can be difficult, "even for someone that's somewhat experienced." O'Neal Ellerbe, the founder of New York City's Skate Everything School, agrees — which is why the pros suggest beginners stick to what's called a pre-built complete skateboard, which comes with all the main components already installed, so you can just hit the pavement. "I would suggest going for a pre-built complete just so you can feel it out," says Ellerbe. (If you're an advanced beginner who wants some degree of flexibility, Kristen Howard, the co-owner of West Village skate shop Uncle Funkys Boards, suggests going for a customizable complete skateboard, which lets you choose all your own components once you've settled on a deck.)
Best overall skateboard for beginners
When it comes to a skateboard for beginners, four of our experts — Banahan, Ellerbe, Howard, and Lucy Osinski, the CEO and co-founder of Venice, California–based all-female skate collective GRLSWIRL — recommend going for a "cruiser" board because it's designed for riding around on pavement and even for light commuting (as opposed to doing tricks. But if you're looking for a skateboard to do tricks, keep reading). Howard says cruisers are popular among city dwellers because they have large wheels made of softer material that "get over bumps and cracks and things like that, making for a smoother ride." Adds Osinksi, "Big wheels are important for your first board."
Z-Flex's pre-built complete cruiser skateboards come recommended by Howard, who says the brand is one of the most popular at Uncle Funkys. "They have a variety of pre-built models and sizes," she says, like this model that's 29 inches long in a classic shape with soft wheels that are great for riding on streets.
Best (longer) cruiser skateboard for beginners
Banahan likes cruiser completes made by Globe. "I'm always happy with them when I get them in," he says. "They always have a nice setup." This one has a kicktail and is a bit longer than the Z-Flex at 32 inches. Generally speaking, the pros say that longer and wider cruiser boards provide more stability.
Best skateboard for beginners who want to do tricks
Rob Rodrigues, the founder of skate school SURE Skateboards, told us he prefers to start beginners out on "street" boards. He says they're "what you see the kids at the skatepark, or going down the street jumping up and down curbs, using." Also called "trick" skateboards, these have smaller, harder wheels, which Rodrigues says aren't the best for riding on streets "but are much better for learning tricks and doing different moves on smooth asphalt or concrete." He doesn't "recommend brands, because the shapes and sizes are pretty much in the same range across all companies," but he does say you should pay more attention to a street board's width. As Jose Portes, a co-owner of Homage Skateboards and Brooklyn's Homage Skateboard Academy, explains, "You don't want the board to be too small, where your feet are overhanging too much." Banahan says that, generally, "for an adult skater just starting out, our recommendation is an eight-inch board. It's easy to maneuver, and there's enough room to stand on."
Banahan and Howard told us they both stock and like the Powell Peralta brand of pre-built complete street skateboards. This particular one is eight inches wide, so it should accommodate most adult feet.
Best (less-expensive) street skateboard
Banahan told us he also likes pre-built complete street skateboards from Enjoi. "They're well built and also have nice, fun graphics that aren't your typical skate-and-destroy types," he says. "They've got pretty cool stuff, like with cats all over them, things that are fun." This one's a little narrower than the above Powell Peralta, at 7.75 inches wide.
While choosing the right skateboard involves some personal preference, all of our experts agree on the types of protective gear you should use when learning to skate. "The most important things are wrist braces," says Rodrigues. "People slip and they fall on their wrists and sprain them, so you really want to protect them." But your wrists aren't the only body part he says you'll want to safeguard: "If you're going to go to the skate park and do bowls and stuff, you're also going to need kneepads, elbow pads, and a helmet." Almost all those things (wrist braces, kneepads, and elbow pads) are included in this pack of protective equipment from Triple Eight — a brand nearly all of our experts cited as their go-to. "Triple Eight is a very popular brand that's very reasonably priced," says Rodrigues.
Echoing Rodrigues, Ellerbe says "a helmet is an absolute must" for beginner skateboarders. He recommends helmets by Triple Eight (he uses them personally and says they're "awesome"), and so do Rodrigues, Howard, Banahan, and Portes. According to Banahan, "this is a really good helmet that's certified for both biking and skating." That said, if you already have a bike helmet, Howard says you don't necessarily need to spring for a specific one to skateboard with (typically, helmets for skateboarding are smooth and rounded, whereas bike helmets tend to be more aerodynamic). "When somebody comes in and they already have a bike helmet, we'll tell them to just go with their bike helmet," she says.
If you're a new skater who is determined to master tricks, you might consider investing in these kneepads recommended by skater Ali Axelrod. She told us she started off using "cheaper pads" but upgraded to these when "I decided that I was kind of ready to skate bigger pools and stuff." While she admits "they're expensive," she promises "they're really thick," making them even more protective.
Skateboarding
accessories
While not entirely necessary, some things will make life as a skater even easier, according to our experts. One such thing is a skate tool, which comes in handy if you want to make adjustments to your board or eventually swap out its wheels. "It's never a bad investment," says Banahan, who adds that this affordable model will do the job.
Photo: retailer
"A good pair of flat-soled sneakers is going to be really helpful," says Banahan. Running sneakers, for instance, may have soles that are too thick or have a heavy tread, making it very difficult to ride a skateboard "because your foot would grip the board a lot." He adds, "A pair of Vans would be great. Anything with a flat sole is going to let your foot move around more."
This translucent waist bag allows Jazmine Hughes, a story editor for The New York Times Magazine and a self-proclaimed new skater, to ride hands free. "It's slung across my chest as opposed to around my waist, which still gives me room to throw my arms around when I'm pushing (and falling)," she says. It's also the perfect size to hold your skate tool, should you want to bring it with you.
The Strategist is designed to surface the most useful, expert recommendations for things to buy across the vast e-commerce landscape. Some of our latest conquests include the best acne treatments, rolling luggage, pillows for side sleepers, natural anxiety remedies, and bath towels. We update links when possible, but note that deals can expire and all prices are subject to change.