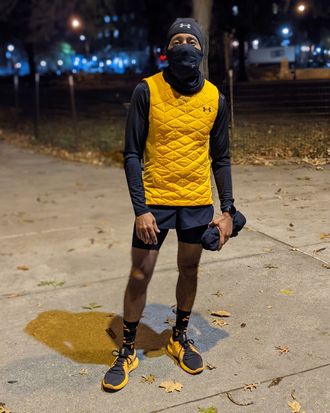 Photo: Amir Muhammad Figueroa
Welcome to "On the Run," a new Strategist column where we ask discerning runners to tell us everything they wore and brought on their most recent run, from shoes and socks to headphones and energy gels. Running-gear preferences are very personal and change depending on the season, so instead of declaring one pair of shorts or one sports bra the categorical best, we hope this series captures what works best for one particular runner on one particular run — and that maybe you can find something in it that works for you, too.
For this installment, I spoke with Amir Muhammad Figueroa, co-founder of Harlem Run, a marathoner and ultramarathoner, and a senior research associate with Lyell Immunopharma. He currently leads the run club remotely as he and his family relocated to Seattle at the beginning of the year. Here's everything he wore on a recent ten-kilometer run on a misty, rainy day in the high-40s.
As Figueroa is adjusting to the wet weather in the Pacific Northwest, he appreciates the Under Armour Fat Tire shoes because of their "really good grip" and Michelin outsoles — inspired by mountain-bike tires — that keep his feet dry even if he steps in a puddle. "They're one of my favorite pairs of sneakers to run or even just hang out in," he says, "because they're so versatile" and can easily be worn on roads or trails. The shoes were created for Under Armour by Yurri Mial, a young Black designer with whom Figueroa is friends, so he got an inside look on the process that went into the design.
Until recently, Under Armour sponsored Harlem Run, so Figueroa owns plenty of gear from the brand, like these pants he wore on this run (he likes how they're tapered at the ankles and roomier through the thighs). He also wore Harlem Run's fall marathon Under Armour shirt. Half of the proceeds from the shirt's sales benefit Black Lives Matter. "That's one of my favorite pieces," says Figueroa, who says the design (selected in a contest among the club's members) captures the club's spirit of social activism. "We're all about being socially conscious and activists in our community."
When it comes to running socks, Figueroa loves the unique designs and bright color options from Stance. "It's a great combo to go with my kicks," he says, adding that he prefers the crew-length ones.
Figueroa's running companion is his 19-month-old son, Kouri, who he carries in this jogging stroller. "My wife and I tried a few different ones out but we found with this one, the design is very sleek and the wheels are big and rugged, so it's a great road-running stroller," he says. "Anytime I go for a run, I grab my son and throw him in it. It's the only time I can give my wife a break, because she's at home during the day and I'm at work." The Bumbleride is certainly smooth, too, as Figueroa says Kouri will often fall asleep as soon as he starts running.