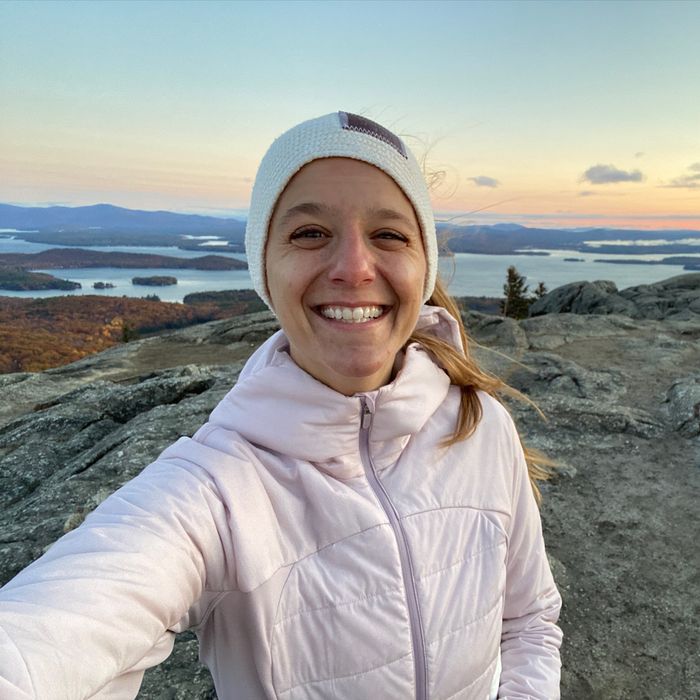 Welcome to "On the Run," a new Strategist column where we ask discerning runners to tell us everything they wore and brought on their most recent run, from shoes and socks to headphones and energy gels. Running-gear preferences are very personal and change depending on the season, so instead of declaring one pair of shorts or sports bra the categorical best, we hope this series captures what works best for one particular runner on one particular run. And that maybe you can find something in it that works for you, too.
For this installment, I spoke with Ali Feller, host of the Ali on the Run Show podcast, where she talks running with everyone from Olympian marathoner Meb Keflezighi to viral TikTok star (and runner) Mrs. Space Cadet. Here's everything Feller wore for a recent run: a seven-mile route on a cloudy, sub-20-degree February day on the trails near her home in New Hampshire.
"I've been running in Hoka Clifton since 2015 and have not done a single run in a different shoe since then," says Feller, who wears the same shoes on roads, trails, and the treadmill. "I like a lot of cushioning. I like that feeling of, 'I'm running on a springy cloud,' or, 'I'm running on the moon.'" After the minimalist running-shoe craze of the early 2010s, the pendulum swung back in favor of shoes with lots of soft cushioning, and the marshmallow-like Hoka One One Clifton is a standout in the category. We even called the Clifton a "status gym sneaker" after a collaboration with Outdoor Voices. With its high stack height (the material between your foot and the ground — a little over an inch in this case) and thick layer of foam cushioning, you'd expect it to be a heavy shoe, but it's actually surprisingly lightweight. "I got a new pair in the mail the other day, and my husband thought the box was empty — but there were two shoes in there," says Feller, who credits the Clifton with keeping her injury-free for the past six years. She pairs them with these socks, which she says are neither too thick nor too thin.
"I love the thick waistband," she says of these streamlined running tights. "It doesn't come up like too high, it just hits at that perfect right-at-the-belly-button spot." If you like Lululemon's Align tights (which lots of fitness people do), she says you'll also like the hugging sensation of these leggings, which are thicker than the Aligns so they can stand up to the high impact of running without pilling or chafing. "They're comfortable. There's nothing getting in my way. I don't adjust them when I'm running. I just pull them on, they sit up nice and high over my waist, and then I'm good until I take them off." Note: Feller is a Lululemon ambassador.
Feller admits that she initially had her doubts about this bra, which she received as part of a partnership with Tracksmith. "I am two years postpartum and my body's changed a lot since having a kid, which changed the type of bra I need," she says. "I like to feel very hugged, very kind of sucked in, and I don't like to move or bounce at all." At first glance, the Allston bra didn't seem like it'd be compressive enough, but after one run Feller was convinced, calling it "surprisingly supportive." She ended up buying two more. "All I care about in a sports bra is: Is it supportive? Is it comfortable? Does it chafe? And this checks all my boxes in the best way." She also likes that the bra has a pocket where she stashes toilet paper or paper towels in case she needs them mid-run.
"This is what I recommend to everyone who asks what to wear on winter runs," says Feller of this especially warm jacket that she saves for the coldest days. "I know that it's going to take me a mile to warm up on a run, but I don't want to have to do that," she says. "I don't want to not enjoy the first mile, and with this jacket, you're warm in a minute. You can also definitely wear it as an everyday jacket, too." She adds that it's great for traveling since "it packs up so small because it's actually really, really thin." Once the temperature climbs above 20 degrees, she'll swap the jacket out for the Down for It All vest