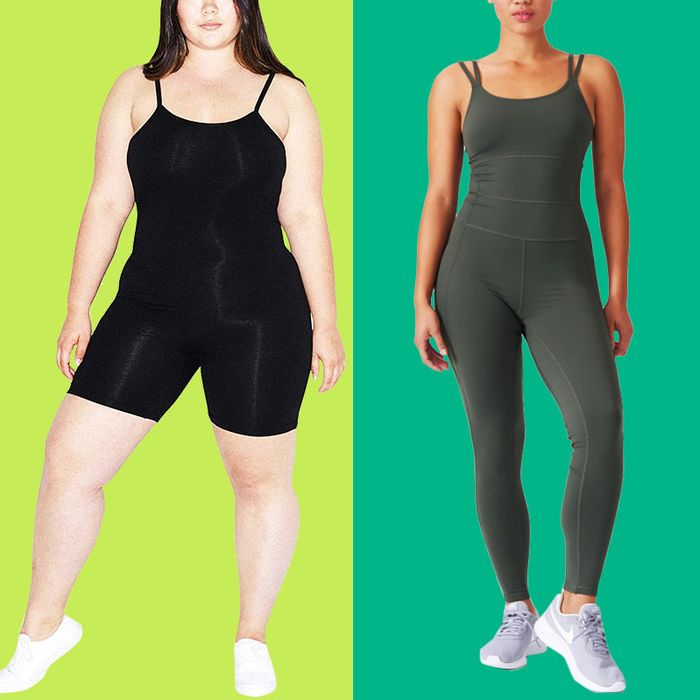 I'm not a Leggings Person. Sure, I've worn them to work out, but never for much longer than a workout itself. Upon returning home, I'd promptly peel them off and toss them into my hamper or onto the floor, where I'd grab them days later for the next workout. Still, leggings have never replaced pants for me, even when quarantine meant editing my wardrobe to include more clothes I could do everything in, whether I work from home, break a sweat, cook, lounge, or just stare at the wall.
Even though I don't like leggings, I can understand their do-it-all appeal: They're utilitarian, require no thinking, functional, and comfortable (comfort was never a reason I didn't take to wearing them). Searching for an equally capable alternative, these qualities were all top of mind when it hit me: What I needed was a unitard. I bought my first one when I started to cycle through boutique fitness subscriptions to pass the time. And, unlike my leggings, I did not want to take it off when I finished a class — a good sign. When I wore one for three days in a row, my mom gently suggested I buy another. And I did. Then I bought a third and then a fourth. While all unitards are generally comfortable enough to spend an entire day in, I have discovered each has some subtle differences — some are better for getting me through an evening Pilates class, while others are better for lounging on the couch and thinking about taking an evening Pilates class. Read on for all the unitards I own, as well as a few I want to add to my collection.
This is the unitard that kicked off my collection. After reading Strategist contributor Francine Maroukian's compelling review — in which she calls it "insanely soft, comfortable, and liberating" — it was hard not to buy one for myself. Maroukian is not wrong: At first wear, I was instantly hooked. This unitard is so lightweight that it feels like a second skin, which is why it's the bodysuit I reach for when I strap on my roller skates, or do Pilates, or indulge in a 20-minute Instagram Live dance break midafternoon. The nylon-Lycra blend allows me to move freely during more active pursuits, and because the fabric is also sweat-wicking and antimicrobial, there's really no need to take if off when I've finished. The other key details on this relatively unadorned bodysuit are a contoured double waistband and its seams (including one running along the upper rib cage), which provide support, help the fabric stay put, and add some style. It comes in both black and ivy green and, like all of Universal Standard's clothing, is available in size 00 to 40.
Photo: retailer
The Girlfriend Collective unitard is ever so slightly thicker than Universal Standard's, and its material is more compressive. Because of this, I feel more supported during more aerobic exercises like burpees, jumping jacks, and squats. While this unitard doesn't have a double waistband, it does have stitching along the back that subtly contours my derrière, which honestly just makes it look great. Girlfriend Collective also has the best color options, in my opinion, including black, midnight blue, moss, smoke, and plum, which reminds me of a perfectly ripe eggplant from the farmers' market. Though my dad said it reminded him of Barney. To each his own, I guess.
Photo: retailer
I never did manage to squeeze my thighs into a pair of Disco Pants before American Apparel went belly-up, so I found it lucky (not to mention surprising) to discover some authentic garments from the brand, like this unitard, still for sale on Amazon. Made from 92 percent cotton, this is the softest unitard in my collection by a mile. A shorter style, I appreciate how the hemline comes right to my mid-thigh and never rides up. Its stretchy fabric, spaghetti straps, and low back make it my favorite for lounging on my couch and sunbathing outside with a book. Though those same design elements mean it's only supportive enough for light stretching, not any real workouts. I bought it in black, but because it's price is genuinely affordable, I now have my eye on the white.