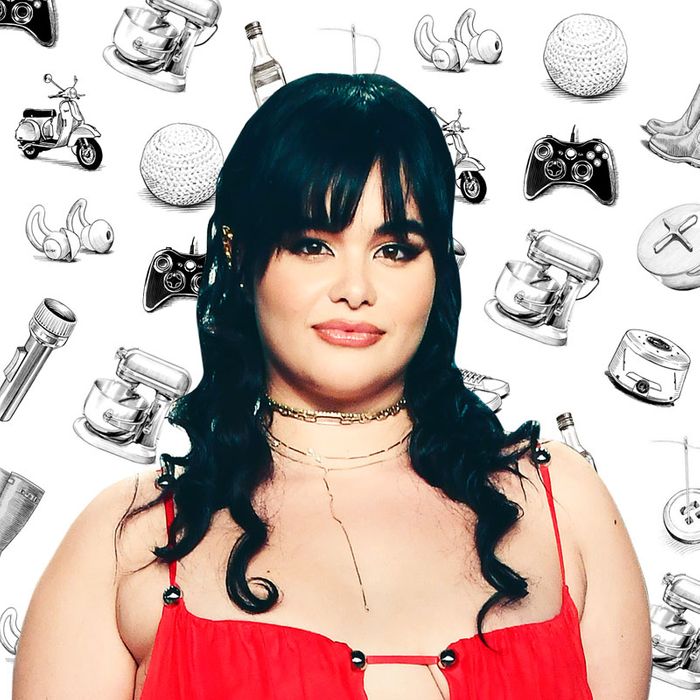 Photo: Getty Images / Frazer Harrison
If you're like us, you've probably wondered what famous people add to their carts. Not the JAR brooch and Louis XV chair, but the hand sanitizer and the electric toothbrush. We asked Euphoria star and model Barbie Ferreira — who was recently named the first face of Becca Cosmetics — about the cat sweater, workout jumpsuit, and air purifier she can't live without.
Pretty much every morning, I go to La Colombe and get an oat-milk draft latte. I'm a regular and they know my order. The day they started making the draft latte in a can with oat milk was the best day ever. When I go in the morning, I get one from the barista and a can for later. I swear it is the best coffee in the world; they have all these flavors, like caramel and vanilla. I definitely could drink it all day, but I try not to drink too much coffee — one or two La Colombe draft lattes a day is normal for me, but it can go up to four if I'm working all day and have access to the coffee.
My mom freaking hates incense or anything that leaves a fragrance in the house, but I'm kind of the opposite. I'm really into aromatherapy, and I always have a whole bunch of candles and incense around. I also have two cats that get a little stinky sometimes, so this helps with that. I prefer smoky smells more than, say, the smell of essential oils, so I buy a lot of sage and the Nag Champa incense. The Nag Champa is my favorite. I used to sneak it into my room, and my mom would say, "Are you smoking weed in there?" And I'd say, "No, mom, I'm lighting incense, you're crazy." She just really hated the smell of it. As soon as I moved out, I could light as much incense as I wanted without getting yelled at. It was incredible.
I have seven or so P.F. candles in a bunch of different sizes. I don't ever just have one candle sitting by itself — I always group two or three of them together because the smell is stronger. The Sandalwood Rose scent is a bit more subtle than the incense sticks. It has a different vibe, and I like it for different moments. Surprisingly, I have a really hard time finding a candle smell that I like. So when I find one, I stick with it. I love the smell of roses — it's one of my favorite scents — but finding a rosy smell that's not so perfume-y is hard. It's hard to explain, but when I first laid my nose on this candle I was like, "Okay, she's really good." And I got the linen spray too because I was like, "I want everything to smell like this." I have Sandalwood Rose ones throughout my house, but in my bathroom I have P.F.'s Amber and Moss candles, because I love to throw a little curveball.