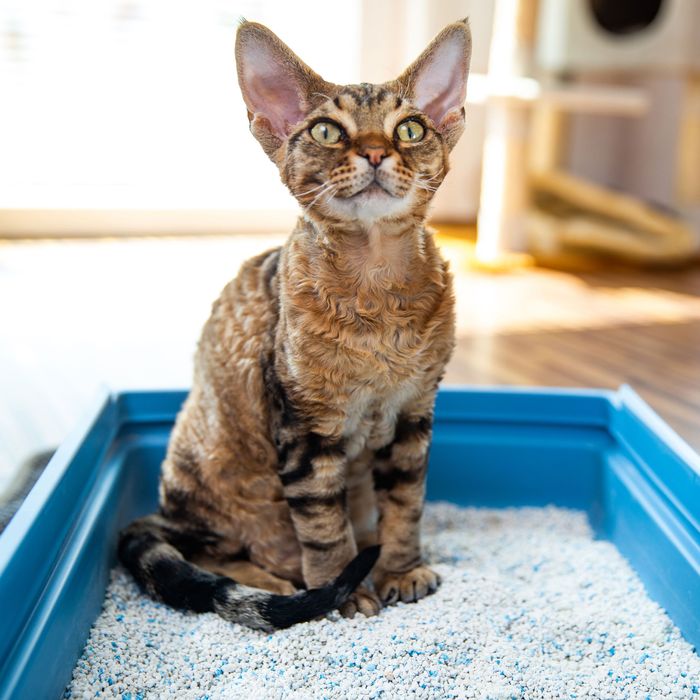 Photo: Casarsa Guru/Getty Images
Unlike dog parents, who have to remember leashes, harnesses, treat pouches, and even rain boots when their pup needs a bathroom break, cat owners have it much easier with litter boxes. Well, that is if your cat even wants to use it. What works for one cat might not work for another, explains Dr. Rebecca Greenstein, the veterinary medical adviser for pet-sitter site Rover. "This is true for everything from treats to toys to litter and litter boxes." As Stray Cat Social Club founder Scott Bleicher previously told us, "Just like people, they want to be comfortable when nature calls" — but they'd prefer to do so without getting their paws dirty. For their owners, litter boxes can be rife with problems, including odors and dust. But those issues can be fixed with the right cat litter.
There are tons of options out there, which makes finding the right one tricky — especially when many are marketed as odor-controlling or formulated with clay. Jessica Herman, a veterinarian with Fuzzy Pet Health, echoes Greenstein in saying that cats are "very finicky creatures," meaning that "it can take trial by error to figure out what type of litter your feline friend will enjoy." She even suggests leaving out boxes with different litters to see what your cat prefers. But for most cats and their owners, a clumping litter is the best option, according to Carly Fox, a staff doctor at Animal Medical Center. "It allows for easy removal of urine and feces and you don't have to dump the whole box of litter — just scoop up the part that's soiled and then replace as needed," Fox says, adding that studies have shown cats prefer unscented, clumping litter.
So avoid litter that promises an odor-masking scent. Those can be a turnoff because cats have a very acute sense of smell, which is why many experts say the best way to avoid a stinky box is through regular scooping. "Don't make your litter work hard to control odors," says Nora Wood, an adoption-event coordinator with Anjellicle Cats cat rescue. "Scoop every chance you get regardless of whatever type you are using." Laura Pletz, a veterinarian and scientific services manager for Royal Canin, agrees that unscented is best for many cats. "I find that most cats like the finer, clumping litters as well," she says. This was seconded by Dr. Zay Satchu, chief veterinary officer at Bond Vet, who also adds that it isn't the end of the world if you don't have a small-size litter: "They will also be partial to use what they have been trained to use." Cats are creatures of habit, after all.
As Cathy Bosley, a certified feline training-and-behavior specialist and administrative assistant at the Best Friend Animals Society Sanctuary's Cat World, puts it: "No one really enjoys using porta-potties, and if the litter box is not cleaned regularly, that is how it smells to a cat." Still, some litters are better than others at controlling odor, minimizing dust, and appealing to picky kitties. Below, our panel of experts break down the best litters for all types of cats.
Best overall cat litter
Unscented, clumping, and made from corn kernels, World's Best lives up to its name and is a favorite of both Bosley and Kerrie McKeon, resident cat expert at the animal welfare and adoption organization Bideawee. McKeon likes that it doesn't produce as much dust as other litters and that it's long-lasting. "It's clumping, it's natural, and I have asthma and allergies and it doesn't set anything off for me," she says. "If you scoop it morning and night, a bag gets you through quite a while." Bosley agrees, saying that of all the litters her shelter has tried, World's Best "cuts down on the odors best."
[Editor's note: you can also find the 15-pound version of this litter at Target.] 
Best lightweight cat litter
Because she has three litter boxes at home, Angie Krause, a holistic veterinarian and consultant for I and Love and You pet food, really likes that this lightweight litter is easy to maneuver. While her cats — one in renal failure and another with irritable bowel disease — use the litter box more than most, she says this litter is just as good for owners of healthier cats who simply don't want to lug around heavy bags of litter. This also offers "the best odor control" of a lightweight litter, according to Krause. Tidy Cats is a convenient option for veterinarian Elizabeth Bales who reaches for the brand at her local shops. Bosley is another fan of Tidy Cats litter because it's unscented and won't bother cats with allergies.
Best cat litter for litter-box training
For a cat who isn't using the litter box — or is learning to use one as an adult — this litter contains a proprietary blend of herbs that, much like catnip, lures felines in. McKeon promises, "I've actually seen it in action and it does work." When her shelter rescued a large group of cats that had never used litter boxes before, she says they put Cat Attract in all of their boxes and "no one ended up needing meds to use a litter box, they all eventually learned how to use it." Krause agrees this litter can be a huge help for cats with behavioral issues, but she does advise to check with your vet before purchasing, to ensure your cat isn't avoiding the box due to illness.
Best low-dust cat litter
Just like humans, some kitties are asthmatic and therefore sensitive to dust. For these cats, experts recommend looking for a low- or no-dust litter. "Imagine trying to use the bathroom in a dust storm," says Bosley. "Not fun." Litter that produces a lot of dust when cats dig in it and kick it up can also be unpleasant for humans, too. Bosley says Arm & Hammer's Clump & Seal litter is as close as it gets to being totally dust-free. Plus, it's great for managing odor, she says.
Best environmentally friendly cat litters
Traditionally, clay cat litter isn't particularly environmentally friendly, and there's been a recent rise in corn, grain, and walnut litter, according to Satchu. If you're looking for an environmentally friendly litter, Heike Klassman, an adoption-seminar leader with Anjellicle Cats, seconded finding one of the biodegradable variety and likes this blend, which features of naturally odor-controlling hinoki (cypress) wood and green tea. She likes that it's flushable and doesn't contain sodium bentonite, an additive common in clay clumping litters that "can be dangerous if litter is being licked or swallowed," she says.
Another biodegradable (and flushable) litter, this one is made from wheat and comes recommended by Bosley, especially for cats who are sensitive to scents or dust.
Best cat litter for multi-cat households
Both Satchu and Bleicher recommend this litter. "If you have more than one cat in the house, you should consider multiple boxes. Ideally, pet owners should have one box for every cat plus one," explains Satchu. Bleicher says he can live with up to ten cats at a time (both his own and fosters) — and knows full well that more cats means more litter maintenance and more potential headaches. Like most experts, he prefers clumping litter because it's "the easiest to scoop and the best at containing odors," and particularly likes this "multi-cat strength" formula. He notes that it "contains one ingredient — natural clay — [and] no added dyes, perfumes, or chemicals," making it more likely to work for a group of cats with different needs and preferences.
Best non-clumping cat litter
While clumping litter is usually the easiest to deal with, there are some cases when you'll want to use a non-clumping variety. Fox explains that clumping litter can stick to and irritate incisions in cats who've recently had surgery (including spaying and neutering), and that it doesn't let you monitor urine output, which is important when caring for diabetic cats. In these situations, she recommends Yesterday's News, which is "basically newspaper in pellet form — it won't stick to incisions [and] allows the urine to sit on the bottom" of the box for easier monitoring. It's also what shelters use for newly spayed or neutered kittens; for instance, at Bideawee, McKeon says they're "using it for a cat with skin issues because it's hypoallergenic" and doesn't produce any dust.
Best crystal cat litter
Pretty Litter, which is made from silica gel crystals that actually absorb liquids instead of clumping, is a personal favorite of Karen Adelson, one of the writers of this story. This means you only have to scoop solid waste, which you can easily flush away. Compared to other litters she has tried, it's far less smelly and doesn't generate as much dust. The crystals also help monitor your cat's health as they change color in reaction to different chemicals in urine that may indicate bladder or kidney disease. The brand is part of a new generation of so-called "smart" litters, Greenstein says, for that very reason. But Greenstein also mentions that "while these new-wave litter options are definitely a step in the right direction for conscientious cat owners, they're best used as a screening tool."
Best litter deodorizer
So this isn't technically a litter, but since contributor Julia Gomez Kramer raved about this eliminator, we felt the need to include it for the cat owners who don't want their homes to smell like their cats. Kramer, who has two cats named Tuna and Salmon, had tried odor-absorbing balls, deodorizing powders, and even charcoal filters before. But this deodorizer was the winner: "When I use it, the litter box smells more like nothing than anything," she says.
The Strategist is designed to surface the most useful, expert recommendations for things to buy across the vast e-commerce landscape. Some of our latest conquests include the best acne treatments, rolling luggage, pillows for side sleepers, natural anxiety remedies, and bath towels. We update links when possible, but note that deals can expire and all prices are subject to change.