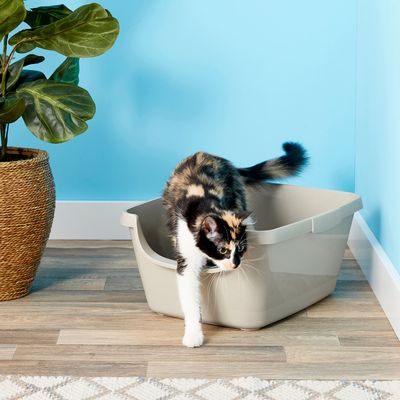 Photo: Courtesy of the retailer
If you've ever owned a cat, you know they can be very opinionated — especially when it comes to litter boxes. "Just like people, they want to be comfortable when nature calls," says Stray Cat Social Club founder Scott Bleicher. "Which, for a cat, means having enough room to enter the box, dig around for the perfect spot, assume a comfortable, relaxed position, and cover their business without dirtying their paws."
Choosing a box that's too small, hard to enter, or makes your cat feel confined can lead to litter avoidance issues that'll stress out both you and your kitty. Still, cat owners have their own preferences when it comes to a box's size, appearance, and maintenance. So to find boxes that will make both cats and their owners happy, we asked seven vets and animal rescue pros for their top picks. And, no matter the box you choose, all of the vets we spoke with say it's best to have one for each cat you own (space permitting, of course).
Best uncovered litter boxes
This basic litter box is a workhorse in animal shelters, and comes recommended by both Kerrie McKeon, resident cat expert at the animal welfare and adoption organization Bideawee, and Cathy Bosley, a certified feline–training and behavior specialist and administrative assistant at the Best Friend Animals Society Sanctuary's Cat World. McKeon says it's "always safest to go with a large, uncovered box," and she likes that this one has a low step-in area for easy entry, but higher sides to keep litter inside the box for cats who kick it up when they're digging, or male cats who "pee high." Bosley agrees uncovered boxes work for most cats, as they like to "see what's going on around them." "If the box is uncovered, then they will not feel trapped and they will be more likely to use the box," she says.
Although Dr. Angie Krause, a holistic veterinarian and consultant for I and Love and You pet food, knows this plastic storage box was "never intended to be used as a litter box," it's actually the one she uses for her own cats — and most often recommends. "They're nice and big," she says, "and you have to think about how comfortable kitties are turning around in there." Litter boxes are one thing where bigger is definitely better, and you should always opt for the largest box your space allows. Dr. Carly Fox, a staff doctor at Animal Medical Center, explains that "a study showed that, when they were given two options over time — a large box and a regular-sized one — cats were [using] the larger box."
Best covered litter boxes
Since they're better at containing messes and odors, cat owners tend to prefer covered boxes, which many cats will happily use. In fact, Fox points to another study showing that most cats exhibit no preference between covered or uncovered boxes — as long as they're kept clean. This box, made by the same brand that makes vet-approved natural pet-odor eliminators, is also a favorite of both McKeon and Bosley. "It fits in a corner, it's big, and it's hooded," says McKeon, who likes that the entry is "big and wide enough" so cats "won't feel as closed in" as they might in other covered boxes. But if you do opt for it, Bosley cautions to "make sure to be diligent in cleaning this box, as the smell will linger."
There are also covered boxes with a top entry, which Bleicher likes because "they completely hide any unsightly litter and clumps, and greatly minimize the tracking of litter granules outside of the litter box." Heike Klassman, an adoption-seminar leader with Anjellicle Cats cat rescue, says this one is great for "young and healthy" cats, but not for those who are older, overweight, or have other physical issues that would hinder them from leaping on top of the box.
Best litter box for young, old, and mobility-challenged cats
If you're adopting a kitten, keep in mind that their little legs might not be able to climb into an adult-sized litter box. Fox says that while most litter boxes have an entry that's five to seven inches in height, you'll want to look for something in the two- to four-inch range for kittens. Senior cats face a similar issue, according to Krause. "When I think about older cats, I think about accessibility," she says. "Being able to step in a litter box can be a problem." McKeon adds that most cats who are at least nine or ten years old have some form of arthritis that would make a high-entry box difficult. For cats with these specific needs, Bosley likes this low-to-the-ground box.
Best-looking litter boxes
This streamlined, top-entry box has been on our radar since writer Abraham Riesman raved about it: "Unlike the garish, airplane-hangar-esque litter boxes that occupy the popular imagination, a Modkat box is a stylish, round-edged cube that looks more like a nifty, small table than a cat-waste container." Fox is a fan as well, especially for cat owners who live in small spaces. "It's very modern and sleek and relatively small considering litter boxes in general," she says. "It's also a very enclosed personal space for them which I think they would like."
For a more affordable but still stylish litter box, Fox also likes this model from Iris. "It comes in different colors, it's also pretty sleek looking and [about] a third of the price," she says.
Cat parents who want to further camouflage a litter box might like this one, which looks like a planter (complete with a faux, but real-looking, plant). McKeon has two co-workers who love it, especially because you can turn the opening of the box toward a wall so its purpose isn't obvious. "It's hidden," she says, but at least the entry is "wide and open enough that it won't be super stinky or scary for the cat to step into." But before buying a piece of "litter furniture" like this or a cabinet-style box, you should "carefully assess how much room the cat actually has inside and how easy it is to enter and exit," according to Nora Wood, an adoption event coordinator with Anjellicle Cats. "Also, how easy will it be to clean regularly."
Best automatic litter box
While automatic, self-cleaning litter boxes sound like a great idea in theory, most of the experts we spoke with panned them. "The noise of the litter box cleaning itself and the vibrations can be frightening to some cats, and that can maybe lead to litter-box aversion," explains Fox. However, Bleicher has tested out lots of models and thinks this is the best one. He currently lives with ten cats (both his own and fosters) and actually owns four of these, which work by rotating around to collect waste, and then depositing it into a charcoal-filtered receptacle drawer. "They're by far the most well-built and reliable automatic litter boxes on the market, and they completely eliminate scooping from your daily routine," he says. Plus, the box has a weight sensor that ensures it won't rotate when a cat is inside, and a blue light that signals when the waste drawer is full.
The Strategist is designed to surface the most useful, expert recommendations for things to buy across the vast e-commerce landscape. Some of our latest conquests include the best acne treatments, rolling luggage, pillows for side sleepers, natural anxiety remedies, and bath towels. We update links when possible, but note that deals can expire and all prices are subject to change.