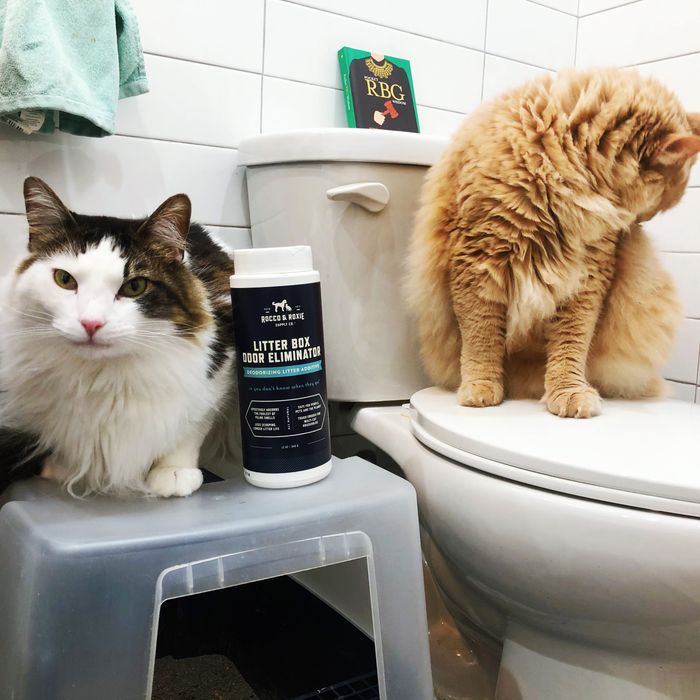 Salmon, left, and Tuna with their practically odorless litter box.
Photo: Julia Kramer
The age-old trade-off of living in New York City is that you will sacrifice space at home in order to have the city be your home. The pandemic is putting this trade-off to the test for countless New Yorkers, whether they live alone or with roommates. If you're one of the latter, you know that things can be more challenging when you're forced to work and live from home with others — and even more challenging when some of those others are pets. I've been sheltering in place with three humans and two cats, which has had its ups, like the cats' occasional and entertaining feuds with pigeons on our fire escape, and downs, like the sinking (stinking?) feeling that hits every time one of them walks toward the litter box.
Anyone who has owned a cat knows just how gnarly having a litter box in a small space can be. Two cats not only increase the funk factor of litter but also the frequency that you'll be slapped in the face with a foul smell. Thankfully, a surprisingly powerful (but otherwise nondescript) product that came into my life just a few months ago has done wonders at neutralizing the smell of stinky litter in our apartment, making it that much more pleasant while cooped up at home together.
When Tuna, Salmon, and I first moved to Manhattan years ago, the bathroom in the apartment we shared with two human roommates was too small for their litter box, forcing me to put it in a hallway. I cleaned it every day, but the litter stink always seemed to linger, invading our nostrils when we'd walk past or least suspect it. That's when my search for a potent deodorizer began. I tried charcoal filters, odor-absorbing balls, and an Arm & Hammer deodorizing powder, but none really did the trick. While the charcoal filters zapped any smells almost instantly, they became ineffective after a couple of days. Ditto with the odor-absorbing balls (impressive immediate results, terrible shelf life), and the Arm & Hammer powder just didn't do much to eliminate smells. I accepted defeat, settling for an open hallway window as the best solution. Cut to February 2019, when Tuna, Salmon, our two human roommates, and I moved into a bigger apartment with a fourth human. Even though our new place has two bathrooms — one of which is big enough for the litter box — shutting that bathroom's door doesn't exactly stop the litter from smelling, and there are no windows close enough to open for relief. For a while, we lived with the smell more or less confined to the bathroom — we plugged in a powerful air freshener, I cleaned the box every day, and added some live eucalyptus to create a spalike aroma — but it wasn't long before I was back on the hunt for something more effective.
I bought the Rocco & Roxie Litter Box Odor Eliminator for three reasons: It had great reviews that appealed to the (small) part of me that hadn't written off such products entirely; it only cost $12; and I thought it would be a nice gesture for one of my roommates, after he offered to look after Tuna and Salmon when I took two weeks to travel around the holidays. To my surprise and delight, it was the first — and only — thing I've used that effectively masks litter funk.
The product comes in the form of pellets that have a light, almost unnoticeable smell. Every month, after I deep-clean the litter box (by throwing everything in it away and washing it out), I shake a generous amount of the pellets into the empty box, add in clean litter, and then lightly sprinkle some more pellets on top. In between the monthly deep-cleans, I scoop every couple of days and sprinkle more pellets on top of the litter when I'm done. While I am no scientist, the product seems to absorb odors rather than mask them; when I use it, the litter box smells more like nothing than anything. And my roommates agree: Just last week, we were all talking about how now the only time we can smell litter is if one of us steps into the bathroom just as one of the cats is stepping out of the box. The Rocco & Roxie deodorizer also lasts much longer than any other I've tried — I'm still on the same bottle I bought back in December, even though I've used it multiple times a week.
Another Strategist-approved deodorizer (for trash cans)
Contributor Eric Margulies told us these deodorizing inserts meant for shoes are the only thing powerful enough to kill smells from "ghosts of meals past" lingering in his kitchen trash can. He put one in (beneath a fresh trash bag), and overnight, all "whiffs of putrid fruit or burnt chemicals" were gone. "I just smelled … nothing."
The Strategist is designed to surface the most useful, expert recommendations for things to buy across the vast e-commerce landscape. Some of our latest conquests include the best acne treatments, rolling luggage, pillows for side sleepers, natural anxiety remedies, and bath towels. We update links when possible, but note that deals can expire and all prices are subject to change.