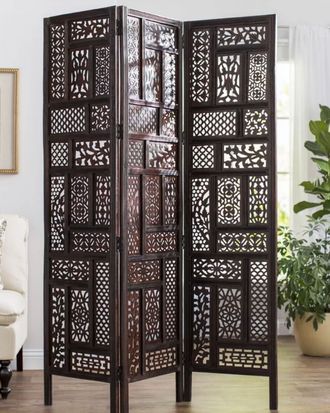 Photo: Courtesy of the retailer
Those of us who live in tiny apartments have plenty of experience carving out a living room, dining room, kitchen, and bedroom from a 400-square-foot (or smaller) space. During these weeks of self-quarantine, however, we've had to create a new room: a home office. And for anyone with kids, you probably have a homeschooling station now too. These are moments when we turn to room dividers — which could be anything from a bookcase to a curtain. With the right one, you effectively separate your work chair from your Netflix couch — and at least create the illusion of "going home" after a long day at the "office."
As interior designer James Farmer says, "an open concept can be refreshing, but demarcation and division of the area is crucial." We asked Farmer and eight more designers about their favorite pieces for breaking up a space. Both stylish and useful, their picks will let you split up your space or just give you a little extra social distance from the roommate you're social distancing with.
Best bookcase room dividers
If you're looking for a divider that does double duty, lots of designers suggest bookshelves. "For an open-concept living room space, a bookcase is a great way to divide the room into separate areas," says Challene Green, a designer with the online interior design service Decorist. "It creates depth and interest and gives you extra storage space." She likes this sophisticated étagère-style piece.
Molly Kidd, creative director and lead designer at design firm Light and Dwell, calls these modular shelves "both innovative and minimal." Buy as many of the wooden "sticks" (shelves) as you need and then use the steel joints to connect them vertically or horizontally. "You can build it to fit your space perfectly, which is great for a mobile work space," says Kidd.
Anna Tatsioni, lead designer at online design service Decorilla, likes that visually interesting bookcases "can turn into a focal point without highlighting the purpose of their placement." She says this Crate & Barrel option is a good example of a bookshelf that works as a divider but is also just a good-looking piece of furniture.
Another bookshelf that's as attractive as it is functional, this one comes recommended by Kidd. It has exposed black iron joints that add an industrial feel to a traditional style.
Decorist designer Kate Spiro likes that this bookcase will blend in with a variety of styles. "It's finished on both sides, so it can be placed perpendicular against a wall or floated to delineate a space to work," she says.