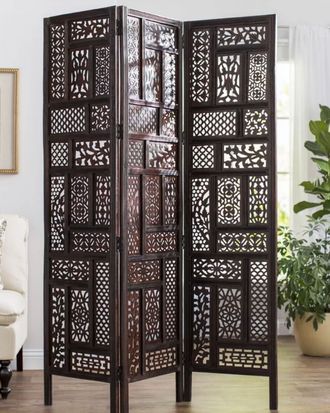 Photo: Courtesy of the retailer
Those of us who live in tiny apartments have plenty of experience carving out a living room, dining room, kitchen, and bedroom from a 400-square-foot (or smaller) space. During these weeks of self-quarantine, however, we've had to create a new room: a home office. And for anyone with kids, you probably have a homeschooling station now too. These are moments when we turn to room dividers — which could be anything from a bookcase to a curtain. With the right one, you effectively separate your work chair from your Netflix couch — and at least create the illusion of "going home" after a long day at the "office."
As interior designer James Farmer says, "an open concept can be refreshing, but demarcation and division of the area is crucial." We asked Farmer and eight more designers about their favorite pieces for breaking up a space. Both stylish and useful, their picks will let you split up your space or just give you a little extra social distance from the roommate you're social distancing with.
Best bookcase room dividers
If you're looking for a divider that does double duty, lots of designers suggest bookshelves. "For an open-concept living room space, a bookcase is a great way to divide the room into separate areas," says Challene Green, a designer with the online interior design service Decorist. "It creates depth and interest and gives you extra storage space." She likes this sophisticated étagère-style piece.
Molly Kidd, creative director and lead designer at design firm Light and Dwell, calls these modular shelves "both innovative and minimal." Buy as many of the wooden "sticks" (shelves) as you need and then use the steel joints to connect them vertically or horizontally. "You can build it to fit your space perfectly, which is great for a mobile work space," says Kidd.
Anna Tatsioni, lead designer at online design service Decorilla, likes that visually interesting bookcases "can turn into a focal point without highlighting the purpose of their placement." She says this Crate & Barrel option is a good example of a bookshelf that works as a divider but is also just a good-looking piece of furniture.
Another bookshelf that's as attractive as it is functional, this one comes recommended by Kidd. It has exposed black iron joints that add an industrial feel to a traditional style.
Decorist designer Kate Spiro likes that this bookcase will blend in with a variety of styles. "It's finished on both sides, so it can be placed perpendicular against a wall or floated to delineate a space to work," she says.
It's definitely a splurge, but Marie Trohman, co-founder of the interior design firm Proem Studio, loves this shelving unit from Chicago-based designer Casey Lurie. The individual shelf spaces work for storing a collection of items, and Trohman likes that in a larger space, "multiple units can be lined up and the pattern will be consistent."
If you're working on a tighter budget but still want multiple shelves for a cohesive look, Kidd recommends this affordable option from Ikea.
Best screen room dividers
According to Farmer, screens are "a most classic method" of dividing up a room. "I love watching shows and movies from England and seeing beautiful screens at the room's entry or dividing a bar from the library," he says. If you want to go for that Victorian vibe, Green suggests using this linen upholstered accordion screen to block off a messy kitchen or office area from the rest of your living space.
Spiro says folding screens are a good choice because you can easily move them around and fold them up when not in use. This rattan screen is her pick for a more modern style. "I love how it's open for an airy feel and doesn't block the light," she tells us.
"This screen literally looks like an art installation or a custom wall you had built to curve around your space," says Decorist designer Megan Wright. The natural mango wood offers a little more privacy than the screens above but still lets some light flow through. You can bend the slats into an S or C shape to contour around your bed or desk.
For "privacy without totally blocking light and air," interior designer Christopher Stevens looks for vintage mashrabiya (or latticework) screens that are found in Middle Eastern architecture. (He was inspired by a recent trip to Cairo.) "These screens serve not only to carve out spaces but can also be deployed effectively in front of a window with an unfortunate view like a brick wall or a messy neighbor," he says.
If vintage screens are out of your price range, Stevens also likes this more affordable replica with a very similar style.
For something that's useful and makes a statement, interior designer Sasha Bikoff pointed us to this colorful screen that includes a mirror and coat hangers. It's perfect for creating a "dressing room" area, which Bikoff notes is a classic way to use a screen. "They are kind of a thing of the past, and I love how they evoke nostalgia," she says.
Best curtain room dividers