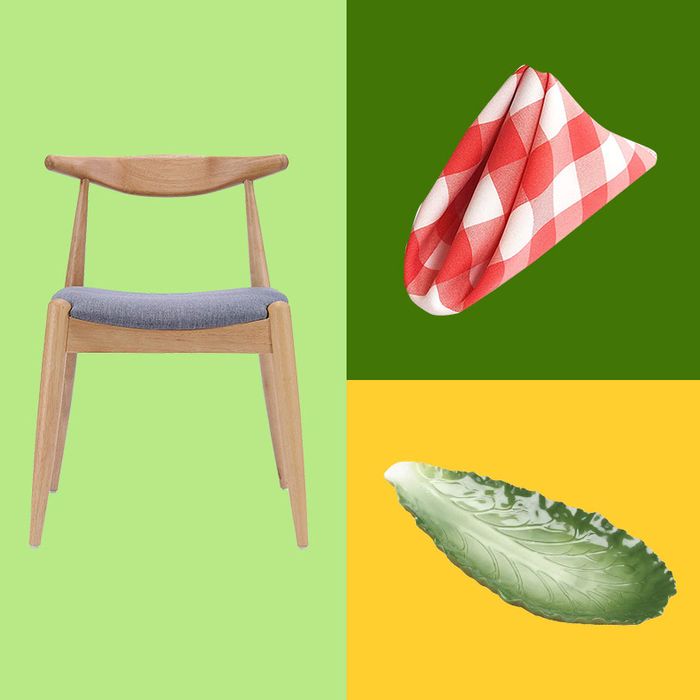 Photo: Courtesy of the retailer
The dining room is always a space for eating, but sometimes that might mean breaking bread with friends at a home-cooked dinner party, and other days it might just mean slurping down a bowl of cereal on your way to work. Here, we've rounded up the best dining-room décor on Amazon for your various eating and entertainment needs — all of which is guaranteed to be cheap-but-expensive-looking. We've tackled everything from bowls for serving and dishes for day-to-day use, to various centerpieces, and even the dining-room table.
This jadeite water pitcher is very 1950s TV family, but in a chic way.
This tablecloth looks like something Nancy Meyers might have prop-styled for the It's Complicated dining room.
The ultimate evergreen centerpiece in these succulent-obsessed times: a row of faux succulents planted in a minimalist ceramic planter.
A set of maritime themed salad plates from Thomas Paul.
It's no secret around these parts that we love us some enamelware. This bowl is great for holding, say, a salad or a side of Brussels sprouts.
And pick up some matching tumblers while you're at it.
Serve your deviled eggs on this lettuceware tray. (Lettuceware, you ask? Yes, it's a thing.)
This blue-wave-designed bowl is a lovely option if you're in need of a serving bowl instead.
A 16-piece stoneware dinnerware set from the Food & Wine for Gorham collection.
These beeswax candles have a delicate, sweet scent that's a bit more subtle than a truly scented candle (and a bit less jarring to light while you eat).
For those tapered candles, here's a minimalist metal centerpiece.
A set of white Carrara-marble coasters that would make a great hostess gift, incidentally.
An unglazed porcelain octopus that can be a decorative centerpiece or, more practically, a weight for your dinner napkins.
Unlike the peaches, cherries, and plums you can buy from your supermarket, this stone fruit will never go bad.
Here's an idea: Get these gingham napkins in a bunch of different colors, and mix and match them at your next dinner party. (Just note that the price changes depending on what color you get.)
Or if you're always in a linen-obsessed frame of mind, opt for these dinner napkins from Caldo. (They come in a range of seven colors, including white, mustard, and coral.)
In the world of salad bowls, there is little that is classier than a tried-and-true wooden bowl (like the one your parents got as a wedding gift in the '70s).