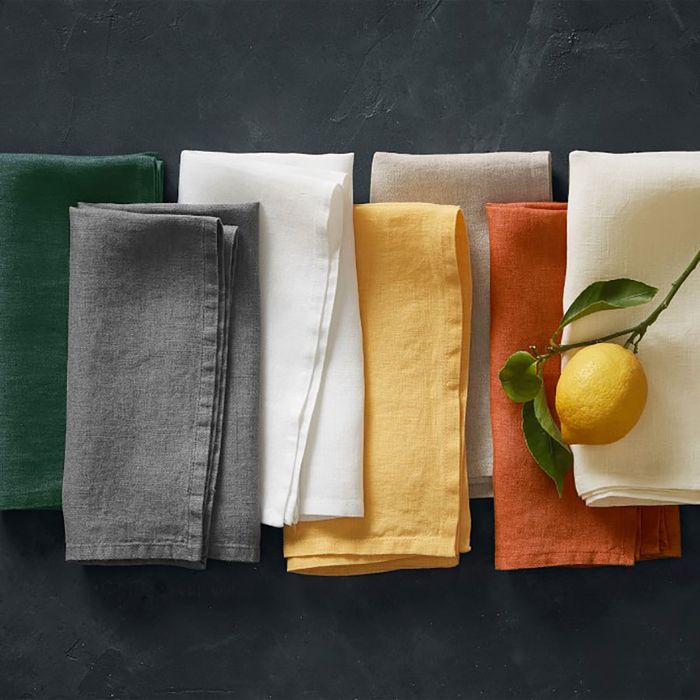 Using cloth napkins instead of paper ones at dinner (or for any meal) is not only an easy way to elevate an at-home dining experience — something most of us may be looking to do right now — but also a simple step toward living more sustainably. Not to mention, cloth napkins almost always look more sophisticated than paper ones, no matter how intricate their designs may be. As interior designer (and author of Design Rules: The Insider's Guide to Becoming Your Own Decorator) Elaine Griffin puts it, "Nothing says 'I care' more than cloth napkins" on a dinner-party table (and we are optimistic that we'll be setting dinner-party tables again soon enough). To find the best cloth napkins, we reached out to Griffin and ten other experts — including interior designers and hospitality professionals — about their favorites. Most of their 23 recommendations below come in sets, so we've started with those and organized them by price. Beneath the sets, we included a handful of individually sold cloth napkins for folks who only need one or two — or who like to mix and match.
Best under-$50 cloth napkin sets
If you're new to cloth napkins, here's a set that might help you ease into using them. My Drap's cotton napkins come in a roll much like paper towels, and function like them, too — except, unlike paper towels, these can be washed and used again. (They're kind of like our favorite Swedish dishcloths in that way.) They come recommended by Vogue sustainability editor Tonne Goodman — who loves them so much that she once wrote an ode to them — and real-estate agent (and Strategist contributor) Robert Khederian. Says Khederian, "These are pure genius: A cocktail napkin that comes on a roll in a pack of 50 for under $20. Tearing them off when company comes over is a shortcut to being the most elegant host." According to him, the napkins, which come in a bunch of colors and patterns, are "semi-reusable" — Khederian notes that "you can wash them like you would any other napkin," and the manufacturer says each napkin is good for about six washes.
As countless restaurant tables suggest, you can't really go wrong with simple linen napkins. This set from Williams Sonoma comes recommended by Sam Bernstein, the founder of hospitality group Table22. Made of stonewashed linen, "these are large and durable," he tells us. "They really stand up to a lot of use." Plus, Bernstein adds that they're "available in so many colors" — 18 in total, including neutrals and more vibrant options like pumpkin orange.
Claire Olshan, the founder of lifestyle boutique DADA Daily, says these floral-print napkins from Zara Home have the effect of "bringing the outside in." The 100 percent cotton napkins' delicate print, she adds, strikes the perfect balance between "the beauty, femininity, and untouched rawness of nature." Shown in mustard, they also come in a lighter natural color.
For something a little more graphic but no less colorful, consider these gridded napkins that interior designer Ghislaine Viñas recommends for their "delicious mustard color." The canvas napkins are made of a linen-cotton blend, and their bold pattern "can set a table off into a dramatic direction," says Viñas, telling us to imagine how these would pop against "a black tablecloth with white place settings."
If you prefer the look of crisp white napkins, this set made of pure flax linen stands out due to its stitched border. Griffin is "wild about them," saying, "These luxurious pure-linen napkins have hemstitching and Swiss dot embroidery, two of the most elegant details for linens known to mankind."