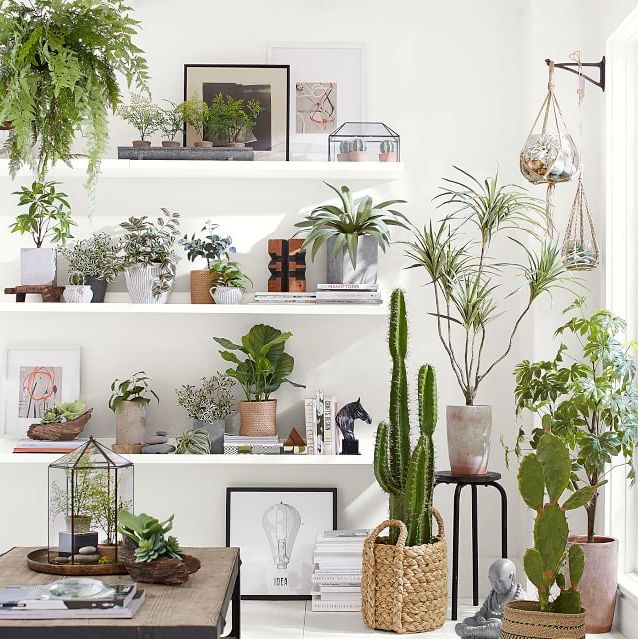 While it's easier than ever to buy live plants online, sometimes, despite our best intentions, those live plants become, well, dead plants. Artificial plants — fake plants, silk plants, faux foliage, or whatever you want to call them — offer a simple solution. They'll never outgrow their pots, the leaves will never droop down and turn yellow, and there's no need to worry about watering or fertilizing. They're also pet-safe and child-safe.
Like any living plant, artificial plants can work wonders for any décor situation, and we doubt that anyone will know the difference once they're displayed on a nice plant stand. We found some small options if you want to be subtle, like mini succulents and an aloe plant, as well as larger ones for those unafraid to go all out with a big statement ficus tree or monstera. No matter the size, an artificial plant can give you the look you're going for without all the fuss.
Best artificial floor plants
A five-foot-tall fiddle-leaf fig that's never going to die on you. This one has natural color variations on the tree bark and leaves, including creasing and texture just like the real deal. This tree is pleasantly sparse compared to other "overstuffed" fiddles with big clusters of leaves, which (if you ask us) is a dead giveaway that it's fake.
Birds of paradise are one of those plants that almost look fake even when they're real, so save yourself the trouble and go faux. This five-foot-tall artificial bird of paradise — complete with irregular leaf tears and crinkles — will make just as much of a statement as a live one.
Rounding out the "Big Three" of statusy floor plants is, of course, the monstera. Terrain makes some of the best-looking artificial plants we've seen, but they're pricey. Still, if you've got the money, this one is a real showstopper.
If you want to spend a good bit less and still get a realistic-looking monstera, this is a good choice.
If you're looking for a smaller monstera, this one stands at just 21 inches tall. One reviewer says it's the ideal size to help cover cords, while others say it adds the perfect pop to a bathroom. Best of all, it's big enough to keep on the floor, yet compact enough to dress up a tabletop or desk.
Photo: retailer
A few years ago, Urban Outfitters got into the faux plant game to reach the black-thumbed millennials. One of the standouts is this four-foot palm featuring a very realistic-looking root system that one owner described as "the nicest fake plant I've ever purchased."
This 6 foot ficus has a delicate look, with its long and slender trunk, and the intricately detailed leaves will catch anyone's eye. (The manufacturer's product description says it has "1,008 individual leaves.")
This is a particularly impressive imitation of the very on-trend variegated rubber tree. At 2 feet tall, its a bit smaller than the other artificial floor plants on this list, but would look perfect perched on a plant stand.
West Elm's home-décor offerings extend to both real and fake plants. This one is a more traditional-looking faux rubber plant with its thick, dark-colored leaves. And while it doesn't come with a planter, the retailer has a ton of those to choose from, too.
Get vertical with this faux palm tree that towers more than 6 feet high. Stick with a simple planter since the tree makes a statement on its own.
Less obvious than a palm tree, this faux yucca plant will give you a similar tropical vibe, if that's what you're after.