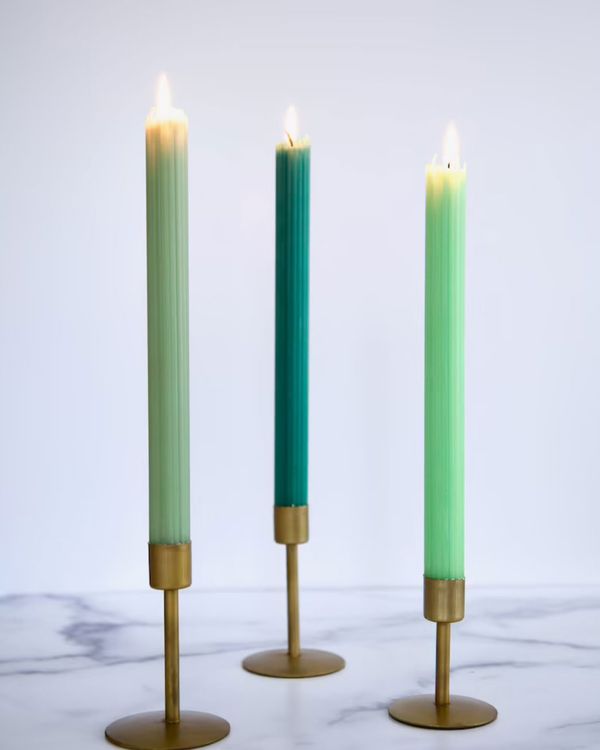 Here at the Strategist, we love scented candles. But recently, we've been gravitating toward tapered candles. You can find them in classic shapes and natural tones for a more elegant look, or with interesting textures and bright hues to add intrigue to your dining table. To find out which are worth buying, we reached out to interior designers, home-goods store owners, and other candle obsessives to learn about their favorites. And if you're in the market for tapered candleholders, we've got you there, too.
Best natural beeswax tapered candles
Several of the home décor experts we talked to raved about candles made from beeswax. For a subtle bit of visual intrigue, food writer and recipe developer Anna Stockwell adores these hexagonal tapers. "They're just a little something different," she says.
"I am a firm believer in natural beeswax candles," says Sandeep Salter, owner of Salter House. Salter favors beeswax candles both for her home and to stock in her store, in part, she says, because the smell of melting honeybee wax is "divine." She also notes that one of her favorite beeswax candle companies, Massachusetts-based honey, candle, and skin-care line Beverly Bees, rescues bees from extermination and rehabilitates them in their hives. And while the all-natural candles might not burn as long as some of the paraffin wax candles further down this list, they do have a slightly rustic look that adds to their charm. "I'm very drawn to the natural color of beeswax, and all of Bev's candles are simple and natural in color," Salter says. "Plus, I love sculptural candles."
Alisha Ramos, founder of Girls' Night In, turns to these handcrafted candles from Etsy for color. "The selection is excellent. They're vibrant, and you can mix and match to your heart's desire," she says. "Also, because of the hollowed design, if you ever need to squeeze one into a holder that isn't necessarily the perfect size, it's very easy to do."
For an easy Amazon option, Stockwell's go-tos are these Bluecorn beeswax candles, which come in a variety of colors. She buys them in bulk to always have on hand.
Best paraffin-wax tapered candles
While beeswax has the benefit of being all-natural and smelling great, it can burn more quickly than paraffin wax, which is known for being clean-burning (meaning it won't leave behind soot) and not creating smoke. Three of the interior designers we spoke to recommended the Floral Society's taper paraffin-wax candles, which come in 12-inch and 18-inch heights and burn without dripping. EyeSwoon's Athena Calderone is partial to the taller ones. "These are my favorite tapers for their elongated elegance," she says. "They're perfect for elevating your tablescape or adding verticality to a vignette. They are available in a wide range of colors and burn slowly, at about an inch per hour. I always have extras on hand!" Interior designer Dane Pressner is particularly drawn to tapers that actually taper toward the top. "I love them to look like they were made by hand," he says. Never one to shy away from drama, he also "always buys ones that are at least 18 inches in height." Pressner goes for the candles in darker colors, and says that lately he's been burning lots of black and dark-blue tapers at his country house. Interior designer Elizabeth Roberts, who also recommended tapers from the brand, prefers the 12-inch height in a lighter shade. "All of the colors are beautiful but greige is a particularly perfect noncolor," she says. "It looks very natural, so that you really see the beautiful shape of the candle and the flame — and they burn slowly and do not drip, to boot." The fact that the candlestick pairs come together on one braided wick adds to the appeal, too.
Rebekah Peppler, author of À Table, burns these dripless and smokeless candles on the regular. "Like most writers, I have a few rituals that get me to my desk/dining room table," she says. "One of my favorites is setting up a few candles the night before. Something about lighting them before sitting down and getting straight into it often makes for my best work." She mixes and matches ones in differing heights for a bit of visual drama.
Best short tapered candles
De Lisle is also a fan of these hand-dipped tapers from San Francisco store March, which he likes to use for events and special dinner parties. The neutral-shade candles come in handy for daily use, too. "We use one every night during dinner, as our all-wood 1948 house does not have any architectural lighting," he says. "We put them in vintage ceramic candleholders." The March candles come in several sizes, but are available in a height as small as six inches, should you want an elegant table candle that's a bit more compact-looking.
Greentree Candles' colorful tapers are Salter's "number one go-to" for their natural beeswax scent and the range of available shades and sizes, including that shorter six inches. "Color is important to me when selecting candles — I love naturally dyed beeswax, and I am very into darker colored wax, like black and burgundy," she says. "I also cannot resist a robin's-egg blue candle. It's so regal."
Jenny Kaplan, owner of creative agency An Aesthetic Pursuit, says that her favorite candlesticks at the moment are these unscented 13-inch tapers from Danica (which also come in shorter six-inch form). They're hand-dipped in mid-coast Maine using a traditional Scandinavian dipping technique, and Kaplan says, "The range of colors in the collection is really beautiful. I love that you can mix and match them to add some dimension to your table setting." Ramos is also a fan. "They're incredibly decently priced given how many are in a box," she says. "They're my everyday candles, and less so my pretty display candles." Stockwell loves them, too, particularly the black, Copenhagen blue, and rust colors for this season. "The Danica website is the most old-fashioned website ever and a major pain in the butt to use," she says, "but they ship superfast."
Best very tapered candles
Interior designer Jamie Bush recommended these Royal Design candlesticks, which are made in Denmark "through repeated hand-dippings, upwards of 30 times," he tells us. Thanks to all of that dipping, the candles have a particularly tapered tip. Plus, they'll last through even your longer dinners, without making a mess. "The candles burn without any drip and have a slower, cleaner burn with less smoke emitted than other candles," says Bush.
Best budget tapered candles
"I burn a lot of candles — normally I have ten or more going per night — so I like to buy in bulk," says real-estate agent and candle obsessive Robert Khederian, who has written about the wax he uses to keep his tapered candles in place for the Strategist. If you, too, want to stock up on candlesticks, Khederian suggests this pack of 11-inch Bolsius tapers, which come in a pack of 50. Khederian says that each candle lasts for about ten hours, and should you invest, the cost works out to be less than $1 a candle.
If you're looking for candles that will burn for hours, take a note from de Lisle: "I have bought church candles through General Wax in L.A. for years," he says. "Both tapers and the ones in glass jars — the candles made for churches last longest and burn clean" — perfect for dinner parties. General Wax bills the candles as "a favorite among religious institutions for decades."
At $15 for a 14-pack, these are quite a steal, too. Home52 editor Caroline Mullen tried them for the first time back in December 2020, what she calls "peak candle-bending quarantine." If you missed this particular trend, it involves soaking taper candles in hot water until you can bend and twist them into interesting shapes. "With these, I nailed it on the first go," she says. "I later learned, after making a tutorial and encouraging friends to try the trick, that not all taper candles are created equal, and some crack and crumble instead of blending. If you're looking to squiggle these into sculptures, I can personally recommend them for the job." Of course, they're also serviceable as regular candles, too.
The Strategist is designed to surface the most useful, expert recommendations for things to buy across the vast e-commerce landscape. Some of our latest conquests include the best acne treatments, rolling luggage, pillows for side sleepers, natural anxiety remedies, and bath towels. We update links when possible, but note that deals can expire and all prices are subject to change.