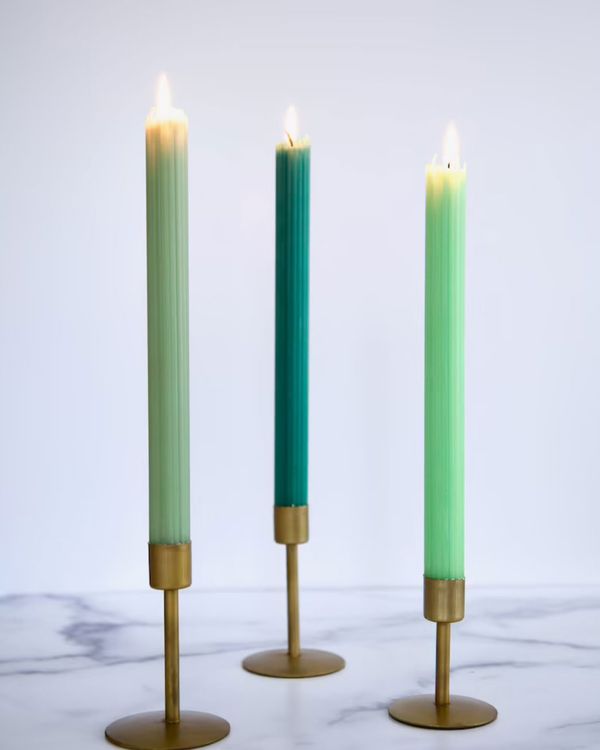 Here at the Strategist, we love scented candles. But recently, we've been gravitating toward tapered candles. You can find them in classic shapes and natural tones for a more elegant look, or with interesting textures and bright hues to add intrigue to your dining table. To find out which are worth buying, we reached out to interior designers, home-goods store owners, and other candle obsessives to learn about their favorites. And if you're in the market for tapered candleholders, we've got you there, too.
Best natural beeswax tapered candles
Several of the home décor experts we talked to raved about candles made from beeswax. For a subtle bit of visual intrigue, food writer and recipe developer Anna Stockwell adores these hexagonal tapers. "They're just a little something different," she says.
"I am a firm believer in natural beeswax candles," says Sandeep Salter, owner of Salter House. Salter favors beeswax candles both for her home and to stock in her store, in part, she says, because the smell of melting honeybee wax is "divine." She also notes that one of her favorite beeswax candle companies, Massachusetts-based honey, candle, and skin-care line Beverly Bees, rescues bees from extermination and rehabilitates them in their hives. And while the all-natural candles might not burn as long as some of the paraffin wax candles further down this list, they do have a slightly rustic look that adds to their charm. "I'm very drawn to the natural color of beeswax, and all of Bev's candles are simple and natural in color," Salter says. "Plus, I love sculptural candles."
Alisha Ramos, founder of Girls' Night In, turns to these handcrafted candles from Etsy for color. "The selection is excellent. They're vibrant, and you can mix and match to your heart's desire," she says. "Also, because of the hollowed design, if you ever need to squeeze one into a holder that isn't necessarily the perfect size, it's very easy to do."
For an easy Amazon option, Stockwell's go-tos are these Bluecorn beeswax candles, which come in a variety of colors. She buys them in bulk to always have on hand.
Best paraffin-wax tapered candles
While beeswax has the benefit of being all-natural and smelling great, it can burn more quickly than paraffin wax, which is known for being clean-burning (meaning it won't leave behind soot) and not creating smoke. Three of the interior designers we spoke to recommended the Floral Society's taper paraffin-wax candles, which come in 12-inch and 18-inch heights and burn without dripping. EyeSwoon's Athena Calderone is partial to the taller ones. "These are my favorite tapers for their elongated elegance," she says. "They're perfect for elevating your tablescape or adding verticality to a vignette. They are available in a wide range of colors and burn slowly, at about an inch per hour. I always have extras on hand!" Interior designer Dane Pressner is particularly drawn to tapers that actually taper toward the top. "I love them to look like they were made by hand," he says. Never one to shy away from drama, he also "always buys ones that are at least 18 inches in height." Pressner goes for the candles in darker colors, and says that lately he's been burning lots of black and dark-blue tapers at his country house. Interior designer Elizabeth Roberts, who also recommended tapers from the brand, prefers the 12-inch height in a lighter shade. "All of the colors are beautiful but greige is a particularly perfect noncolor," she says. "It looks very natural, so that you really see the beautiful shape of the candle and the flame — and they burn slowly and do not drip, to boot." The fact that the candlestick pairs come together on one braided wick adds to the appeal, too.