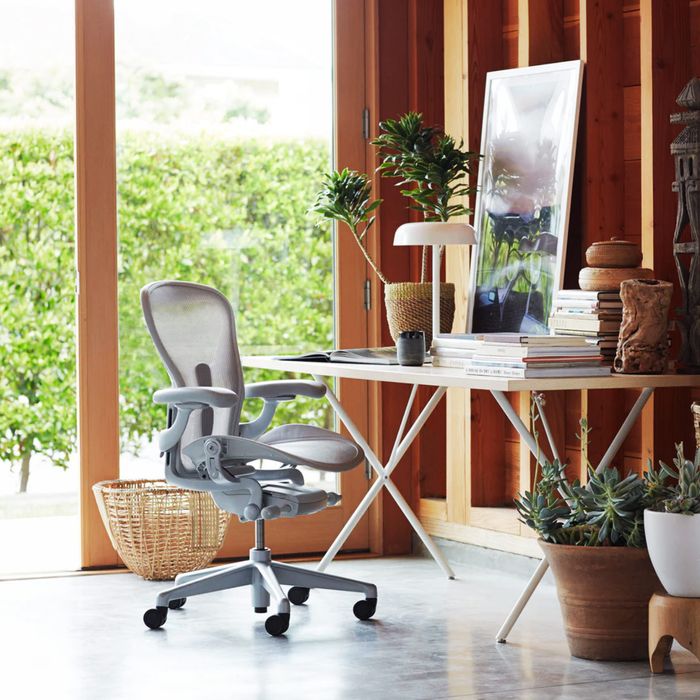 If you worked in an office before the pandemic, chances are you walked out one day in March 2020 hoping to return in a couple of weeks or, at the very worst, a couple of months. But now, almost 18 months later, you still may not have returned — and given how many companies are pivoting to a remote-first culture, you may not for a while longer (or, maybe, ever). Even though many of us have had time to adjust to working from home, the sheer unpredictability of the last year might have led you to wait before investing in things that can turn our largely comfort-focused homes into efficient professional workspaces. To help in that endeavor, we asked a bunch of professionals who regularly worked from home before COVID-19 and folks who have since put together proper workplaces in their homes about the things they used to do so effectively. Then we combed through our archives for other stuff that work-from-homers told us they use to get their jobs done each day.
A note that while working from home almost certainly requires a computer, wireless router, and modem, for this story, we focused on all the other things you may need, from essentials like desks, chairs, and monitors to less obvious things that our sources say help one stay productive day in and day out. Read on for 68 things that will not only make working from home more productive and enjoyable, but will crucially help to keep burnout at bay, too.
Desks
To start, the folks we spoke to say you'll need a workspace (a.k.a. a dedicated desk or table). "Research like this 2017 Harvard study shows it's better for your mental health to keep the spaces you sleep, relax, and work in separate," says product manager Nehemiah Blackburn, who works for his New Hampshire–based tech company remotely from his New York City home five days a week. While "working from your bed and couch may seem convenient and even more comfortable," finance associate Daniel Kim, whose day job often requires him to continue working once he gets home, admits that, "in the long run, it puts you in the wrong mental state to get meaningful work done."
Three editors at the Verge told us they rely on this Jarvis standing desk at home. It comes in six sizes (starting at 30x24 inches for $569) and can be adjusted to rise between 24.5-inches tall (for sitting) and 50-inches tall (for standing). Verge deputy editor Dan Seifert, who has owned his Jarvis desk for four years, describes it as "comfortable, stable, and spacious," while Verge news editor Nick Statt adds that assembly is "far less cumbersome than I thought it would be."
If you are interested in the ergonomic appeal of a standing desk without the price tag they often come with, Strategist contributor James Lynch has a surprising solution: a workbench. "A workbench may not sound like the perfect WFH solution, and yet it is now where I do all of my work," says Lynch, who notes that the 52-inch-wide version of this one he bought has plenty of space for setting up a monitor and speakers, with real estate left over for other essentials. Made of solid wood, he says, "It's durable, not at all like a lot of the other inexpensive desks I considered, which are made of plastic or particleboard — cheap materials with cheap veneers that bubble and peel the moment your coffee cup collects a single drop of moisture." The desk is raised and lowered with a hand crank that Lynch calls "supremely easy" to use. "Although every reason I bought this desk is related to function, it also has an impressively handsome form," he adds.
Elise Yeo-Donaldson, who works from home for a London–based educational-tech start-up, recommends this desk that she says is both affordable and quite user-friendly. "It's originally an architecture table, but I use it for normal work with a laptop and notebook," she says. "I didn't expect how useful being able to change the angle of the desk would be, and the glass top is incredibly easy to clean."
When Kim needed to get a desk he could work from home at, he told us he was "drawn more to design" than solely function, especially because he was going to have to look at it even when he wasn't working. He landed on a simple desk from Muji that cost him $175 but is currently unavailable. An equally streamlined — and even-less-expensive — option would be this desk from our list of the top-reviewed home-office desks on Amazon, where buyers raved about its minimalist look, simple set-up, and surface area. One happy shopper praised its height in particular, noting that their "desk-chair arms fit underneath without getting stuck, so I can roll around freely."
Susan Dominus, a staff writer for the New York Times Magazine, likes her Ikea desk so much that she owns two (which she has raved about on Twitter). "At some point, I decided I really wanted to work in my nice sunny bedroom," she told us, "and there's this little corner where only a small desk would fit." Dominus's exact Ikea desk is currently unavailable, but it comes from the same Micke line as this desk — which, at just 10 inches wider than hers, is still compact enough to fit in most spaces and feels just as "clean, bright, and efficient" (the three words Dominus used to describe her own desk). With two drawers, this desk also has more storage than her one-drawer desk. For more cool-people-approved small desks, head here.
Jeremy Kirkland, host of the Blamo! podcast, was another who told us that he "didn't understand the value and importance of having a good desk until I started working from home." Describing himself as a "laptop road warrior" before the pandemic, and always "editing at coffee shops," Kirkland says he "now realizes my productivity in those environments was 20 percent." The desk that got him to 100 percent, he says, is this solid-wood design from Artifox. It costs more than the others on this list, but Kirkland says the price is justified by the quality and craftsmanship of the wood, as well as its just right size for a "somewhat close quarters" apartment. He also likes its many thoughtful modern design details, including a hidden area at the back for cable storage and extension cords, pegs for hanging your headphones, and felt hooks that prevent your cables falling to the floor when you unplug your laptop or iPhone. "It's so modular, with so many setups to fit the way you work," he adds.
If you'll be using your home workspace to do more than fire off an email or two, our sources say you might also want a proper desk chair. When a reader wrote in to us about finding the best home-office chair, we spoke to a professional about it (Marc Schwartzberg, a three-decade veteran of the office-furniture industry and the owner of Office Furniture Heaven), who told us that you should think of your office chair like you would your mattress. Specifically, it needs to be comfortable, as chances are you're going to spend around eight hours in it every day.
This ergonomically-designed office chair comes recommended to us by Dr. Rudy Gehrman, the founder of wellness center Physio Logic. It has a supportive mesh construction, roller wheels, and the ability to adjust both the armrest and seat height. It's also very reasonably-priced for a chair with back support, given that a different chair — Herman Miller's Aeron chair, below — will set you back nearly $1,000.