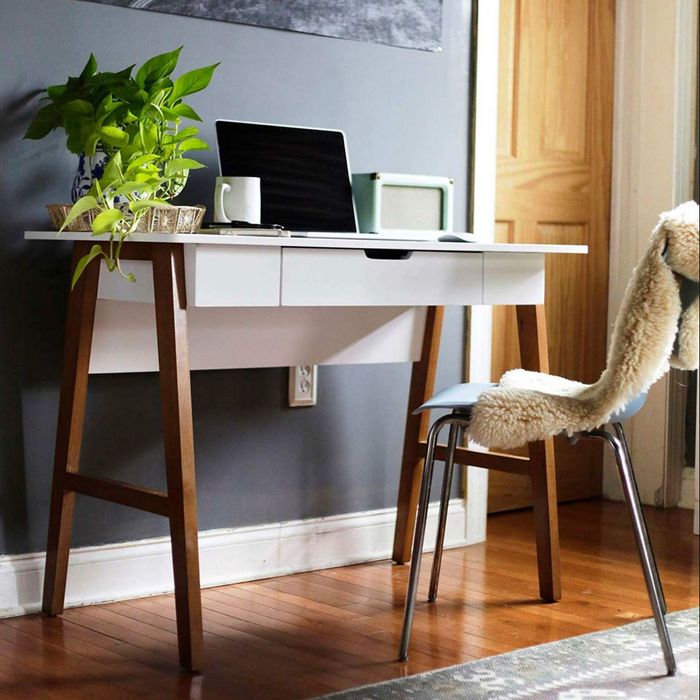 Photo: Courtesy of the vendor
As anyone who works from home will tell you, having a designated place to hunker down is paramount when it comes to productivity. And since many people spend most of their time working at desks, having a good one can help keep you sane, even when emails start piling up or the Wi-Fi goes out. Like any type of furniture, desks can run the price gamut, but you definitely don't need to spend a ton of money to get a desk that looks good. We sifted through Amazon for affordable (and stylish) desks that'll give your home office an upgrade, and found all sorts of options, including more than one midcentury modern style, ones for standing desk converts, and others for lovers of all things acrylic.
The curved, clean lines and darker wood make this desk look at least three times as expensive as it actually is.
The open design of this desk won't weigh down a room, and the added shelving means there is still plenty of space to store your stationery, notebooks, and pens.
It's on the other end of the design spectrum, but this acrylic desk will also give your office an open, airy vibe — not to mention bring more transparency to your work.
If you want the acrylic look but need storage space, too.
This stately gray-and-gold number could also serve double-duty as a makeup vanity.
Double the shelves means double the space for your office plants.
In an unexpected periwinkle blue, this desk will brighten up any workspace.
If you want to go midcentury modern, but prefer a simpler, more classic design.
This sleek, lacquered piece is super versatile and will fit a wide array of home-decor styles.
We love the rounded edges and the spindly legs of this (vaguely anthropomorphic) desk.
Half streamlined, half traditional.
An L-shaped desk for those who really want to spread out.
A delightfully old-timey choice.
We could easily picture this desk on a vintage reseller site.
Cloudlike, yet sophisticated. Plus, it also comes in pink, blue, and white, making it a great choice for a kid's room.
On a list of cheap desks, this is one of the cheapest.
For the standing desk converts.
Throw in Eames chair under it and you're ready to go.
While the dark blue and walnut finishes seem like a strange pair, we think they work in this just-eccentric-enough desk.
A space-saving option that can fit into just about any corner.
And if you're short on floor space, this floating desk should do the trick.
A vintage-looking desk that's easy on the eyes.