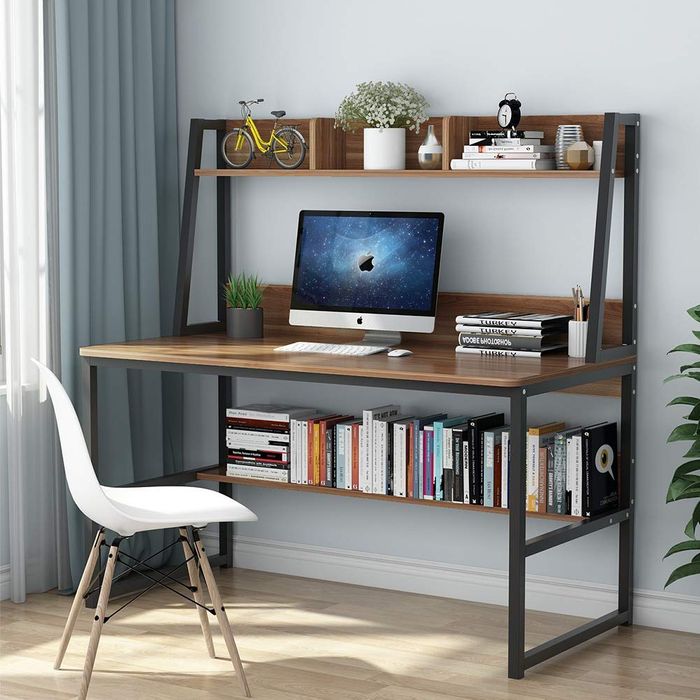 Photo: courtesy of retailer
As anyone who works from home will tell you — and these days, that's a lot of us — having a designated place to hunker down in is paramount when it comes to productivity. And since many people spend most of their time working at a desk, having a good one can help keep you sane, even when the emails start piling up or the Wi-Fi goes out. Like any type of furniture, desks can run the gamut on price, but you definitely don't need to spend a ton of money to get a desk that looks good. To help you find something to suit whatever kind of space you've turned into a home office, we sifted through Amazon for affordable (and stylish) desks, including more than one mid-century-modern style, a standing desk, and others for those who skew more traditional.
The extra drawer doesn't take away from the minimalist shape while still providing a home for your pens and planners.
If you prefer adding a little glamour to your home-office setup to brighten up your afternoon meetings, this option features a white faux-marble top with gold legs.
The rounded legs are a particularly stylish touch (and the extra shelf below doesn't hurt either).
We love the clean lines of this easy-to-set-up desk.
This white lacquered option will work with just about any chair you pair it with.
The turned-out spindle legs and walnut finish of this computer desk give off a subtle mid-century vibe.
This desk has a similar shape to the one above but with an open cubby and a drawer that provides discreet storage.
Here's another mid-century-style desk with splayed legs (which are actually metal covered in a woodlike coating) but this time with a glass top that gives your office an open, airy vibe — and brings more transparency to your work.
If you want the glass look but need storage space, too, this desk has it all (and appears to float).
This one's as simple as it gets, with an unbeatable price.
The open design of this desk won't weigh down a room, and the added shelving means there is still plenty of space to store your stationery, notebooks, and pens.
Here's a less industrial (but just as streamlined) version in white.
And for a more serious computer, this wood-and-metal option includes a space for your tower, a pullout keyboard tray, a monitor stand that doubles as a shelf, and two extra shelves for storage.
Here's another desk with elevated storage in the form of a hutch that also has convenient partitions for better organization. An under-desk shelf provides extra out-of-the-way storage too.