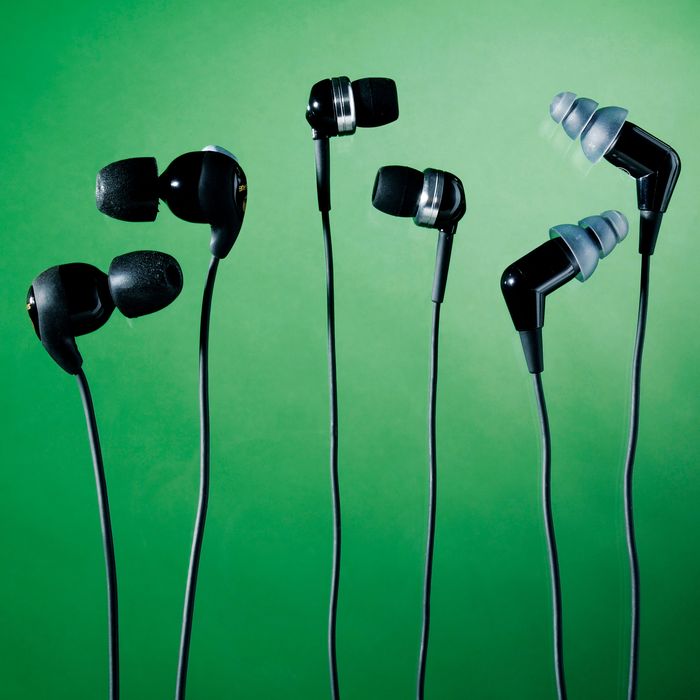 Photo: Tap Magazine/Getty Images
Here at the Strategist, we like to think of ourselves as crazy (in the good way) about the stuff we buy, but as much as we'd like to, we can't try everything. Which is why we have People's Choice, in which we find the best-reviewed products and single out the most convincing ones. (You can learn more about our rating system and how we pick each item here.)
And while we've written about lots of things for listening to music — including the best workout headphones, the best bluetooth headphones, and audio sunglasses — here we've rounded up the best earbuds and in-ear headphones, as praised by the most enthusiastic reviewers on Amazon.
Best-rated (and least expensive) earbuds
With over 35,000 five-star reviews, these Panasonic headphones are a tried and true favorite for their sound quality, durability, and fit — all for a mere $10. "Just buy these, seriously," says one shopper. "I am at work, next to the window, and there is a literal jackhammer outside the window. I have these headphones in, listening to music, and I can't hear it at all. If you want that in your life, these are the earbuds for you." One shopper, who says that she has always had trouble finding earbuds that actually stay in her ears, writes, "When I inserted it into my ear I could feel the instant comfort and 'click,' if you will. It just fit so well! I think I audibly gasped in shock and awe." And they're long-lasting, according to reviewers. "These are the best earbuds, period," writes one. "I had a pair for YEARS with no problems but I lost them, which caused me much emotional turmoil … The sound is FANTASTIC for the $10 price tag." Plenty of other shoppers noted the low price, too. "Four years on a product that works on a daily basis and fits great for price of $6-$10? No brainer. Incredibly reliable and good quality," says one. Another writes, "The sound quality is equal to or better than most headphones four times the price."
And now for some micro-picks for every type of earbud you might be looking for. 
Best bass earbuds


Shoppers looking for earbuds with bass loved this pair from Sony. "The bass is next to none," writes one reviewer. "First off, there is a LOT of bass, which I love. The clarity is also really great. I can really hear the vocals, even when there's a lot of music." Another reviewer writes, "These have better bass than any other headphones I've had in this price range. Good bass, too, not the cheap stuff that hurts your ears." And a third describes the bass as "punchy and powerful, but it doesn't overpower." Reviewers also said that these were good for more than just bass, and made an all-around great, balanced headphone. "A balanced sound stage with crisp mids, clear highs and punchy bass: If that's what you're looking for, then these earbuds are the way to go," says one shopper. "For 30 bucks, they are double the price of most 'okay' earbuds, but quadruple the quality."
Best (less expensive) bass earbuds
"I am ASTOUNDED with these things' capabilities," writes one reviewer. "Rich, focused bass. Woody timbre and REAL depth. I can't wait to hear what they can do with Miles Davis, Morbid Angel, or Stravinsky." Many other shoppers agreed that these earbuds had excellent bass and quality sound at an affordable price. "There are many things that I appreciate about these earbuds," says one. "I truly enjoy the sound that comes from these — nice, deep bass to nice treble. Incredible sound for the price range." Another writer describes the sound as "Amazingly balanced, great but not overpowering bass."
Best tangle-free earbuds
For those who prefer earbuds that plug into their devices, this pair stays tangle-free, thanks to the flat cord, and though that might sound too good to be true, one reviewer calls the claim "legitimate. I haven't had one tangling issue yet, and I've used them a lot already. It sucks fighting the cords; that isn't an issue with these earphones." Another says, "These earbuds have done everything to stand up to all of the environments they meet. No tangles in the cord even if shoved into your pocket." They even passed one reviewer's "tangle test," in which the shopper "wraps them up and rubs them together until they tangle" (which they did not).
Best noise-canceling earbuds
"I will never be without noise-canceling headphones. I received an earlier version of these Bose QuietComfort in-ear noise-canceling headphones as a gift a couple of years ago; I purchased these as a replacement. These are a true game changer for travelers or anyone who wants to shut out the world and focus. I prefer the in-ear vs. the big over-ear versions because they take up much less room in my bag, they're easier to sleep in on planes, and I can shift my head around much more easily. I will say to watch for where the wire meets the battery pack. After a couple of years of winding and unwinding my original pair of these headphones, the rubber around the wire wore down on the headphone side of the battery pack and exposed the metal wire. (It's probably the one point that gets bent and moved the most.) Other than that, I love them."
Best (less expensive) noise-canceling earbuds
For a less expensive, but still high-quality noise-canceling option, shoppers raved about this pair. "I've never loved any pair of headphones more," says one reviewer. "I ride the bus to school and I would find it difficult listening to music without turning the volume up loudly and even then, I could not hear any bass. With these, I can keep my volume to less than halfway on the volume bar and the bass sounds nice and full." Another happy shopper writes, "They're quite literally perfect. Excellent noise and bass levels, excellent noise cancelation. Super comfortable. Get them." The fabric-covered cord was also a draw for reviewers. "Wonderful quality and I love the fabric cord that my cats can't chew through! (I think I've lost at least ten earbuds from that!)," says one.
Best noise-isolating earbuds
Reviewers said that these noise-isolating earbuds were ideal for noisy environments. "These filter out the background noise, and the sound quality is amazing. They work as noise cancelers when I am not listening to anything," writes one reviewer, who uses them to listen to audiobooks. Another person describes them as, "Dirt cheap and they work fantastically. The cord is very sturdy, plug head has a nice angle to it (about 135 degrees), and is really convenient, and the rubber ear plugs do an excellent job of isolating noise." Shoppers also loved the wood detailing on these. "The appearance is very expensive looking and I love the wood aesthetically, as well as the benefits it brings brings to the acoustics," says one reviewer. Another writes, "The wood looks great and it adds a lot to the sound quality. it's just so much richer and warmer than other plastic buds I've used."
Best gummy earbuds