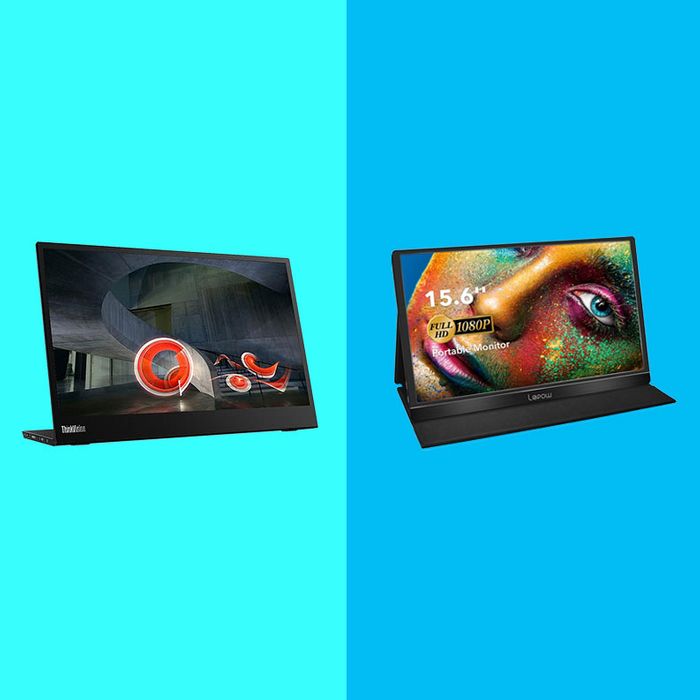 Photo-Illustration: The Strategist; Photos: Retailers
If you work in an office (or a home office), you're probably familiar with external monitors. They're an essential component of desktop computers, and they can be plugged into your laptop to give you extra screen space. But there's an intriguing alternative that we've been seeing all over TikTok lately: portable monitors. These lightweight monitors are plug-and-play, so you can instantly connect your device, and require only one cable to use, thanks to USB-C ports that can transfer data and provide power at the same time. And since USB-C is becoming standard on new devices, portable monitors can be used with a wide range of devices beyond laptops, from smartphones to gaming consoles to tablets. With a portable monitor, you can bring a bigger screen anywhere.
Although they can't be moved as easily, standard monitors often provide better luminosity and refresh rates. However, those factors aren't "really relevant for someone just wanting something basic for working at home," says Sam Byford, of our sister site the Verge. For many people, it is worth a slight step down in image quality to be able to easily store their monitor away when they don't need it or toss it in a bag to bring to a café, on a trip, or simply to another room. To help you find the best portable monitor, we consulted six experts on their favorites.
Best overall | Best dual orientation | Best for gaming | Best for eye fatigue | Best with built-in battery
What we're looking for
Size, weight, and portability: A defining feature of portable monitors is right there in the name: portability. If a portable monitor has the best specs in the world but feels like a brick or doesn't fit in your bag, it's not worth using. Most portable monitor screens measure between 12 and 17 inches diagonally — about the size of a standard sheet of letter paper on the smaller end of that range. If you're using your portable monitor for light tasks and simple web browsing, anything larger than 17 inches can feel like overkill and be clunky to carry, and you may be better off investing in a larger, stationary monitor.
Portable monitors are designed to be very lightweight. Most of the options below weigh less than two pounds, with the lightest weighing 1.3 pounds and the heaviest weighing 2.2 pounds. They are also thin and sleek, measuring under an inch thick in most cases. They usually come with foldable cases that can also be used as a monitor stand (similar to what you might see on Apple's iPad cases). They tend to allow for multiple viewing angles, and the case also protects the screen from scratches or abrasions while in transit.
Screen resolution: If you're mostly scrolling through the web, working in Google docs, taking a peek at some spreadsheets, or watching videos, 1080p HD resolution should be perfectly adequate for a portable monitor. "Resolution is a function of size," explains Byford, which means the bigger your monitor is, the higher the resolution you'll need to get a clear, crisp image. There are ultrahigh-definition 4K portable monitors available, but the higher resolution won't be as noticeable on their smaller screens. All the monitors on this list have at least 1080p HD resolution.
Byford also recommends finding a monitor with an IPS, or in-plane-switching panel, which will give you a clearer image and improved response time — without an IPS, you might see a slight lag between your device and the display. And Miguel Melendez, a PC expert at B&H Photo Video, says that "IPS also offers the widest viewing angles and best color accuracy."
Power source, speakers, and ports: Some portable monitors have internal batteries, which means they have their own power source. Other portable monitors draw power from the device they are connecting to through a USB-C port. Monitors that are device powered will help to streamline the number of chargers you need for your setup. But having an internal battery means you won't have to rely on your laptop or tablet for power, which could inconveniently drain your battery. Though having an internal battery will make your monitor a bit heavier, it will also maximize the time you can use both your monitor and the device it's connected to while on the go. It may even be able to charge that device.
Portable monitors usually connect via a USB-C port, which is now standard across newer devices, including Android phones and tablets, Apple MacBooks and iPads, and Windows-based laptops and tablets. You can also connect an iPhone using a USB-C-to-lightning cable. Some portable monitors will also have an HDMI port, which will be useful if you want to connect to a digital camera or television, and/or an integrated speaker, which may be worth looking for if you're going to be using the monitor for gaming or watching streaming entertainment. However, it's not a deal-breaker not to have speakers, as you'll still be able to get audio from your device or use headphones.
Best overall portable monitor
1.3 pounds | 14" screen | 1080p resolution | Device-powered | USB-C port | IPS | Integrated speaker: No
"The big promise of USB-C for monitors appears to be finally arriving," writes the Verge senior editor Tom Warren in his in-depth review of the Lenovo M14. This 1080p 14-inch display weighs only 1.3 pounds — making it the lightest monitor on this list — and comes with a protective cover. There's no battery, which Warren says "means your laptop, tablet, or even phone is tasked with powering the display" via the included USB-C cable. The Lenovo also supports pass-through charging, so you can charge your device and power the monitor at the same time. "Lenovo has built most of the components into the base, which feels sturdy," Warren writes. He also likes how the stand offers the ability "to raise the height of the monitor to better bring it in line with your laptop, which is a nice extra option." The Lenovo also has a low-blue-light setting to reduce eye fatigue.
Best dual-orientation portable monitor
1.7 pounds | 15.6" screen | 1080p resolution | Device-powered | USB-C port | Mini HDMI port | IPS | Integrated speaker: Yes
Portable monitors are "easy to set up and small enough to move to the side for extra desk space," says TonyTechBytes, a TikTok creator who often clears off his desktop build PCs. At 1.76 pounds, the 15.6-inch, 1080p monitor is slightly heavier than the Lenovo, but Tony says the extra weight doesn't bother him. The Z1 can be used in either landscape or portrait mode, so if you want to scroll vertically on Twitter and then view a lot of data horizontally on a spreadsheet, just rotate the screen. It has two built-in speakers, a USB-C port, a mini-HDMI port (a smaller version of the traditional HDMI port, used to save space on smaller gadgets), and it comes with both a USB-C-to-USB-C cable and a mini-HDMI-to-HDMI cable as well as a USB-C-to-USB-A cable for maximum versatility. "With its USB-C connectivity," says Tony, "I can easily plug it into my smartphone and have a larger screen on the go." The Lepow's screen also has "eye-care protection," which is supposed to help prevent eye fatigue.
Best portable monitor for gaming
1.7 pounds | 15.6" screen | 1080p resolution | Device-powered | USB-C port | Mini HDMI port | IPS | Integrated speaker: Yes
Grace Kim, a TikTok tech creator, has been using her Z1-Gamut for about a month. "The setup process was super-simple; it connects to my laptop through HDMI," she says, and it also has a USB-C port if you prefer to connect that way. (Like the Lepow monitor above, the Z1 comes with both a USB-C-to-USB-C cable and a mini-HDMI-to-HDMI cable as well as a USB-C-to-USB-A cable.) The Z1-Gamut also has dual orientation and a brighter screen designed for gamers who might want to plug in their Playstation, Xbox, or Nintendo Switch consoles. It's durable, too, Kim says, noting that hers has survived at least one drop. It has a 15.6-inch screen and weighs 1.71 pounds.
Best portable monitor for eye fatigue
1.72 pounds | 15.6" screen | 1080p resolution | Device-powered | USB-C port | IPS | Speaker: No
"The Asus ZenScreen MB16AC is a 15.6-inch full HD display that comes in at just 8-mm. thick and features a foldable smart case that can act as a stand," says Verge news editor Michael Singleton. Like the Z1-Gamut, the Asus monitor "can auto-rotate between landscape and portrait modes." Plus, "it comes with a ZenScreen stylus and a USB-A adapter for users without USB-C ports." It also has a flicker-free backlight and a blue-light filter to reduce eye fatigue.
Best portable monitor with built-in battery
2.2 pounds | 15.6" screen | 1080p resolution | Rechargeable internal battery | USB-C port | Micro HDMI port | IPS | Integrated speaker: Yes
The AOC has a built-in battery that can last up to four hours and can also charge your smartphone or tablet. That battery contributes to its 2.2-pound overall weight — making it the heaviest option on this list — but if you don't mind a little extra heft, having a monitor that is self-sufficiently powered can be very convenient if you'll be using it far from an outlet. It also has internal speakers and a micro-HDMI port (which functions similarly to a mini HDMI port; though the monitor comes with a USB-C-to-USB-C/A cable, if you want to use the micro-HDMI port, you'll need to supply your own cable). But where the AOC really stands out with its touch-compatible screen. For example, if you connect a touchscreen tablet via USB-C, you can also use the AOC as a touchscreen.
Our experts
• Sam Byford, Verge senior editor
• Grace Kim, TikTok tech creator
• Miguel Melendez, PC expert at B&H Photo Video
• Tony O, TikTok tech creator at TonyTechBytes
• Michael Singleton, Verge news editor
• Tom Warren, Verge senior editor
The Strategist is designed to surface the most useful, expert recommendations for things to buy across the vast e-commerce landscape. Some of our latest conquests include the best acne treatments, rolling luggage, pillows for side sleepers, natural anxiety remedies, and bath towels. We update links when possible, but note that deals can expire and all prices are subject to change.