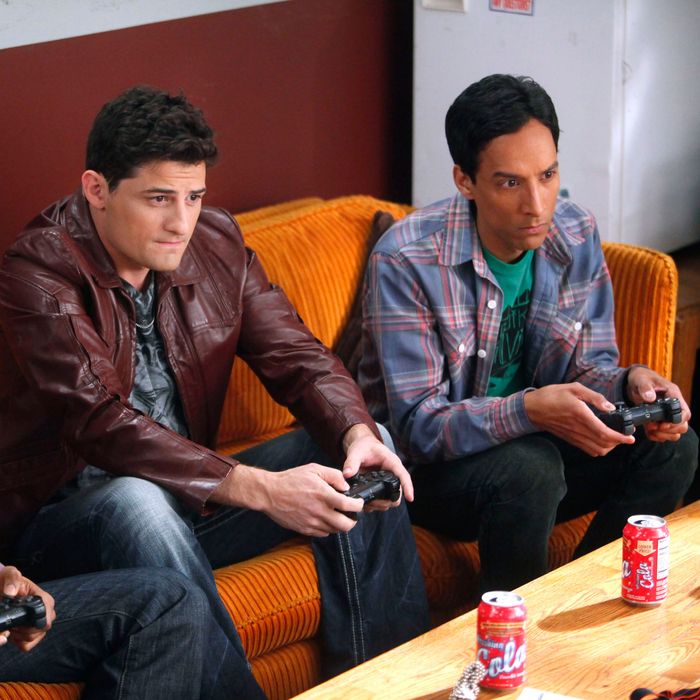 Photo: Jordin Althaus/NBCU Photo Bank/NBCUniversal via Getty Images
Along with hand sanitizer, flour, and now even bikes, finding an in-stock Nintendo Switch has been almost impossible during the pandemic. That's frustrating enough if you're looking for something to break up the monotony of all of this sheltering in place, and even more so when you see all the time people are dedicating to their Switches — and the fun they're having with one of its hottest games, posting fully developed Animal Crossing islands with Bon Appétit–stylize test kitchens or famous streetwear collections. (Celebrities like Elijah Wood and T-Pain are fans of the game, too, appearing on an Animal Crossing virtual late-night talk show.) It's enough to make a Switch-coveter give up. While we can't help you find an available Switch (or even Switch Lite, which is slightly easier), we can help you get your gaming fix in other areas. We consulted gamers and other experts to help you find the best gaming alternatives to get you through this (hopefully temporary) Switch-free time in your life. Here are their picks:
Apple Arcade
Unlike the App Store, Apple Arcade is a subscription service that offers higher-quality games and a more streamlined gaming experience. Three of our experts suggest it as an easy Switch alternative. Sophie Orchard, a gaming YouTuber, says, "I honestly find myself reaching more for my phone when it comes to playing games. Right now, there is a much larger variety of games for mobile, it's more convenient to carry around (even if you are just carrying it around your house at the moment), and let's be honest, it's much nicer on your wallet."
Launched in 2019, Apple Arcade offers over a hundred different games in a variety of genres for your iPhone. You don't have to deal with annoying ads or in-game purchases, you just pay your monthly $5 and play whatever you want. "I've been subscribed to Apple Arcade since it first came out, and it's just a great selection of high-quality mobile games," says Kellen Beck, an entertainment reporter at Mashable who specializes in gaming. "These games are bright, fun, and colorful, and I think that's what you think of when you hear Nintendo," he says.
Beck has been playing this addicting puzzle game nonstop — and he's still nowhere near finishing, thanks to the game's 160-plus levels. It's like someone turned Candy Crush into a hack-and-slash monster game, forcing you to constantly think about the balance of risk versus reward. Although it's relatively easy, it's enough of a challenge to keep you interested.
It's a golf game, but golf has been thrown into a blender and turned into something truly chaotic. Eric Van Allen, the news editor at USgamer.net says, "You start out playing normal golf putting a golf ball into a hole, and now you're a golf ball putting a golf club into a hole, and now you're a golfer who is putting himself into a hole, and now you're a house flying down a mountain into a hole." As you may have guessed from that description, it's pretty weird. It's also impossible to stop playing.
"I always tell people it's like if you made Knives Out the video game," Allen says. Tangle Tower is a story-driven game that takes place in a fictional mansion on a secluded island, where you play as two detectives investigating the murder of one of the characters.
Mobile Games
If you're more interested in a one-off gaming experience than subscribing to the Apple Arcade, the App Store and Google Play offer great opportunities. Sometimes for free.
Orchard recommends Tomb Raider: Relic Run, which she says is similar to the classic mobile game, Temple Run. "I find myself spending hours on this one! It still feels like a classic console game, but for your mobile," she says.
Orchard also recommends Cooking Diary, a story-based game where you have to cook meals for customers in a limited amount of time. "With everything going on in the world right now, Cooking Diary is a fantastic game to play when you want to kill some time," she says.
Allen likes most mobile games made by Nintendo. He describes Fire Emblem Heroes as a "bite-size" version of the popular Switch series, Fire Emblem. It boils everything down to four-on-four fights, and you can challenge other players online or simply collect your favorite heroes and fight the computer.
Console or PC Games
If you want to dive deep into an experience that is fulfilling and easily accessible, it's hard to beat your computer, PlayStation, or Xbox.
There probably would be no Animal Crossing without the classic world-creating game, The Sims. Get the original, or try new expansion packs that keep the game feeling fresh. "The Sims is a game you can spend hours and hours on, and it never gets boring," Orchard says. "You can create your own person, build and decorate houses, start families, have your dream job, become a celebrity, buy pets and much more."
Beck says that this game is peaceful and inexpensive (and available on all platforms). "Right now, having a game where you can feel like you're outside relaxing is really nice," he says. Our colleagues at the Verge describe A Short Hike as "what you would get if you turned Animal Crossing into an adventure game like The Legend of Zelda: Breath of the Wild."
For another game with a similar tone to Animal Crossing, Beck recommends this role-playing farming simulator. "It's very peaceful, and you can move as slow or as fast as you want. You're just building up your farm as the seasons go on. It definitely plays a bit differently than Animal Crossing," he says, noting the lack of competition. "It's an outdoorsy, neighborly kind of game."
If you're looking for a challenging team-based first-person shooter, Orchard recommends Overwatch. "It can be slightly daunting when you first get into it, but once you've got the basics, you won't want to put your controller down," she says. "It's a great game to play by yourself, but even better when you have a full team of friends you can communicate with."