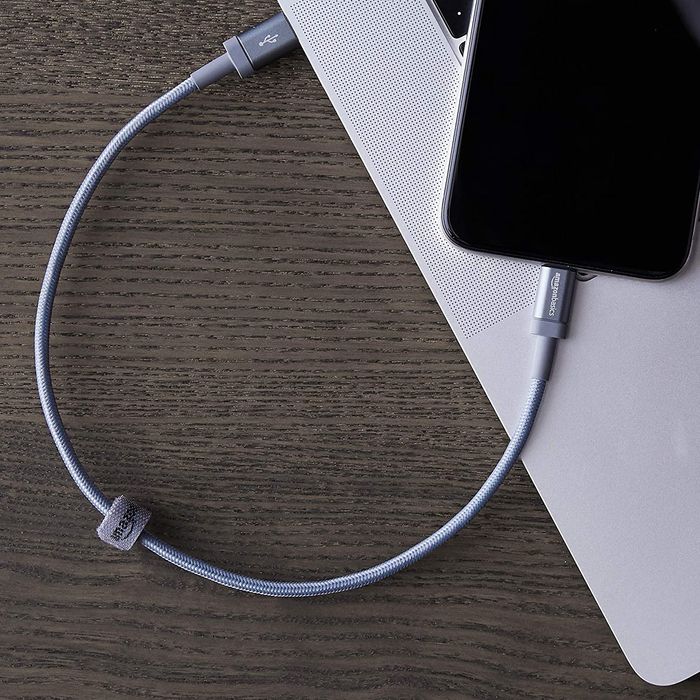 We've written about lots of phone accessories before — including the best portable chargers, one writer's favorite charging stand, and a light-up phone charger— here, we've rounded up the best lightning cables, as praised by the most enthusiastic reviewers on Amazon.
Related Articles: Wireless Phone Chargers | A Fashionable Phone Chain
Best-rated lightning cable
With nearly 9,000 five-star reviews, this cable gets top marks for durability. One reviewer claims that it's "even stronger and much more durable than the original Apple lightning cable." Another explains, "This is the only lightning cable I've ever used that hasn't worn down and continues to work. I've never gotten an incompatible accessory warning on my iPhone with this cable," a common problem with third-party lightning cables. "We've all experienced the infuriating splitting with the standard charging cords (even with just basic gentle use)," says one reviewer, who notes this is the first one he's used "for over a year and there are not even any signs of damage." Many love the nylon cable, with one commenting that "the braided cable is probably the best invention ever" because it's "stronger this way and it doesn't knot up as easily," she adds. Another concludes that it's just "a durable cable that won't fray and tear at the usual places."
Best-rated (less expensive) lightning cable
This charging cord "will not let you down when it comes to lifespan, durability, quality components, slim design, and exceptional packaging," says one reviewer. According to another, "our equipment has had no issues charging while using this cable, and the 'incompatible device' message has never shown up like it has with other charging cables." It's well-made, too, and can hold up to more than just regular, says a satisfied customer: "The cable is a nice, thick, quality cable that feels like it'll handle any stresses I put on it, and has survived my cat trying to eat it, with damage to neither the cat nor the cable." Reviewers also appreciate that it's six feet long. "All my favorite lounge spots have just expanded by 4 feet and I can neglect responsibilities in the most comfortable positions, even if my phone has a low battery," one person says. And while it might not last as long as the official Apple charger, reviewers are content with its lifespan. Many say it lasts past the three-month mark, and one even notes, "This one lasted for more than a year, well more than a year, and in fact I only need to replace it because I lost it - not because it broke."
Best MFi-certified cable
Dozens of reviewers point out that this cable is MFi certified, and that's a big selling point for many. "These cables are very sturdy, look just as nice as the Apple ones, and are Apple MFi certified which makes me feel better about them," writes one. Another bought these because she "couldn't justify buying an Apple-branded cord but didn't want to get another cheap cord that'll last about 6 months," and overall, she loves these, noting, "The material is amazing and feels premium." One even thinks they're "so much better than the official cable," commenting that "the Anker brand hasn't failed me yet." Many agree, saying the quality is on par with Apple cables, like one who explains, "Anker cables are just as good as the originals and they charge without any problems. If you're looking to save some money, but still get a great product then Anker is the way to go."
Best braided lightning cable
"So far, these things are just what I've been wanting: a cord that feels solid, looks good and won't need replacing in 3 months," writes one reviewer. Nearly 1,000 reviewers describe this lightning cable as durable, and hundreds chalk that up to the braided cord. One even says, "It's bulletproof." Another notes, "Great connections, very sturdy and the braided cord lends to a product that will hold up to time unlike other charging cords." Even compared to other AmazonBasics cords, one user says this particular model is the one to get. "This second iteration using braided nylon is such a better design," they write. "My cord has lasted twice as long already. I have a good feeling this will last longer than my phone." It's lasted one user for years: "The only reason I got a new one is because I left my old one out in the rain."
Best (less expensive) braided lightning cable
Many reviewers expressed concern over buying a Syncwire iPhone charger instead of a cord from Apple, but one, who originally "was afraid to go away from the actual Apple product" is so far "very pleased with this cable." Another reviewer calls it, "hands down the best charging cable that I have found yet." And yet another reviewer who tried "countless other cables that always fell apart after a few months" is also thrilled with this lightning cable because it's "Durable. Durable. Durable. The braided nylon holds up remarkably well, even at high stress points like the ends." This rose-gold iPhone charger is a perennial best seller among readers of the Strategist, as well — and since it's rose gold, it stands out amid all the white.
Best reinforced lightning cable
"AmazonBasics lightning cables have been the cheapest, most durable/long-lasting generic brand cables I've tried," writes one reviewer. According to the product description, "an additional layer of protection has been added to the Lightning and USB ends to improve durability and reduce fraying." Reviewers say they can tell the difference: "The place where it normally breaks by the end, theirs has extra material there so you have enough room to pull the plug out and know it never is going to crack exposing wires again," one says. And while the braided version of this charger is also a type of reinforcement, reviewers prefer the smooth texture this one has. "My favorite part about these is the tapered smooth "neck" between the cord and the main USB plug part: Since it's tapered, it's smooth in my fingers when jamming into my phone," one writes. Another notes that "the wire itself feels sort of like a satin feel and it's not super thin either." On top of that, reviewers say this charger is actually compatible with their iPhone. They also claim it charges quickly, but that has a lot more to do with the base you plug the cable into than the cable itself.
Best one-foot-long lightning cable
Many purchased this one-foot lightning cable to complement their portable charger. "At one foot, I am able to have the charger in my left front pocket and my phone in the back pocket so I can continuously charge as I walk around conventions," explains one user. Many admit they were impressed with the quality, like one reviewer who says that this cable is "definitely stronger than the original cord that came with my iPad." "Apple should take notes," quips another user, because "Anker makes awesome products, has great presentation, and outlast Apple's more expensive cables hands down." One unsarcastically says that this cable is "the closest thing to love you can feel for a device cable," and raves about how it's "thoughtfully made for easy connection with end pieces that are flexible and yet rugged enough not to get damaged when bending, twisting, and stuffing into a laptop case."
Best ten-foot lightning cable