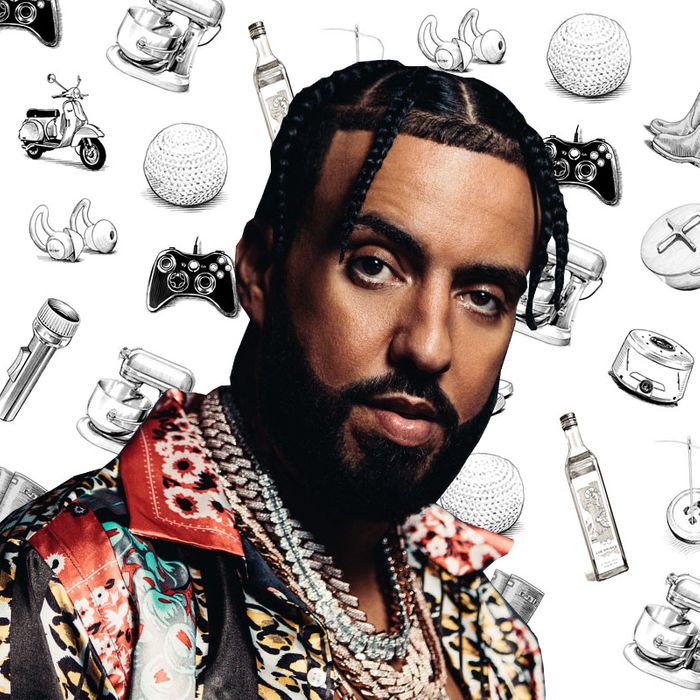 Photo-Illustration: The Strategist; Photo: Nabil; Illustration: Joe McKendry
If you're like us, you've probably wondered what famous people add to their carts. Not the JAR brooch and Louis XV chair but the hair spray and the electric toothbrush. We asked French Montana, whose album They Got Amnesia will be released on November 19, about his animal-print underwear, the incense that reminds him of home, and the speaker he takes with him on the road.
I love the way it smells. I grew up with incense, and Nag Champa reminds me of home. Scent gives you a certain feeling that words can't give you. I don't light it every day — probably once or twice a week — but the good thing about this incense is it stays in the atmosphere for a while whenever you do light it. If I light it a few days a week, my whole place smells like it. You smell it as soon as you walk in my home. People comment on it all the time. But sometimes they don't tell me they like it. They just look at the name and go buy it, then I smell it in their homes later, and I know they learned about it from me without telling me. I've gotten all my friends into it.
My skin type depends on what I'm doing and where I am. When I'm working a lot, it's a lot different, I think, than when I'm relaxed and on vacation. It gets oily sometimes. This face wash plays a big part in keeping my skin looking clean and fresh. I don't do anything else but wash my face. I use this, then I'm done. My face is really sensitive to things, so I don't like to put a lot of stuff on it. This doesn't make me break out or anything, so I've stuck with it for a while. One of my ex-girlfriends got me this for my birthday. We don't talk anymore, though, so I don't really want to give her the credit.
Boxers are too baggy. And I work out, so boxers start climbing up your legs when you do certain moves, you know? These Ethika ones just kind of stick to your leg. I like patterns on my boxers. I wear all kinds of animal prints and all that jungle shit. They have a lot of prints that are very Versace, very flashy, very hip-hop. I match my boxers to whatever outfit I'm wearing. Ethika has so many colors and patterns that it's easy to do that.
My prayer mat was a gift from my friends and family in Saudi Arabia. I pray five times a day, and it's very important to me. I'm like Aladdin on my mat. It's my magic carpet — it takes me places. It's my spiritual guide. I take the time to meditate and appreciate God and my luck. Since I began praying about two years ago, it has really changed my life mentally, physically, and spiritually. I had a health scare two years ago. When it happened to me, it made me realize that I haven't done anything that will help me in the afterlife. Everything I did was to satisfy me in this life. One day, I was just lying down when I was really sick, and a voice just came over me and said to me, "Right now, if you were to die, what did you do in your life? Besides everything you accomplished and fought for every day, what are you going to tell God that you did in your life? Did you help anybody? Did you pray? Did you give anybody guidance? Were you a good son to your parents?" And that's when I started praying to get closer to God and Allah. The prayer mat changed my life. It's green with a bunch of flower designs on it. It's made from Moroccan cloth. It's about as tall as me — over six feet.
My mom made me drink ginger ale. It was her favorite soda. She always told me this is the healthy drink. I don't know how true that is, but I just got used to drinking it, and I really love it. It's kind of a Moroccan thing — a lot of people back home drink it a lot. I drink it whenever I feel like burping.
I never want my phone to die. When my phone dies, it's like my best friend died on me. I always keep two on me just in case I lose one. I wouldn't say I lose it that much, but people steal them from me. I wish I could find them and people would give them back to me, but they disappear all the time. I'll leave it plugged in to charge my phone, then as soon as I unplug my phone for a quick second, I'll turn around and my charger will be gone. When you have a lot of homeboys hanging around and using their phones, chargers are like gold. I can't trust any of my friends when it comes to chargers. I trust them for other stuff, just not phone chargers.
Dina, my manager, got this for me, and I just got stuck to it. I took it with me on the road. When we go to different hotels and stuff, we get the speaker out and start the party. I used to have another speaker, but this one sounds better because the bass is really good on it. I like to listen to a lot of mood music on it. My mood-music playlist is called "Wave Music." I got everything from Marvin Gaye to James Brown to Aretha Franklin on it. I got Freddie King, Charles Bradley, and Bob Marley, too. I set this up on my speaker and just sink into the mood, really feel the vibes.
If I just want a drink, I drink this water. It's great water. I've tried a lot of different waters, and this is the best-tasting one to me. It's one of those things that has become a part of my everyday life. Whenever I'm performing, I ask my team to order it for my dressing room. I don't know if it helps my throat or my voice at all, but it probably does and I don't even know it. I drink it because I like it.
I got put on to Kilian fragrances because everybody around me used it, and I just heard about it all the time. I've tried different brands before, but I'm very loyal to Kilian — it's the best out there. We partnered together to come up with Angels' Share, which fits in with my culture. It smells like oud, and I always wanted to do something like that. Since I was young, my parents and uncles and stuff used oud perfume, and my manager, too. Everybody I know who is Middle Eastern wears stuff that smells like this. I wear this on special occasions. I try not to overdo anything so I don't get tired of it.
The Strategist is designed to surface the most useful, expert recommendations for things to buy across the vast e-commerce landscape. Some of our latest conquests include the best acne treatments, rolling luggage, pillows for side sleepers, natural anxiety remedies, and bath towels. We update links when possible, but note that deals can expire and all prices are subject to change.