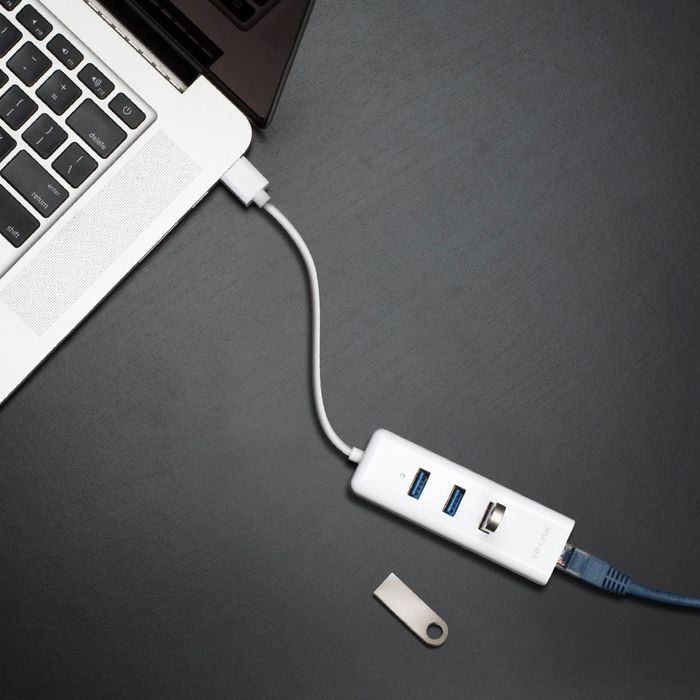 Photo: Courtesy of the retailer
While we've written about USB-C adapters, wireless chargers, and laptop cases before, here, we've rounded up the best USB hubs available on Amazon, as evaluated by the reviewers who've praised them.
Related Articles: USB-C adapters | Wireless chargers
Best-rated (and least expensive) USB hub
This little four-port hub, which has more than 9,000 five-star reviews, left one customer feeling "exceedingly pleased with this nicely made, very attractive and low-profile product." According to another, "transfers are fast and reliable. I've copied several terabytes from one external drive to another, both of which were connected via this Sabrent USB hub, without a single hiccup." Its compact profile means this hub "is small enough to fit on my desk, in my purse, or in my laptop bag," says one reviewer. Another "really, really like[s] the individual buttons for each USB port which allow me to selectively enable and disable inputs. That's a key reason why I went with this Sabrent model." Even the skeptics came around: "I was afraid there would be issues because of how low-priced this product is, but I have been pleasantly surprised," says a reviewer who "runs lots of high-information USB 3.0 devices simultaneously."
Best unpowered USB hub


"I only have positive things to say about this hub. It's plug-and-play with every computer I've tried, including both Macs and PCs," says one review. Though it's not meant for charging devices, it's "very lightweight, fast, and works great" for all other purposes, according to one owner. "I used it this morning to copy video files from my hard drive to four separate thumb drives for customers, and it worked flawlessly," says another, who adds that "it makes tech life a lot easier." Despite the fact that "you can't pull much power … it does maintain close to 3.0 data transfer speeds from flash drives," a reviewer says.
Best USB hub with ethernet port
"I live in a very rural area where Wi-Fi is spotty at best," says one reviewer, who worked around the problem by adding an ethernet connection to their computer with this device. Other people in similar situations had similar results: "Really nice ethernet adaptor for your MacBook," says one. "I have a 2015 MBP running Sierra and it was plug-and-play with no driver required." Another, who picked up the TP-Link USB hub to help with WFH, says, "It's really helped improve the internet connection for my work laptop, which didn't have a built-in Ethernet port … Even though I work fairly close to my Wi-Fi booster, having the hardwire connection is definitely stronger and more stable than Wi-Fi. Just plug the ethernet cable into this and plug this into a standard (3.0) USB port."
Best USB-C hub with SD card
"At long last, somebody made a quality USB-C adapter with a few USB-A 3.0 ports, SD & Micro SD card slots, and just for laughs, an HDMI input," writes one reviewer. Another satisfied customer likes that this device lets them "transfer files from my phone, camera, and drone at the same time without switching from one port to another." Thanks to those SD and Micro SD slots, it's a hit among professionals: "Being a photographer makes SD/microSD card readers essential," writes one. "This product has been ideal for my requirements." That's echoed by another person, who asserts that "as a filmmaker, this is a must for travel," adding that "being able to use the SD card reader was great, and it eliminated an extra piece of equipment."
Best 10-in-1 USB-C Hub
This Swiss Army knife of USB hubs has close to 400 five-star reviews. According to one customer, "It works very well with all of my devices — Mac, Windows, and Android phone. It does all of this without a fault that I could find." And it of course accommodates plenty of devices: "It allows me to use one port for charging, external storage, phone charging, and features like wired Sidecar with an iPad, along with wired internet, should I choose to use it." Another power user describes it this way: "With ten different input options, I am able to connect all of my devices and keep valuable ports on my laptop free. Also being able to output my laptop screen to two separate monitors makes working from home so much better."
Best USB-C Hub for MacBooks
If you're looking for a USB hub for a new MacBook (which comes with only USB-C ports), reviewers say this is one of the best options available. One person who owns both a 16-inch MacBook and a MacBook Air says the hub works flawlessly on both. "It offers full-rate charging on either unit and so far hasn't gotten all that warm in the process. The USB-C ports respond well and have worked with all charger cables and dongles that I have. The USB-A's are classic Anker quality." Another reviewer also notes this hub's ability to handle multiple ports without heating up or stalling: "Purchased this and no problem whatsoever. Run backups and charge my Mac at the same time. Also have used the card reader to read the SD card from my camera. Also like that it attaches to my Mac without dangling."
Best USB-C hub with ethernet and HDMI ports
"This is a great little unit for travel and desk. Read/write speed on the hard drive is fast, the HDMI port works well, as does the ethernet cable," says one reviewer. Another, who works with DJ equipment, was so impressed with the hub they bought an extra one, "to have one in each work location and not need to always remember to bring it with me," they say. "I've been using it with a DJ controller and USB input from a mixing desk, which can be quite fussy, and both are working fine, so [I] am impressed so far (a couple of weeks of daily use)." Plus, as one reviewer points out, the ethernet port can help mitigate Wi-Fi issues.
Best USB hub for data transfers
"This small unit is as close to perfect as I've found. It has a small footprint, clean design, and it works beautifully," says a very satisfied reviewer. It "looks great and works great," according to another owner, who's had "no issues at all so far." Another likes how this "pretty impressive little guy," features "all of its USB ports on top rather than the side, which is useful if you have tons of items you plug in throughout the day," noting that "I was able to charge using all four ports without any issues." And lots of reviewers use this for data transfers at fairly high speeds. "Data transfer speeds are the same as if device is plugged into computer," one writes.
Best USB-C hub for data transfers
"If what you need is just some extra USB ports for low-power devices like thumb drives, then this is definitely the hub for you," says one reviewer, who describes this hub, available as either USB type A or type C, as "perfect for what I need it to do." According to another, this hub is "made very sturdy, with USB slots that are tight and keep the cables snug." Another reviewer says "these are very well-built, sleek and cool-looking." It's tough, too. According to one review, "the housing is made of rugged aluminum and not plastic." That same reviewer says this hub is "essential for anyone using an external hard drive, or USB 3.0 thumb drive."
Best 7-port powered USB hub
"This hub worked right out of the box," recalls one reviewer. "I plugged in the power adapter, plugged the hub into my desktop, and within 10 or 15 seconds, the USB 3.0 controller's drive had been found and I was able to hub it up." Or as another owner put it, "I plugged this bad boy in right away, and wow, what a difference." Multiple other reviewers describe its functionality as "plug and play," with one commending its "excellent performance," and admitting that "I couldn't have made a better decision." It also earns points for convenience once powered up: "It lays flat by design, which allows for easy plugging in of your devices," as a reviewer notes, while another "love[s] how the cables are located in the back to make cable management easy."
Best 10-port powered USB hub
The five-star review of this Anker option rated most helpful describes it as "perfect in every way" and notes that it "works flawlessly," sentiments that are echoed by other reviewers. "It really succeeds in freeing up ports on the back of my pc and moving them to my desk," says another reviewer who states it's "big enough to accommodate even the biggest gaming enthusiasts with many peripherals." Featuring "seven actual USB ports and three charging-only ports," this hub "works as expected and is exactly what I needed," as one reviewer remarks. On top of that, "the read/write speeds for this thing are amazing," according to a demanding reviewer who ran speed tests. Simply put, they write, "This unit is well-built, fast as a speeding bullet, and it charges anything I plug into it."
The Strategist is designed to surface the most useful, expert recommendations for things to buy across the vast e-commerce landscape. Some of our latest conquests include the best acne treatments, rolling luggage, pillows for side sleepers, natural anxiety remedies, and bath towels. We update links when possible, but note that deals can expire and all prices are subject to change.
Every editorial product is independently selected. If you buy something through our links, New York may earn an affiliate commission.