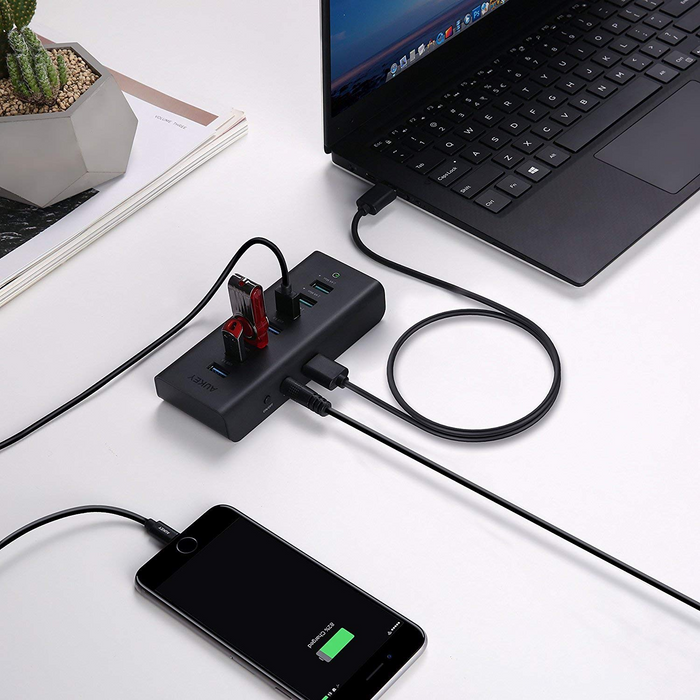 Photo: Courtesy of the retailer
Here at the Strategist, we like to think of ourselves as crazy (in the good way) about the stuff we buy, but as much as we'd like to, we can't try everything. Which is why we have People's Choice, in which we find the best-reviewed products and single out the most convincing ones. (You can learn more about our rating system and how we pick each item here.)
While we've written about USB-C adapters, wireless chargers, and laptop cases, here, we've rounded up the best USB hubs available on Amazon, as evaluated by the reviewers who've praised them.
Best-rated (and least expensive) USB hub
Garnering more than 9,000 five-star reviews, this little four-port Sabrent hub has one reviewer feeling "exceedingly pleased with this nicely made, very attractive and low-profile product." That could be because "transfers are fast and reliable. I've copied several terabytes from one external drive to another, both of which were connected via this Sabrent USB hub, without a single hiccup," according to another reviewer. That compact profile also means, "This hub is small enough to fit on my desk, in my purse, or in my laptop bag," writes another. "I really, really like the individual buttons for each USB port which allow me to selectively enable and disable inputs. That's a key reason why I went with this Sabrent model," attests another satisfied customer.
It also has a way of winning over skeptics: "I was afraid there would be issues because of how low-priced this product is, but I have been pleasantly surprised," a reviewer who "runs lots of high-information USB 3.0 devices simultaneously" admits. In all, one reviewer conveys the consensus neatly: "Great quality for an amazing price on a product that works as advertised. Can't beat that combo."
And now for some micro-picks of every type of USB hub you might be looking for.
Best unpowered USB hub


"I only have positive things to say about this hub. It's plug-and-play with every computer I've tried, including both Macs and PC's," reads a review. Though it's not meant for charging, it's "very lightweight, fast, and works great," according to one owner. "I used it this morning to copy video files from my hard drive to four separate thumb drives for customers, and it worked flawlessly," says another reviewer who adds that "it makes tech life a lot easier." Despite the fact that "you can't pull much power," as one reviewer notes, "it does maintain close to 3.0 data transfer speeds from flash drives." According to another owner, "this super-slim profile hub" is "very easy to throw in a bag with the rest of my accessories" as well.
Best USB hub with ethernet port
"The downside of having a MacBook Pro is that you're confined to WiFi speeds. This worked out of the box, giving me full usage of my gigabit link speed," says one reviewer who attests that their Anker 3-Port USB 3.0 hub "worked flawlessly." And lots of reviewers appreciate the speed this hub offered by the ethernet connection. "Transferring audio and video to/from my home server is excruciatingly slow using Wi-Fi … it just doesn't cut it," one Ultrabook owner says. "With Anker's solution, I get very good ethernet speeds (true gigabit internet), and there's more than enough USB3 ports when I need one." Another reviewer says, "I get upload and download speeds that peak at what my ISP has me capped at," while also noting that "This device has no issues maintaining an internet connection through sleep cycles." In short, this thing is "perfect for supercharging internet speed on a Chromebook and adding some much-needed USB ports."
Best USB-C hub with SD card
"At long last, somebody made a quality USB-C adapter with a few USB-A 3.0 ports, SD & Micro SD card slots, and just for laughs, an HDMI input," writes one reviewer by way of describing this Anker adapter, which enables another reviewer to "transfer files from my phone, camera, and drone at the same time without switching from one port to another." Thanks to those SD and Micro SD slots, it's a hit among professionals: "Being a photographer makes SD/microSD card readers essential," writes a reviewer. "This product has been ideal for my requirements." That's echoed by a reviewer who asserts that "as a filmmaker, this is a must for travel," adding that "being able to use the SD card reader was great, and it eliminated an extra piece of equipment."
Best USB-C hub with ethernet and HDMI ports
"I always wanted gigabit ethernet with my USB-C MacBook Pro, but didn't want to compromise and just have a USB-C to Ethernet adapter," recalls one reviewer. "With this, I gain HDMI, Ethernet, and multiple USB-A ports. As another one of the 50-plus reviews to tout both its ethernet and HDMI functionality states, "it just works. No issues with 1080p HDMI, and no issues negotiating to Gigabit Ethernet on my LAN." That sentiment is echoed by another reviewer who enjoys the "perfect HDMI video to my big 28-inch monitor along with simultaneous ethernet" that it provides. Overall, "the Anker USB-C 5-in-1 Hub Adapter screams quality," in the words of a satisfied reviewer. "I recommend this device for anyone who needs to use any or all of the included adapters."
Best USB hub for data transfers