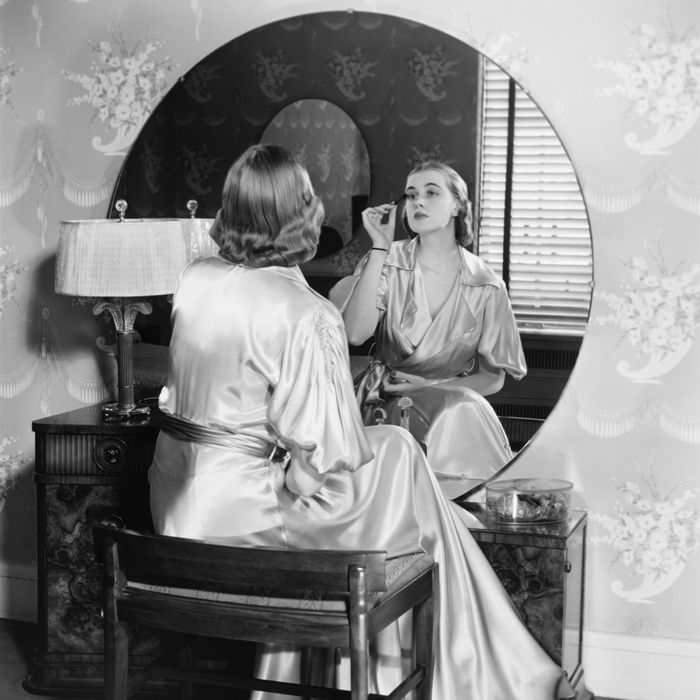 Photo: George Marks/Getty Images
For beauty addicts, finding a way to store, organize, and display your meticulously curated product collection can be a challenge. A proper makeup vanity can be the perfect solution (especially after investing in all those products), whether you've run out of shelf space in your tiny bathroom or simply want a dedicated place to perform your daily masking routine. We asked ten interior designers (and two makeup artists) to recommend makeup vanities for any space, style, and budget, and their favorites (many of which are under $1,000) are below.
Best traditional vanities
The Marte Vanity was, far and away, the top-suggested vanity for its smart design and affordability. "For those who want a proper, all-in-one vanity, it is hard to beat the functionality, stylish silhouette, and price point of the Marte Vanity. Woven cane is very popular right now, and works with many different aesthetics, from bohemian, to modern, to a beachy vibe," according to Laura Hur, an interior designer at Homepolish. The vanity also scored points for its versatility: "The mirror is a lid, and there is storage space below," explains makeup artist Mariko Hirano, who says there's plenty of room to store your cosmetics. Plus, "it can do double duty as a desk when the mirror is down," according to Homepolish design team Kroesser + Strat.
Makeup artist Sofiia Strykova praised this vanity as "sophisticated, stylish, and clean-looking. I love the fact that there is a center mirror and two side mirrors — very useful when getting ready for a night out." Strykova likes that there are five storage drawers "big enough to fit all the necessities," and recommends "putting in small dividers to keep all your makeup items well organized." Bonus: The stool shown comes with the vanity at no extra cost.
If you're searching for a more modern-looking vanity, Strykova suggests this piece. With a desk that's just about three feet long and a larger mirror, it "could easily function as your do-it-all table, not just your vanity. The design is clean and simple, and it can fit in any small studio apartment or bedroom," she says.
This model is tailor-made for serious beauty addicts, according to Strykova, who praises its "strong light bulbs and a very smart tabletop design." The tabletop is glass, she explains, so product junkies "will never feel like they cannot find their favorite eyeliner or lip color" in the drawers beneath it.
Modsy's vice-president of style Alessandra Wood says this "slightly feminine piece with a minimalist vibe is perfect for practical use without looking like a heavy, mirrored piece of furniture." The stiletto legs and round mirror add a touch of Old Hollywood glamour and, for an added bonus, the three drawers come outfitted with makeup organizers at no extra cost. (Another bonus: It's currently on sale). The discounted price is admittedly still steep, so those who like the look might consider this less expensive but similar style.
Two interior designers suggested Duc Duc's vanity, which "comes in a multitude of colors," according to designer Anne Hepfer, who notes each vanity is semi-custom-made because buyers can choose to have the interior drawers painted in different colors for a "fun and unexpected detail." Hepfer says the vanity works within any design scheme, and designer Kati Curtis adds that the "flip-up makeup mirror makes it super-versatile." We also like this bright-colored vanity with a flip-up mirror at a more affordable price point.
Best space-saving vanities
Interior designer Sara Bengur recommends the 42-inch-wide Wyatt Vanity for its "simple, clean design" that still feels "unique and original." The light mango wood adds an airy, boho vibe, while the shape feels decidedly modern. "This Urban Outfitters vanity feels like a nod to Brazilian designs, which are a favorite of mine."
"How to effectively use limited space is an issue that most people have living in New York City," according to Hirano, who recommends this petite option from Muji that sports a "simple design" appropriate for many décor styles.
Interior designer Jenny Norris suggests this 32-inch-wide vanity for beauty lovers with a small space (and a bigger budget) who are looking for something less traditional. "This is as sleek as they get. It's un-frilly and minimal, and also has a unique glass vase to hold makeup accoutrement (or flowers)." For a similarly sleek vanity at a fraction of the price, we like this model from Allmodern.
Best mix-and-match vanities
Several of the designers we spoke to recommend mixing and matching mirrors and desks to create your own vanity (especially if you're tight on space). "By mixing and matching, you are able to create a unique and custom look that has greater utility than a vanity set," explains Hur. "For instance, if you move, or tire of the vanity, the separate pieces can easily be used as a desk or table and wall décor." She suggests the above combo "for the Scandinavian