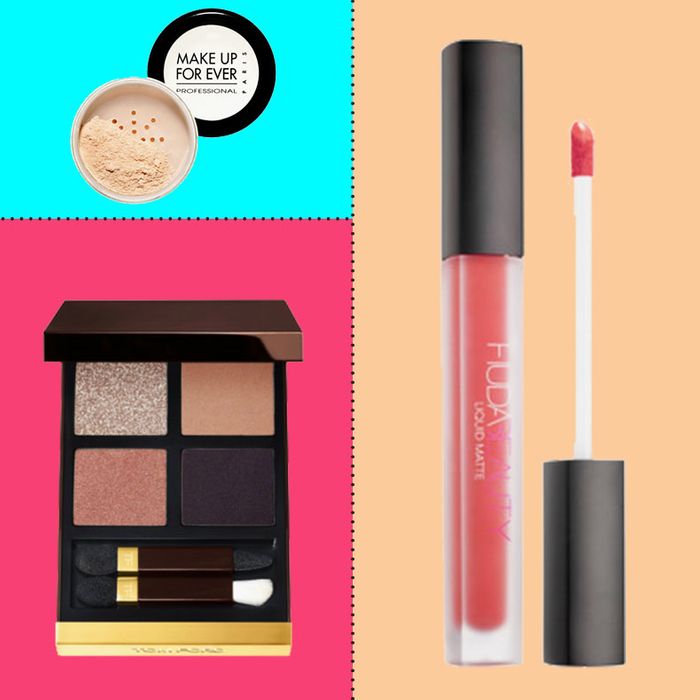 Photo: Courtesy of the retailers
Valentine's Day may lead to an intimate moment or two, like an at-home couples massage, and you may want to put your best face forward for the occasion. To find the best long-wear makeup that can withstand rigorous amorous activity, we spoke to makeup artists Angie Peek, Tobi Henney, and Ash K Holm about their favorite products for keeping it all on while getting it on.
Best products for prepping and priming
A romantic night with your partner will mean a lot of skin-to-skin contact and moisture, which also means that your makeup has to work extra hard to stay on. The best way to make sure that makeup "grips" the skin is to start with a fresh, clean palette. "It is always important to prep the skin to ensure that your makeup is going to last all night," says Henney. "I love to cleanse with micellar water. This ensures that all oils and impurities from the skin are removed for the most amazing makeup base." Henney's go-tos are Nivea micellar water and La Mer's micellar water. Peek, who also starts with micellar water, uses Bioderma.
Once the face is squeaky clean, you want to hydrate it with moisturizer to optimize smoothness and easy makeup application. "I like a lot Murad's products for the skin," says Peek, "but it depends on the person. Right now, everybody's so dry, so I've been using their Hydro-Dynamic line."
Henney loves this new cream developed by stem cell and biomedical scientist Augustinus Bader for ultimate hydration.
Holm agrees that proper skin care is key for long-lasting makeup and recommends using a primer to ensure that makeup stays on the skin. "I recommend prepping the skin with Cover FX Mattifying Primer," she says. "This will help the foundation to really grip onto the skin. It's best to power-group a primer with a long-wearing foundation to prevent sweating and foundation separation."
After Henney moisturizes, she primes the face with Becca Cosmetics Backlight Priming Filter. "This way, makeup will sink into the skin and not look cakey," she says.
Once the face is cleaned, moisturized, and primed, foundation is next. Peek, who has done makeup in the adult industry since 2006, uses Face Atelier foundations on her clients: "It's a silicone-based foundation so it looks like skin and wears really well. It's longwear, and the longer it sits on the face, the better it looks. It's got this really dewy glow to it. It's really beautiful."
Henney's go-to foundation is from Giorgio Armani. "This foundation is great because it can be worn super sheer, or it can be layered to create a more full-coverage base," she says. "It photographs beautifully, my clients all love it, and I also wear it personally anytime I want beautiful skin for a night makeup look."
For 24-hour wear, Holm recommends Beautyblender's foundation, which comes in a wide range of shades.
Once it's time to start applying makeup, Peek likes to start with the eyes. But first, she primes them to make sure the pigment stays put: "I use an eyeshadow primer. I like the one from Urban Decay. Think of it as a glue for your eyeshadow. It keeps everything looking freshly applied.
Peek also uses Smashbox's eyeshadow primer: "This one has a slightly creamier texture than the Urban Decay one. I use it a lot for more mature skin."
Best long-wear makeup
Once the skin has been prepped and primed, Peek starts with eyeliner. "Out of all of the eyeliners I've tried, the one that I really love is the Inglot gel liners," says Peek. "They don't budge. You could just wear them forever; they just stay, which is great." The primer also helps in keeping it in place.
Henney turns to Stila's liquid liner for its staying power. "This liner is waterproof and won't budge once applied," she says. "I love the range of colors this product comes in, and it can be used to create a super-sharp winged liner look in seconds."
For eye shadow, Peek uses a lot of different kinds, but "I've been really liking the Huda Beauty shadows lately," she says. "They're really creamy and just really nice overall and they blend really well. I just really love the pigments of this brand of eye shadow." As far as its long-wear qualities, Peek says that it's the job of the primer to keep it on the face.
Tom Ford's Eye Color Quad is Henney's go-to eye shadow: "These are a staple in my kit. They can be blended so easily and the matte and shimmer shades are so gorgeous. The packaging is also to die for."
You can't have bedroom eyes without mascara. But in terms of whether waterproof formulas stay better than regular mascara, Peek says you don't need them unless you're crying. "Mascara will smudge, but to be honest, sometimes people find it to be sexier when the makeup is smudged after sex," she says. "For myself, I use a lot of different mascaras. Right now, I've been loving one by Marc Jacobs one. It's called Velvet Noir. That one's really nice for a more dramatic look."
Peek also likes Milk Makeup's Kush mascara: "That one's really nice because it conditions the lashes and it doesn't flake."
For a mascara that won't budge during a romp in bed (or other sweaty activities), Henney recommends Hourglass's Caution Extreme Lash Mascara. "This is the perfect mascara if you want super-big, voluminous lashes," she says. "It also won't transfer to under the lash line if you wear it all day."
Kissing will most likely be on the agenda, and you don't want to make a mess. "For lips I have been using Maybelline's Super Stay Matte Ink. It stays on really well, like, forever, it feels like," says Peek. If your lips need a bit of smoothing before application, Peek recommends brushing them with a toothbrush.
Henney's long-wear lipstick of choice is from Huda Beauty: "Once this lipstick has been applied, it does not move. It is my favorite lipstick to use when a lip needs to last all night." Holm also likes Huda Beauty's lipsticks, especially the Bombshell and Gossip Girl shades. "I would go with either a nude or rosey pink to keep your lips looking naturally nude," she says.
Blush will add a sexy flush to a face. But as far as making sure it and other pigmented powders stay put, Peek says as long as the face is primed and set, the color will stay and look natural. "Usually I find myself applying a heavier blush and then going over with [Make Up For Ever Super Matte Loose Powder] because it looks more like it's coming from within rather than sitting on the face," she says. "For blushes, I really love Nars," she says. "That's actually what I use in my kit all the time. I love Deep Throat. It's like my favorite color on the planet. It's just the right amount of shimmer, and it's a peachy, orangey kind of pretty color. I prefer peach blushes than anything else because I feel like when you do somebody's face with a pink blush, it looks like rosacea. I just don't like it. I feel like peach just looks good on everyone." Henney also likes Nars blushes, but in Orgasm: "This has always been one of my go-to blushes in my personal and professional kit. It looks so pretty on all skin types."
For a blush with built-in long-wear features that you won't have to worry about when things get steamy, Holm recommends Buxom's Wanderlust Primer-Infused blush: "It lasts up to 14 hours and has beautiful pearlized pigments in the blush to keep you glowing all night."
As for highlighters, Peek uses the Tartest Pro Glow palette from Tarte that includes two highlighters and a bronzer. "It's good for personal use, but I also have Tarte in my kit," she says. "I like their bronzers because they're not orange, which is hard to find. Because a lot of times, especially on lighter skin, they tend to be orangey or too shimmery. It's like a nice, taupey brown color." Again, with the right primers and setting powders and sprays, everything should stay on long into the night.
Henney's highlighter of choice is Charlotte Tilbury's Hollywood Beauty Light Wand: "Whenever I wear this I get so many compliments. It creates a gorgeous candlelit glow to the skin and photographs so beautifully."
Best products for setting