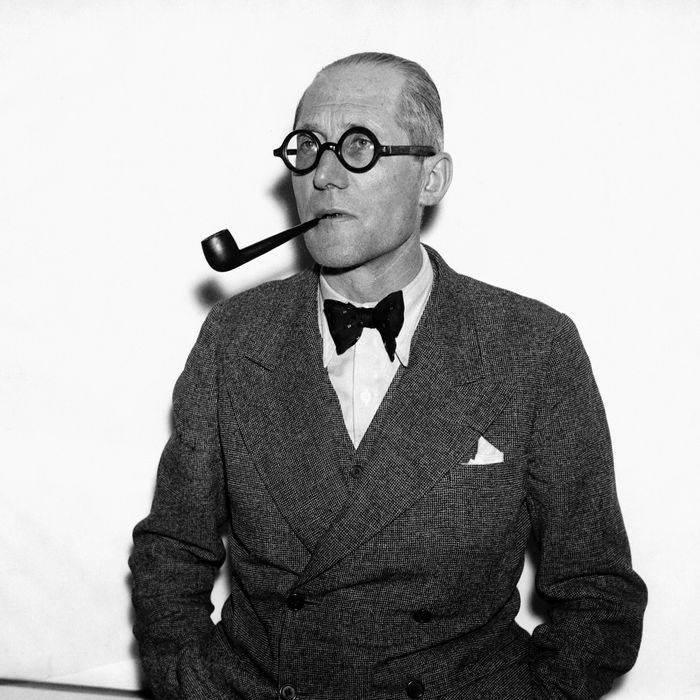 Imagine getting Le Corbusier as your Secret Santa!
Photo: Hulton Deutsch/Corbis via Getty Images
Finding the perfect holiday gift can be maddening. Is this the color they'd want? Is it something they already have? Is it so last year? What can make the hunt even more difficult is shopping for someone with impeccable (or, at least, very specific) taste — a quality that architects are known for. If you're stumped about what to get the aspiring Le Corbusier on your list, fear not: We've talked to nine architects and designers about the gifts they think other architects would appreciate. Here, their favorite pens for drafting and lamps for sketching.
Photo: retailer
When thinking about what to gift an architect, a book on the subject might be the first thing that comes to mind. But which to get? Take it from architect Barbara Bestor of Bestor Architecture, who recommends Regarding Paul R. Williams, a book that collects photographs by artist Janna Ireland of architect Paul Williams's buildings across Southern California. "Williams, who was the first licensed Black architect west of the Mississippi River and who was known as 'Hollywood's Architect', designed houses for Frank Sinatra and Lucille Ball, portions of the Beverly Hills Hotel, and the Pearl Harbor memorial," says Bestor. "I adore Ireland's intimate photographs, and now they are available in this book."
Photo: retailer
If you want to give them something that will come in handy at the sketching table, consider a pen: "Every architect needs a pen that can transform from sketch to writing instantaneously," says architect Andy Lantz, creative director of design firm RIOS. "These pens do just that and are just stiff, liquid-y, velvet goodness." We think the punchy orange shade of the pen will liven up any architect's desk.
If you want to give something a bit sleeker, architect Nicholas Batie suggests this fountain pen: "Lamy fountain pens with refillable cartridges are a classic, and much less expensive, than other fancy pens," Batie told us.
Your architect won't be able to sketch without a proper light. Consider this stylish and practical table lamp, which lead designer Julia Marani recommended. "I want this Artemide task lamp that gives warm, bright light," she told us. "It's perfect for sketching or drafting at your desk."
Or maybe you'd like to gift them a light they can take on the go, like this &Tradition x Space Copenhagen number. "This battery-powered lamp can go anywhere, inside or out," says Bestor. "I like a soft light when dining outside, and this perfectly mimics candlelight or the evening glow of the city in Italy it's named for." If they'd rather not use batteries, the lamp can be charged with a USB cord and holds a 12-hour charge.
If you're shopping for an architect who loves the great outdoors, Lantz recommends these national-park-themed candles, which he says make something of a "travel replacement" for those stuck at home. "As we sit in our at-home offices and dream of future explorations, this candle can take any architect around the world to some of the most awe-inspiring places — Sequoia, Acadia, Arches, Zion, Badlands, and even the Grand Tetons." We think that the cedarwood and sage scents of these would make them a nice alternative gift for the person who already owns multiple Thymes Frasier Fir candles.
Photo: retailer
For the green-thumbed architect, consider these colorful herb pots. "Ceramic artist Tracy Wilkinson's organic ceramic sculptures are incredibly inspiring to me," says Bestor. "Who doesn't love an all-natural air freshener in a beautiful handmade container?" Bestor told us that Wilkinson designed this new line of herb pots for the holidays in especially cheerful colors. "The colors are so unique. They really are perfect for any corner of your house or desk," says Bestor.
"I'm a moderate indoor-tropical-plant aficionado — I think having a lush indoor oasis is a great way to visually escape from the hard edges of city life," says architect Peter Feigenbaum.
"Generally, I believed fake plants were not intended for use outside of dentists' offices and truck-stop casinos in Louisiana. But after a beautiful five-foot dracaena plant I bought in the 28th Street Plant District started to turn yellow and wither away, despite receiving rigorously scheduled waterings, I decided I'm ready to go fake!" If you want to follow Feigenbaum's lead, try a plant from Nearly Natural, a line he says seemed "to go above any previous notions I may have had about the quality and realism of simulated flora." And while Feigenbaum told us he still plans to go for the real deal most of the time, when it comes to "the big-ticket centerpiece," he "just can't stand to watch another $100 plant bite the dust."