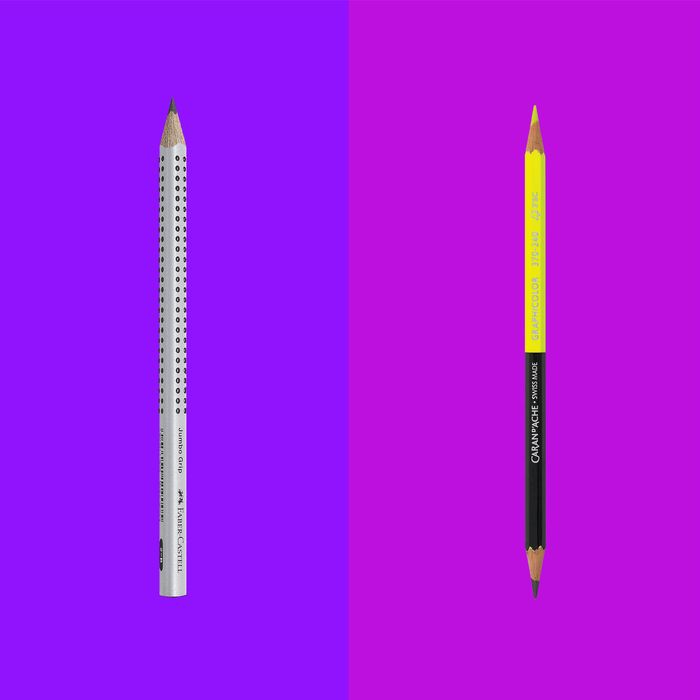 From left, pencils from Astier de Villatte, Faber-Castell, and Caran d' Ache are three of the nine in the author's rotation.
Photo: Retailers
At the opposite end of the spectrum from Donald Trump's Sharpie — a writing tool that suggests permanence, inflexibility, indelicacy, and a desire to overpower whatever precedes it on a page — is the humble, time-tested pencil, always allowing for the possibility of improvement. The writing instrument's history dates back to the ancient Roman stylus, but the painted yellow pencil we all know and love wasn't widely introduced until 1890 (though it's worth noting that it debuted to much fanfare). The pencil was the tool of choice for many notable writers, including Ernest Hemingway, Walt Whitman, John Steinbeck, and Truman Capote. George Washington owned a gilt-clad mechanical pencil, and Abraham Lincoln wrote part of the Gettysburg Address in pencil.
My relationship with pencils dates back to a satisfying lineup of No. 2s shimmying across my laminate grade-school desk. But I developed a deeper attachment to them later in life, when I began professionally dancing ballet, an art form that underscores the notion that your work is always in progress. I took to scribbling down notes from rehearsal — pause longer at count 8, don't get ahead of the music on 5 — in pencil inside the covers of books I was reading or on the backs of envelopes. As I mastered a correction, I would erase the note and replace it with a new one. My career moved on to fashion, with a detour through business school, but every desk I occupied along the way had a pencil glass in a corner. Pencils came to represent the beauty (and messiness) of ideas in progress, and more importantly, the power of owning mistakes. My current post at Paravel, the sustainable-luggage brand I co-founded, is the most pencil-needy job I've ever had. Starting a company is an exercise in continuously erasing and beginning anew, in rethinking and reworking, in troubleshooting, and in staying nimble. The day everything at a start-up feels settled, permanent, and secure for a founder, I imagine, is the day you shut down your business. And even that experience would leave proverbial eraser marks in more places than one.
Over the years, I have developed a list of favorite pencils that can be found in the aforementioned glass or at the bottom of my handbag. Some pencils make the cut because they are beautiful to look at, others because they feel particularly sturdy and resilient in my hand when I'm writing in a hurry. It's worth noting, though, that I have a firm stance against most mechanical pencils. The flimsy plastic body and the snap of the lead when pressed upon give the general impression that many are not there to do a serious job. I am willing to make exceptions for just two. One you'll find below; the other was snapped up at a Christie's auction in 2017 for $6,250. It was George Washington's.
Like John Steinbeck and other notable Pencil People, I too am a devotee of the cult-favorite Palomino Blackwing 602. Famously, Steinbeck began every writing session by sharpening 24 of these. On its side, each Palomino Blackwing 602 is stamped with Half the pressure, twice the speed. Enough said.
The rubber dots on this triangular-shaped pencil remind me of the pencil grips I used in school, while learning to hold a pencil correctly. If I ever need to write in cursive, this is my go-to. More often, I use these to jot things down in my chicken scratch, because I just love the feel of one in my hand.
This is a double-ended (half-red, half-blue) Japanese pencil used by teachers, editors, and accountants. I love the idea of switching from blue (for drafting) to red (for self-editing), though there's rarely any rhyme or reason as to when and why I switch between colors. Kitaboshi also gets points for sustainability: It recycles the by-products of its pencils to make new goods.
The Swiss-made Caran d'Ache Graphicolor Bicolor Pencil is another double feature: One side is standard graphite, and the other is an electric yellow that makes for a great pseudo-highlighter. When I was in grad school, I took to writing notes in the margins with the graphite side and circling key phrases with the highlighter side.
I use one of these when I need a pick-me up. I bought them on Etsy, charmed by their 100-percent-recycled composition and the rainbow-colored shavings they leave behind when sharpened.