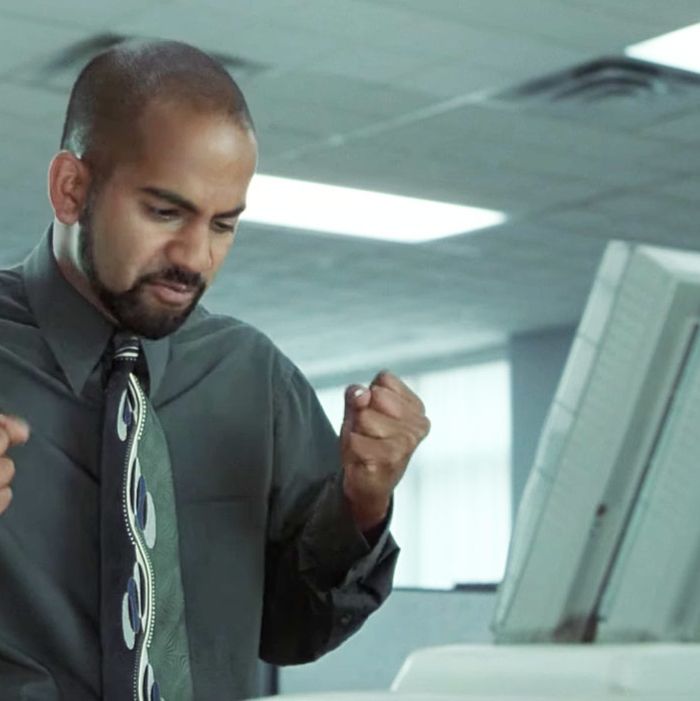 Photo: Courtesy NBC Universal
Over the past two years, your home may have suddenly transformed into a makeshift office complete with a comfortable desk and chair, a wireless keyboard, and a wireless mouse. But one thing most of us don't think about having until we actually need it is a printer. Unless you're a lawyer or an author, or in some other profession that relies on printing a lot of documents, you probably don't need one of those gargantuan, gray, rectangular printers. For most of us, a small and discreet printer that can handle the occasional online form or shipping label will be plenty.
It's not particularly hard to find a printer that will suit your day-to-day needs. Most at-home, nonprofessional printers are all-in-one units, which means they include some form of scanner and fax machine, but if you don't need those features, you can save a little money by finding a print-only machine. The biggest thing to consider is whether you want an inkjet or a laser printer. Inkjet printers use liquid ink, while laser printers use a powder ink that's melted on the page. And while inkjet printers can be much cheaper, they don't tend to last as long as laser printers, and you do have to factor in the cost of more frequent ink refills. Plus laser printers are faster and have superior print quality with text that looks much more precise and clear. The other issue to consider is color. If you want to print in color, you probably want to stick with inkjet printers. There are color laser printers, but they're often prohibitively expensive for personal use.
With that in mind, we're rounding up the best at-home printers according to the people. (See our introduction to this series here.) Our recommendations range from our deputy editor's beloved minimalistic laser printer to something called the EcoTank, which saved a Hollywood screenwriter from his nightmare with ink.
People's Choice: Best-rated laser printer according to Amazon Reviews
This small black-and-white Wi-Fi-enabled printer is good for printing basic things like shipping labels and documents, and it can print up to about 30 pages at a time (more than that will overwhelm the paper feed). More than 300 of the five-star reviews call it "little" or small, and even more users mention its "very small footprint." One reviewer, who has "used HP LaserJets for over 30 years and never had a bad experience," says, "This is by far the most compact HP (or any other brand) laser printer I've come across, yet it does everything I need, and produces excellent print quality, which to the naked eye is undistinguishable from any other quality laser printer." The one issue people mention is a challenging setup process (it's done through the app), with one particularly disappointed customer saying, "I rate the Instructions as ZERO. Lots of You Tube and Googling to figure out downloading the correct software, procedure to running the software for connecting to wifi."
People's Choice: Best-rated inkjet printer according to Amazon reviews
Although some reviewers report issues with the printer's compatibility with their Wi-Fi, others point out that if you run into the same problems, you can use the printer's USB connection as a backup. One woman calls it "nice for the price." Another, who's had this printer for over a year, reports, "I have had no problems with it at all except for one paper jam which I easily fixed. It notifies me when my ink is low and I've changed both color and black no problem. It connects to my wifi and the canon app with no issues. It prints photos in color or b/w but you'll have to order the 4'x6' canon photo paper. Its inexpensive and gets the job done. I've printed/scanned/copied countless of documents and photos with no issues. It does everything I need it to do and I hope it lasts me for a long time!!"
Snooping: A Hollywood screenwriter's favorite printer
In an episode of the ScriptNotes podcast, hosted by two Hollywood screenwriters — John August (Big Fish and Frankenweenie) and Craig Mazin (Cherynoybl and Hangover Part II) — Mazin talks about his new favorite printer: "I came across this Epson brand called EcoTank and honestly they had me at EcoTank. The brilliance of this thing is it doesn't use the freaking toner cartridges," he says. "Oh, what a joy. You just — they give you ink like it's a bottle of ink. And you just go glug-glug-glug into the little ink holder and that's it. That alone is so — because the cost of those toner cartridges, it's like they're made of plutonium or something. And they're terribly wasteful to the environment. And lo and behold I said, Hey Epson, print. And it went, Okay, no problem man. Here you go. That's what I'm here for. So, so far so good. Very pleased with the Epson EcoTank ET-4760."
Ask a Professional: The B&H salesman's pick
For a cheaper version of Mazin's printer, Michael M at B&H Photo Video recommends the Epson EcoTank ET-2760, which uses the same EcoTank technology for ink refills. It's "an ideal, versatile choice for any small or medium office use case," he says. Although it lacks the auto document feeder, touchscreen display, and fax capabilities of Mazin's 4760, it can handle two-sided printing, has an SD memory card slot for easy photo prints, and it comes with nearly two years worth of ink (for most people).
Expert-approved: Best minimalist home printer