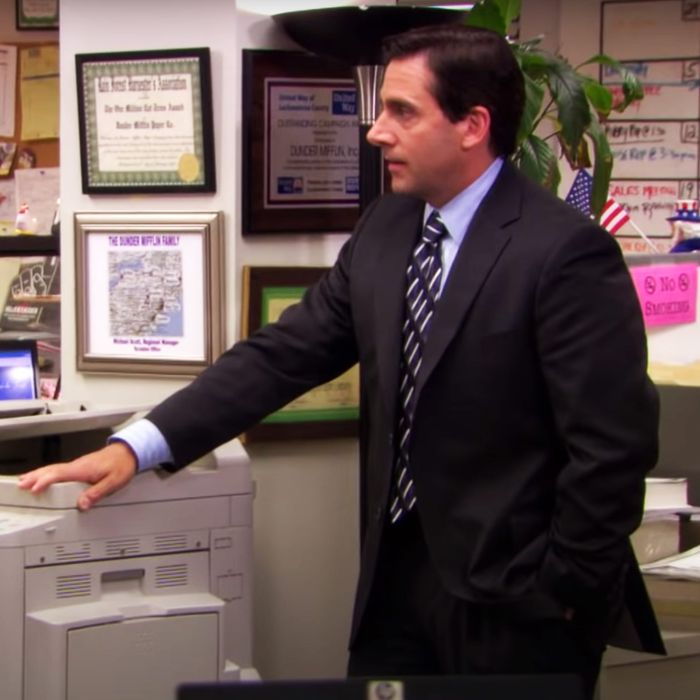 Photo: Courtesy NBC Universal
Over the last few months of quarantine, your home may have suddenly transformed into a makeshift office, complete with a comfortable desk and chair, a wireless keyboard, and a wireless mouse. But one thing most of us don't think about having until we actually need it is a printer. Unless you're a lawyer or an author, or in some other profession that relies on printing a lot of documents, you probably don't need one of those gargantuan grey rectangular printers. For most of us, a small and discreet printer that can handle the occasional online form or shipping label will be plenty.
It's not particularly hard to find a printer that will suit your day-to-day needs. Most at-home, nonprofessional printers are all-in-one units, which means they include some form of scanner and fax machine, but if you don't need those features, you can save a little money by finding a print-only machine. The biggest thing to consider is whether you want an inkjet or laser printer. Inkjet printers use liquid ink, while laser printers use a powder ink that's melted on the page. And while inkjet printers can be much cheaper, they don't tend to last as long as laser printers, and you do have to factor in the cost of more frequent ink refills. Plus, laser printers are faster and have superior print quality: Text looks much more precise and clear. The other issue to consider is color. If you want to print in color, you probably want to stick with inkjet printers. There are color laser printers, but they're often prohibitively expensive for personal use.
With that in mind, we're rounding up the best at-home printers, according to the people. (See our introduction to this new series here.) Our recommendations range from our managing editor's beloved minimalistic laser printer to something called the EcoTank, which saved a Hollywood screenwriter from his nightmare with ink.
Strategist Pick: Best low-cost printer
A search for the best low-cost printer for small spaces led Strategist managing editor Maxine Builder to the Brother L2350, which has since been updated and replaced by this model. This black-and-white printer has built in Wi-Fi, freeing you up to print wirelessly from your smartphone or computer. It can print double-sided pages and has an equal or smaller footprint than most other printers. While it does lack a scanner and copier, if you're looking for an inexpensive (and easy to set up) way to print occasional documents in your new home office, this is it.
People's Choice: Best-rated laser printer according to Amazon Reviews
"OMG, I hereby give this device 10 STARS," writes one customer. They seemed to be especially stoked on the setup of this printer, which took only "10 minutes to unpack to up and running on the network." And over 500 more customers call this laser printer — which can copy, scan, fax, and print wirelessly — "easy" to use and set up. One reviewer has gone through four printers in four years and, as a result, has trust issues when it comes to all-in-one printers. "Somehow after a few times, those printers were useless, the ink will not be good or the printer won't connect to the wifi or some other bull." But this Brother Monochrome printer is different. He writes, "This printer is dope. It prints fast. It's easy to set up and took me less than five minutes to set it up on the table, install the ink and connect it to the Wifi. It looks bulky and heavy, but it is very lightweight." Although most people stress the wireless element of the printer, it does come with a USB cable to connect your computer as a backup.
People's Choice: Best-rated inkjet printer according to Amazon reviews
This all-in-one printer is easy to use, even for a self-described "electronically challenged user," who says they were able to set up and use the printer seamlessly within an hour of unboxing it. Another reviewer calls it "self-explanatory and intuitive. The touch screen isn't very large, but it's much more responsive than the one on my old HP Envy 100, so it's actually an improvement for me. If you can use a regular sized touchscreen smartphone, you can use this with no problem." It can also print photos and it works wirelessly, so you can print with a smartphone or tablet.
Snooping: A Hollywood screenwriter's favorite printer
In an episode of the ScriptNotes podcast, hosted by two Hollywood screenwriters — John August (Big Fish and Frankenweenie) and Craig Mazin (Cherynoybl and Hangover Part II), Mazin talks about his new favorite printer: "I was looking for a new printer and I came across this Epson brand called EcoTank and honestly they had me at EcoTank. The brilliance of this thing is it doesn't use the freaking toner cartridges," he says. "Oh, what a joy. You just — they give you ink like it's a bottle of ink. And you just go glug-glug-glug into the little ink holder and that's it. That alone is so — because the cost of those toner cartridges, it's like they're made of plutonium or something. And they're terribly wasteful to the environment. And lo and behold I said, Hey Epson, print. And it went, Okay, no problem man. Here you go. That's what I'm here for. So, so far so good. Very pleased with the Epson EcoTank ET-4760."
Ask a Professional: The B&H salesman's pick
For a cheaper version of Mazin's printer, Michael M at B&H Photo Video recommends the Epson EcoTank ET-2760, which uses the same EcoTank technology for ink refills. It's "an ideal, versatile choice for any small or medium office use case," he says. Although it lacks the auto document feeder, touchscreen display, and fax capabilities of Mazin's 4760, it can handle two-sided printing, has an SD memory card slot for easy photo prints, and it comes with nearly two years worth of ink (for most people).
According to Reddit: Best home office printer
Amid the (heated) debate on Reddit, the one printer to find any sort of consensus was the Brother MFC-L2700DW, which was recently updated to this version. Fans liked its "high-yield toner," which allows the printer to print numerous pages without depleting the cartridge. One redditor, who "chose this printer for it's reliability," says "it seems like a well built machine, and it's always got toner because it's so damn cheap."
People's Choice: Best-rated inkjet printer according to Best Buy reviewers
According to one reviewer, "This is a full service printer with printing, scanning, copying and is even Alexa enabled. It has a clear fairly large LED touch screen to work the scanner, copy functions, view ink levels and other setup tools." Another says, "My favorite aspect is the Quiet setting." Many people praised the simple setup process: "You can connect to your wireless network with ease. I recommend using the app on your smartphone," says one. "Your pc or laptop can also detect the printer if shared on the same network. Good quality send efficiency. A great value for your home office needs."
Quick Pick: Best inexpensive laser printer found in a Strategist writer's hour of research
I wanted to find an inexpensive laser printer that was still reliable and could churn out important documents. I also knew that I wanted a printer that was small enough so as not to take up too much space in my small office, and I wanted something that could handle mobile printing with a smartphone or iPad. After getting lost in Reddit's r/printers forum, I stumbled upon this option on Amazon. It costs around $100, has a compact shape, and was designed for people who need to print wirelessly. You can also print documents that are stored in your iCloud, Google Drive, or Dropbox. One reviewer wrote, "This is by far the most compact HP (or any other brand) laser printer I've come across, yet it does everything I need, and produces excellent print quality which to the naked eye is indistinguishable from any other quality laser printer."
Expert-approved: Best minimalist home printer
Nicole S. Young, a photographer and writer who has worked from home for several years, swears by the HP Tango Smart Printer. "I sometimes need to print labels, tax paperwork, or other items (both for business and personal use) and it's an essential part of my business," she says. "I used to have a large Brother fax-printer-scanner machine, but I recently moved into a small apartment and needed to get something that took up less space." She loves the Tango's compact design, saying that it's easy to fold away and store when not in use. "The selling point on this printer for me was that I could print directly from my iPhone and iPad as well as wirelessly from my computer, which has already proven to be very helpful."
Expert-approved: Best printer for scanning
Matt Workman has worked from home for about six years as a director and cinematographer. "I bought this printer to scan legal documents and you can put the paper on top and it can auto feed and auto scan and put them all into one PDF," he says. You can also use your phone to scan and print documents wirelessly, scan documents to your email, print from a USB thumb drive, and print two-sided documents to save paper.
Strategist Pick: My personal at-home printer
I've been using the HP Envy 7855 at home for about a year. If I have to print out a story for some editing, the HP Envy is responsive and quickly prints without any major issues. It also has an SD card slot which makes it easy to print out photos. I tend to print using my phone, but I've also noticed that the touchscreen menu is quick and much faster than older models I've used in the past.
Ask a Cool Person: Artist and author Leanne Shapton's favorite photo printer
When we asked writer Leanne Shapton what she couldn't live without, she mentioned the Epson PictureMate PM-400. "This is a printer that prints four-by-six prints, which I love because their object value is so rare. I love sending my family prints of things I've taken photos of, and if I need to have something I've taken a photo of within reach, I'll just make a print of it and stick it behind me so it's not just in digital form. It objectifies and solidifies it like a Post-it Note, only it's on glossy Epson paper."
Snooping: The best printer for writers
In a post on her site about the ten office essentials all writers need at home, Paulette Perhach, a freelance writer whose work has appeared in Vice, Slate, and the New York Times, recommends everything from Post-it Notes to staplers. She also talks about how important it can be for writers to print out their words in order to edit them. She uses the Brother HLL2300D and likes that it allows double-sided printing — a feature that helps keep supply cost (and environmental impact) down.
[Editors Note: This printer is currently backordered. We will be monitoring stock and will update this post as soon as the printer comes back in stock.]
The Strategist is designed to surface the most useful, expert recommendations for things to buy across the vast e-commerce landscape. Some of our latest conquests include the best acne treatments, rolling luggage, pillows for side sleepers, natural anxiety remedies, and bath towels. We update links when possible, but note that deals can expire and all prices are subject to change.
Every editorial product is independently selected. If you buy something through our links, New York may earn an affiliate commission.