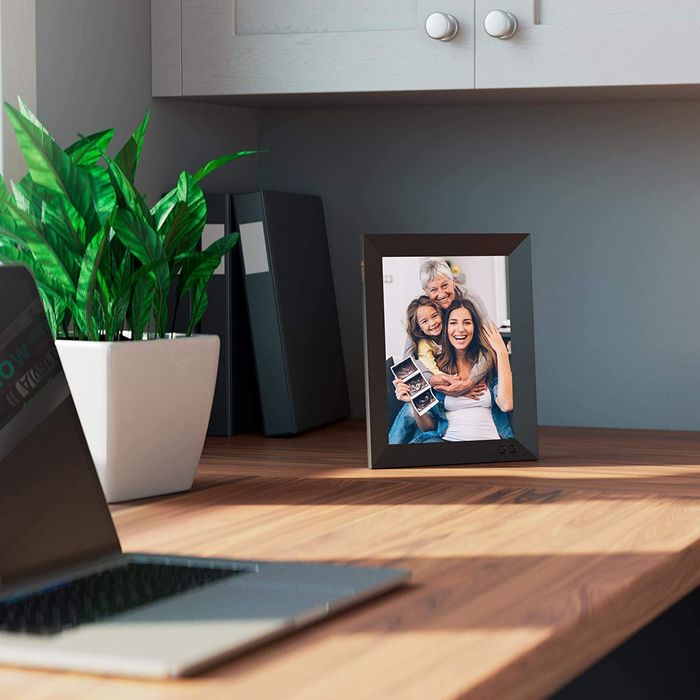 Photo: Courtesy of the retailer.
Since seeing loved ones isn't that easy right now, might we suggest a high-tech picture frame instead? You can keep it for yourself or give it as a gift for birthdays, holidays, or just as a "thinking about you" kind of thing. No matter if it's for your elderly grandparents, your tech-obsessed uncle, or just to keep in your own house, we have an option for everyone thanks to the help of the most enthusiastic reviewers on Amazon. And if you decide perhaps you need something a bit more traditional, we have roundups of the best photo albums, photo framing services, and wall art frames to help you find exactly what you're looking for. Plus, we even have the best digital cameras, you know, for all those new memories.
Related Articles: Best Gifts For Photographers | Best SD Cards
Best-rated digital picture frame
This widescreen digital frame was a favorite of reviewers, with many saying that is was easy to program and just the right size for keeping on a counter or desk. One reviewer, who describes themselves as a "travel and hobbyist photographer," particularly liked the size of the frame for displaying their work. "Setup was a breeze," they write. "The resolution is very crisp, and the 15-inch screen is big enough. So far, I love this purchase." Several other shoppers praised the quality of the photo display. "This unit delivers a bright, sharp, saturated, colorful image right out of the box," says one. Another writes, "The picture colors are bright and 'true,' there are no dead pixels, the resolution is just outstanding, and quite frankly I am considering getting another for my office." Reviewers also liked the motion sensor on this frame. One explains, "It comes on when it detects movement in the room and shuts off when it senses no movement after the timeout you set in the settings." And one appreciates the sleep timer, as well. "When enabled, the sleep timer will turn on and off the screen at preset times each day. This is a good idea to help reduce energy consumption and to help extend the functional life of the frame and screen."
Best-rated (less expensive) digital picture frame
One third of all five-star reviewers call this frame "easy" to use. It's so easy, in fact, that one person said his aunt "who is computer-illiterate" could use it. "Once you insert either a flash drive or an SD card, it's simply a plug and play," he explains. You have to arrange the photos in the order you want them before uploading them to the frame, because the frame isn't advanced enough for you to change it on the screen, but no one seems to be bothered by that. One even thinks this has just the right amount of features. "It's easy to use, and the photos look great. You can even adjust the brightness, contrast, etc., in the settings," one reviewer says. But one additional thing to note: This picture frame really only works with landscape photos. "One picture where the photographer took a vertical picture of my friends and I, it showed a two-inch black border from left to right and vice versa," one customer says. When she tried to adjust the picture like that, she said it looked "morphed and unflattering," so she just "kept all horizontal pictures, adjusted the size, and abracadabra."
Best digital picture frame for small spaces
Dozens of reviewers note that this frame's 8-inch size is perfect for smaller spaces. One customer, who keeps the frame on their bedside table, describes it as "compact" and says that the frame "displays the photo[s] in a really good resolution and the color looks true to tune." Another reviewer, who says the frame is the right size for an office table, is also pleased with its "high resolution" and "satisfying" size. Plus, they describe the frame as user-friendly: "The operation is quite easy and friendly, by plugging in the USB memory stick the photos can be shown up and it can also play video and background music." One customer was initially skeptical about the display quality because of its low price-point, but ultimately they've been "delightfully impressed" with the "excellent, vibrant colors that make all my photos look as good as they do on a much more expensive computer screen."
Best email-enabled digital photo frame
"I love being able to send photos to the frame via email and having control over the organization of the frame," writes one reviewer, and hundreds also love how easy it is to email photos straight to the frame, especially for those operating it remotely for elderly family members. "I love this because I can simply email pictures to the frame and they automatically show up on her frame," says one reviewer, who bought it for their grandmother. Another explains, "You are able to control and change all the settings online, no matter your location, as long as you have the email address and password. Anybody that you share the frame specific email address with can email pics directly to the frame. Kids, grandkids, friends, etc." Customers also appreciate that the setup of the frame is "super easy." It's "So easy that we can literally be skiing, taking selfies and emailing pictures from the top of the ski slopes and the images will be loaded on the frame before we even hit the bottom of the hill," one reviewer reports.
Best touchscreen digital picture frame
About 10 percent of five-star reviewers mention the touchscreen on this picture frame, which makes it especially simple to control. "This is the best picture frame I ever had. Unlike the old frame with remote control this frame has touchscreen, very convenient for using," says one. Another writes, "Touchscreen makes it easy to handle the photos and settings." The frame comes with a detachable rack, which shoppers loved because it allowed them to view pictures no matter the format of the shot. "I think it's a smart idea that the standing rack can be movable so we can put the frame either landscape or portrait," says one. Another says, "Both portrait and landscape mode are helpful. It can change to each mode easily with a detachable rack, and the pictures could be rotated automatically."