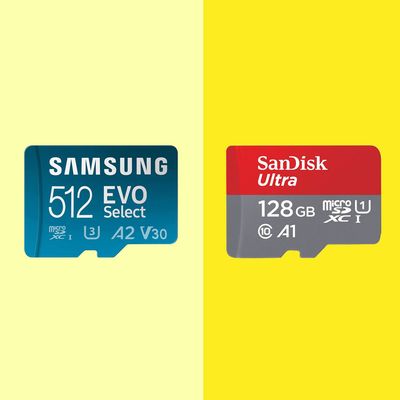 Photo-Illustration: The Strategist
MicroSD cards are almost identical to SD cards in every way, except they're smaller and instead of being used in point-and-shoot cameras and DSLRs, they're more common in devices like smartphones, tablets, action cameras like the GoPro, and portable gaming consoles like the Nintendo Switch, where you may need more storage than what's provided onboard.
Finding the right microSD card doesn't have to be difficult — just don't let yourself be intimidated by the seemingly indecipherable symbols and numbers printed on each one. We spoke to multiple experts including photo and video pros at New York institutions like B&H and Adorama, our colleagues at tech site the Verge, and a professor of video storytelling at the Graduate School of Journalism at CUNY to help you find the best microSD cards for your needs.
First and foremost, your microSD card needs to have enough storage to hold all the information you need it to hold. This data is usually measured in gigabytes (although some microSD cards now hold up to a terabyte). How much storage you need will depend on what device you're using and the type of data you'll be saving on it. For context, a 64 GB card will hold about 6,000 photos, and a 128 GB card will hold approximately 12,000 photos. But, of course, the number of photos or hours of video a card can hold depends on the file size of the images or videos that you're saving.
The three types of microSD cards — SD, SDHC, and SDXC — are categorized by how much storage capacity they have. The classic microSD variety is pretty outdated, so we recommend avoiding it. More common are SDHC (secure digital high capacity) microSD cards, which can store between 4 GB and 32 GB, and SDXC (secure digital extra capacity), which store between 64 GB and 1 TB.
The experts we consulted say that focusing solely on storage capacity is a risky proposition when choosing a microSD card; instead, you should look for one with a good balance of storage, write speed, and read speed.
Write speed is how fast a card can create and write a file, while read speed measures how quickly your card can access the file you're trying to open, and both are measured in megabytes per second (MB/s). Buying a microSD card with a ton of storage and a slow write speed is like buying a pickup truck with a tiny engine — you may be able to fit all sorts of things in the back, but it's no good to you if it can't drive up a hill. With that said, read speed is a bit more important than write speed for most people because you won't want any lag while trying to access files or saved game data, for example. For video or photo production, however, write speed will be more important.
We also looked at each card's speed class, which mainly affects action cameras and video capture. On a microSD card, the semicircle with the number inside — 2, 4, 6, 8, or 10 — indicates the speed class, or the minimum write speed of the card in MB/s. A speed class of four means the card promises a minimum speed of four MB/s. Classes four and six are generally considered to be okay for HD video, but you may want to pick up a class eight or ten for capturing higher-quality video. All of the cards on this list have a speed class of ten, so they should all be versatile enough for the average user.
A video class rating, indicated with a V symbol and number, gives the minimum write speed for video. If you see V30, for example, the minimum write speed for video is 30 MB/s, which is great for capturing 4K video. You can even find V90 for capturing 8K video. But unless you're using a high-speed camera and trying to record pro-level video, video speed won't be as important.
Best overall microSD card
Storage: 256 GB; SDXC | Speeds: Read: 130 MB/s; Write: not specified; Speed class: 10; V30; U3
This microSD card can handle the needs of nearly any device and any type of user, and it offers the fastest speeds and highest storage of the cards we considered while keeping a low price tag. It has a faster read speed than all the other cards in our list except for the SanDisk Extreme, which costs much more for less storage and comes with an SD adapter that many people may not need. The write speed isn't provided on the Samsung spec sheet for this microSD card, which isn't uncommon — manufacturers often focus on read speed instead because it's where you'll notice a lag if there is any. A previous version of this card had a write speed of 90 MB/s, so this one is likely in the same range or a notch higher. It's also shockproof and waterproof and can withstand extreme temperatures, which makes it suitable for action cameras like a GoPro.
Best microSD card for Switch gaming
Storage: 128 GB; SDXC | Speeds: Read: 120 MB/s; Write: 10 MB/s; Speed class: 10; U1
Although Joseph Palma at B&H Photo likes Nintendo's official SD card, which has read speeds of up to 120 MB/s and write speeds of up to 90 MB/s, he actually recommends saving a little money and buying this 128 GB card from SanDisk. SD cards in gaming devices are mostly "used to store the game info and read the game, not write beyond save files and installation," he says, so the extra speed is unnecessary. This card may have a lower read speed and write speed than our best pick overall (so you may not want this card for your camera if it supports microSD cards), but it still has plenty for typical gaming. It's what Palma uses for his own Switch.
Best microSD card for cameras
Storage: 512 GB; SDXC | Speeds: Read: 100 MB/s; Write: 90 MB/s; Speed class: 10; V30; U3
Where write speed really comes into play is when you're recording video. That's also when you'll want to pay attention to the video class, which measures the minimum levels of write speed for recording video. The video class on a microSD card can range from V6 to V90; Palma says V30, like this PNY microSD card has, should be sufficient for shooting ultrahigh-definition 4K video. It should also have the ultra-high-speed class designation, which tells you what type of video, HD or UHD, the card can handle. Ultra-high-speed class is a number inside a U on the front of the card. A U1 card should be able to handle 1080p recording without any issues, but if you want to record 4K, get a U3 card like the PNY Pro Elite, which comes recommended by the Verge.
Best microSD card for versatility
Storage: 256 GB; SDXC | Speeds: Read: 160 MB/s; Write: 90 MB/s; Speed class: 10; V30; U3
Bob Sacha, a photographer and associate professor of video storytelling at the Graduate School of Journalism at CUNY, recommends getting a card like this one, which includes an adapter to make it compatible with devices that use standard SD cards. He shoots with many different cameras and likes to have a microSD card that can work with all of them. Then, for cameras that take standard SD cards, "I often will put that microSD card into an SD-card adapter and then use it in my DSLR or video cameras," he says. "It's a great trick to have one set of cards that will work in all the cameras I use." This microSD card is also shockproof, waterproof, and able to withstand high temperatures.
Best high-capacity-storage microSD card
Storage: 512 GB; SDXC | Speeds: Read: 120 MB/s; Write: 10 MB/s; Speed class: 10; U1
If you're into portable gaming consoles, you'll want to pay attention to the storage capacity of your microSD card. The Steam Deck requires a significantly larger amount of storage than the Nintendo Switch due to the larger size of PC games. For instance, Legend of Zelda: Breath of the Wild is about 14.4 GB in total, not including downloadable content. On the other hand, Elden Ring (which is Steam Deck compatible), requires at least 60 GB of available space. If you're planning on keeping more than a game or two on hand at any given time, you'll need enough storage to back that up. The SanDisk Ultra 512GB is just a version of our pick for Switch gaming with more storage, since the read and write speeds are perfectly fine for gaming. It also has plenty of storage to work with a 4k drone or a home security camera, where you'll have a good deal of footage to manage.
• Cameron Faulkner, Verge staff writer
• Seth Miranda, content producer and host of AdoramaTV
• Bob Sacha, photographer and associate professor of video storytelling at the Graduate School of Journalism at CUNY
• Joseph Palma, sales staffer at B&H Photo
The Strategist is designed to surface the most useful, expert recommendations for things to buy across the vast e-commerce landscape. Some of our latest conquests include the best acne treatments, rolling luggage, pillows for side sleepers, natural anxiety remedies, and bath towels. We update links when possible, but note that deals can expire and all prices are subject to change.