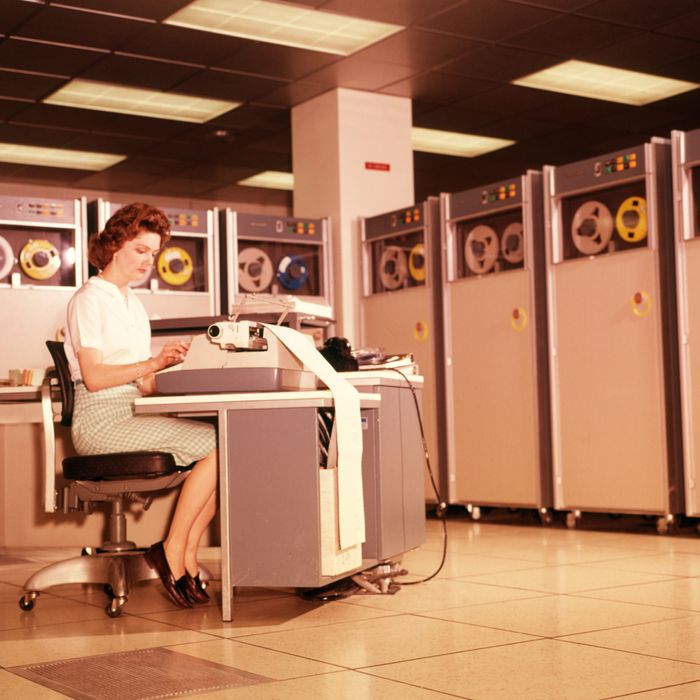 Photo: H. Armstrong Roberts/ClassicStoc/Getty Images
Here at the Strategist, we like to think of ourselves as crazy (in the good way) about the stuff we buy, but as much as we'd like to, we can't try everything. Which is why we have People's Choice, in which we find the best-reviewed products and single out the most convincing ones. (You can learn more about our rating system and how we pick each item here.)
And while we've written about lots of computer accessories — including the best laptop backpacks, the best laptop cases, and the best brush to clean your laptop — here we've rounded up the best external hard drives, as praised by the most enthusiastic reviewers on Amazon.
Best-rated external hard drive
Reviewers love how reliable this external hard drive is, with many calling it easy to use and easy to set. One reviewer, who describes themselves as "NOT tech-savvy," says "the plug-in-go-to-it ease of use is unbeatable" and that it is "by far the best external hard drive I have ever purchased." Many are impressed with the hard drive's storage capacity. One who was working as an educational consultant overseas, who bought the hard drive for work, couldn't believe the storage space they still had when the contract was over. "When I left China, I gave the 2TB portable hard drive with all of my files and videos to the school that I had been working with for over four months … There was still over 1TB of space remaining on the drive when I arrived back in the U.S." Reviewers have used this drive to store everything from Photoshop files to videos and have tested out its compatibility with computers and gaming systems. "I plugged it in, and at first the Xbox wouldn't detect it, so I did a full restart and voila!" one reviewer writes. "After installing deleted games onto the external hard drive, I was back to playing video games that I missed."
Best-rated (less expensive) external hard drive
Small but mighty seems to be the consensus among reviewers of this external hard drive. One reviewer says it is smaller than a deck of cards, "but it holds the memory of bigger size external hard drives," with the added bonus of it being easy to use. "I plugged it into my computer and within seconds was moving pictures, videos, and downloaded items into the Toshiba drive and my computer is running faster and no more error messages of running out of storage," one reviewer writes. Others raved about its compatibility with everything from PCs to Macs to gaming systems and even phones. A new mom who already took a lot of photos wanted a place to safely store photos of her daughter. "I found this product that had good reviews, was price effective, and had enough space that I could put all of my photos. It wasn't hard to use, basically just a plug and play situation. It did take a while to get my photos moved over since I had so many but I had no problem getting them saved over and there's still plenty of room for many more."
And now for some micro-picks for every type of external hard drive you might be looking for.
Best compact external hard drive
Reviewers are consistently impressed with the small physical size of this external hard drive, especially those who have to travel with their files. "I feel confident that I can pick this up and go without worrying where to put it," one reviewer, who lives in a hurricane zone, says, referencing how easy this drive is to pack up and go when a natural disaster strikes. "The Elements drive can fit in my go bag, wrapped in a sheet of bubble wrap and I'm feeling okay about that." Others say that it can easily fit into a purse and one mentions it "can almost fit in a pants pocket." Even though it takes an extra step, reviewers also like that this external hard drive can be compatible with a Mac once you reformat it. Other than that, reviewers say this requires very little setup or savvy. "It's extremely simple to use, there's no software to install, you simply plug it into your computer's USB port, and voila!" one writes. "A new drive option appears. With it plugged in, you can save things to that drive, or copy and paste items using File Explorer."
Best external hard drive for PS4
The wait is over for one user who admittedly had "been lurking in the shadows for a while to catch [an external hard drive] that is specifically marketed as PS4 compatible." They were happy to find this one, which they believe "will give me plenty of space for my game library throughout the remaining lifespan of the gaming console." Another gamer calls this a "must have for those who have a large game library." One user reports having six large games on the drive and still having one terabyte of free space left, but dozens of reviewers have been able to store much more. "BEST INVESTMENT I have ever made for my PS4," one writes. "I have over 50 games in it and it [still] has loads of space. You can travel with it and use it on friends' PS4s, which is nice." Another says this "effectively quadrupled my storage on my 500-gigabyte PS4." For many this also means they don't have to choose between their precious games. As one puts it, this external hard drive equals "no more agonized decisions over what to delete off the drive when I get a new game."
Best external hard drive for Xbox
"Dude, say goodbye to deleting apps and games to make room for updates and game DLCs," writes one reviewer, who now has enough storage for all their games. Another says this is great "if you are like