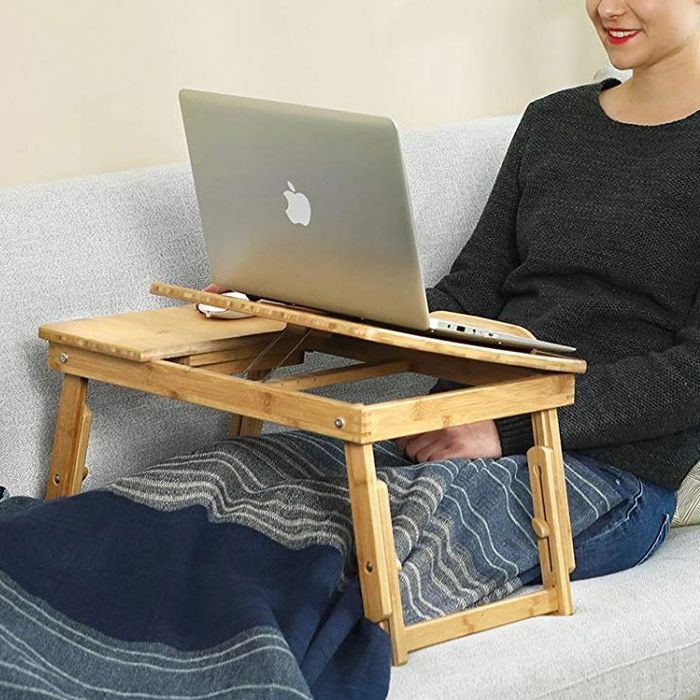 Courtesy Retailer
Photo: Courtesy Retailer
Here at the Strategist, we like to think of ourselves as crazy (in the good way) about the stuff we buy, but as much as we'd like to, we can't try everything. Which is why we have People's Choice, in which we find the best-reviewed products and single out the most convincing ones. (You can learn more about our rating system and how we pick each item here.)
And while we've written about plenty of things you can use in your home office — including the best office chairs, the best home-office desks, and the best ultrawide computer monitor — here we've rounded up the best lap desks, as praised by the most enthusiastic reviewers on Amazon.
Best-rated lap desk
70 percent of reviewers gave this cushioned lap desk five-star reviews, with many praising its smooth surface, minimalist design, and larger-than-average size. One reviewer, who uses this desk for reading, using her iPad, and taking notes, says, "Recently, my husband asked to borrow my little laptop desk, and I don't think I will ever get it back again, because it is certainly big enough to support both his laptop AND the external mouse, AND a notepad!…I might have to ask Santa Claus for another one come next Christmas." Shoppers cited the smooth and glossy surface as another reason to love the desk, which still offers enough traction on the bottom to keep laptops in place. "My laptop has rubber feet and doesn't budge while on this lap desk even when the lap desk is tilted at a 45 degree angle," says one. And while other lap desks might have more bells and whistles, the simplicity of this desk was appealing to reviewers. "The simplicity of this is what makes it perfect," says one. "No gimmicky curves or patterns or textures that make a lot of lap desks annoying. With its YUGE surface area, it's not only just for laptop use, you can easily write your resignation letter to your job on it to let them know you're starting a home business and never leaving your bed because of this lap desk and it's awesomeness."
Best-rated (less expensive) lap desk
"This is one of the best purchases (on or off Amazon) that I've made in recent memory — especially for the price," says one reviewer who uses the lap desk for writing by hand and illustrating. "This has solved most of the terrible pains caused from hunching over my work," they say, also noting that the work surface of the desk can be raised to the angle of your choice. Other reviewers praised the adjustability of the desk, too. "I really like the adjustable angle because I can change it if the sun is shining on the screen of my iPad, and it removes the screen from that glare," says one. "I use this for eating breakfast or lunch, reading books, looking at paper maps, and using my iPad or cellphone." All in all, shoppers found this desk to be great quality for the price. "I spend a lot of time in my recliner because of a back problem and this works better than other options I've tried for half the price," says one. "Was surprised but the quality given the price tag." Another writes, "Light weight, perfectly made to work. Seems inexpensive but it's a winner!"
And now for some micro-picks for every kind of lap desk you might be looking for. 
Best lap desk with adjustable legs
The folding legs on this desk were a big draw for shoppers, who also found that the height was easy to adjust. "The legs are adjustable for height with a turntable knot on each leg; you just need to turn to tighten the knots after you had adjusted them to the height that you want," says one reviewer. Another says, "I searched and searched for a natural wood lapdesk and am so glad that I finally found this one. It's very well made, highly functional, with tiltable split top and adjustable legs…I have room for my Surface Pro 3 with keyboard, cove, and mini-mouse, as well as my cell and a drink or book. There's also a small drawer on the side that's good for storing pens and the removable wooden stopper." Shoppers like the look of this desk, too, praising the bamboo wood and the warm color. "I'm trying to create a warmer environment in my office and the bamboo is a great touch," says one reviewer. Another writes, "It is a beautiful piece and so well made and easy to use."
Best laptop desk with phone holder
Shoppers found that the phone holder on this desk made it easier to stay organized and even multitask. "The phone holder is perfect, I can play Netflix on my phone while working from home," says one. Several reviewers note that the holder is big enough for larger phone: "It holds my big iPhone 7+," says one, and another writes that the "Phone holder is large enough for Samsung S7 in a lifeproof case." Shoppers also noted that the phone holder slot can be used to hold pens. "I used the phone holder for pencils and a ruler instead; but holds my phone well, even with a bulky case," one writes. Others found that the strap across the upper left corner of the lap desk helped with organization. "The strap on the top left is firm and very useful for holding down additional supplies. I use it with longer pencils / styli," says one. Another writes, "I love the elastic strap at the left corner — I didn't even notice it in the listing, but it is PERFECT for holding things. I would highly recommend this."
Best portable lap desk
Shoppers who wanted a minimalist lap desk that was easy to take on-the-go praised this one highly. "It fits perfectly in my backpack along with my laptop," says one reviewer, who describes it as, "Highly portable, sturdy, comfortable to use and I love the slide out mouse pad. I would definitely recommend this product." (Another shopper notes that the pull-out mouse pad can be used on both the left and the right side of the desk, so "anyone can use it.") Another writes, "If you're a serious laptop worker who cares less about fancy, plushy, comfy models with drink holders and built in lights, this is a great choice for you. It's portable and functional with no fuss." One shopper who says the desk has a "brilliant design" sums it up: "This is a low tech solution to laptop computing…lightweight but strong; packed with the right features to make it a 5 star product; durable materials, non-skid surface hugs your lap and the laptop at the same time; the slide-out mouse pad is brilliantly designed to be functional but not add extra weight to the lappad. I can't say enough good things about this simple yet elegant design; you won't regret this purchase."