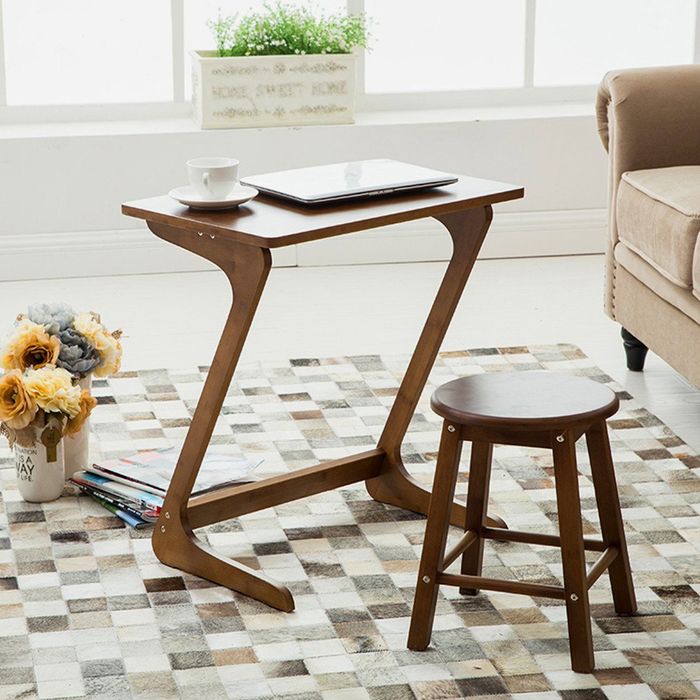 Photo: Courtesy of the retailer
Here at the Strategist, we like to think of ourselves as crazy (in the good way) about the stuff we buy, but as much as we'd like to, we can't try everything. Which is why we have People's Choice, in which we find the best-reviewed products and single out the most convincing ones. (You can learn more about our rating system and how we pick each item here.)
And while we've written about lots of tables before — including the best coffee tables, the best folding tables, and the best glass coffee tables under $200 — here, we've rounded up the best laptop tables, as praised by the most enthusiastic reviewers on Amazon.
Best-rated laptop table
"I needed a table that could do three things: fit over my legs, hold my large laptop and tilt. I got all three in one and couldn't be happier," raves one reviewer about this laptop table. And with nearly 3,000 five-star reviews, this laptop table is described by hundreds as "versatile," including one reviewer who describes it as "portable, easy to store, cheap, and pretty." Many appreciate that they can now work from their bed with comfort and ease, like this guy who likes to teach his online college courses from bed, explaining, "It is sturdy enough to work on without it jiggling while I type. It is stable on my bed, on which I have a 3-inch memory foam topper." Another impressed reviewer writes, "Wow, it's perfect to work in the bed at any day time." But according to one teacher, this laptop desk works well while standing, too: " I had several kiddos who preferred to stand than sit in our hard chairs, but they were bent over at a 90 degree angle working. With these standing desks, all of these students were able to stretch out while working. The tiltable workspace allowed for a flat writing space or could be tilted if they were typing on Chromebooks to avoid glare. So far, no complaints from kids or their teacher (especially when I could get a sale price, considering they were purchased out of pocket)."
Best-rated (less expensive) laptop table
"This thing will outlive your pet tortoise," jokes one reviewer about the durability of this plastic laptop desk. Another appreciates that it's "able to collapse like an ironing board" but is still large enough to hold her "laptop and mouse, with additional room to spread out papers and hold a beverage." A third reviewer admits he's "always been a more of a couch person, as opposed to a desk person" and needed something functional to work on, writing, "It adjusts to just the right height, and I can fold it up and store it under the couch when I'm done working. It's extremely study and doesn't wobble. And the price is excellent." Another couch person calls this the "perfect size for a couch potato's laptop desk," adding, "it's extremely sturdy and large enough for my 18-inch gaming laptop, mouse pad, drink, and a small plate of food." One customer agrees that this is the sturdiest laptop table she's found, concluding, "I don't know how I lived without it. Great quality, light, easy to set up and really stable. I live with cats who jump on everything and even with a tea set on it or laptop, there is no wobble."
And now for some micro-picks for every type of laptop tables you might be looking for.
Best rolling laptop desk
"I'm so excited," expresses one reviewer after testing this rolling laptop desk, adding, "I received the perfect table." Another appreciates that "it rolls well" without being wobbly, noting, "for the money, this cannot be beat." One customer upgraded from her old table to this and loves the rolling feature, writing, "After years of using a trash can in the bathroom as a laptop stand, I finally figured I should get something more professional looking that was also easy to push out of the way. This fits the bill perfectly." Another is "in awe at the quality of this laptop table," advising others, "Get this cart, and don't bother with any of the others; they are just pieces of junk." One self-proclaimed bachelor notes, "I could not imagine my life without this table," explaining, "If I'm sitting down at home, I'm generally on my laptop, or it is at least open in front of me, so I'm using this table a lot." A few complain about how difficult it is to assemble and adjust, but one reviewer disagrees, noting, "A child could do this one." As one reviewer concludes, "Overall, this is a great laptop and multipurpose cart. If you are worried about the price, if you keep this for 5 years, then you pay only, like, seven dollars on average."
Best adjustable rolling laptop table
"This desk is sturdy, a great size, and the height is adjustable," sums up one customer, who adds, "I can easily roll it out of the way when it's not in use. I mean it even comes with a free mousepad, what more can you want." Many others appreciate that easy rolling, like one who writes, "The wheels roll freely on our carpet, and the size is perfect for a laptop and mouse." Another reviewer thinks the adjustable height "is really nice and the whole thing feels solid and sturdy." This cart is wider than the Seville Classic cart mentioned earlier, and one reviewer adds that the surface area is actually larger than expected, explaining, "I have a 15-inch laptop on it and do genealogy work and have room on the side of it to put papers that I am also working on." Another reviewer loves it so much, it's become a near-constant companion: "I love it. I work in bed on it, Eat in bed on it, etc. It is handy as hell."
Best standing laptop table
"If you want a working stand-up desk on a budget, this is the desk," raves one customer. Another agrees, explaining, "As a standing desk, it functions perfectly. It is high-quality that will last you a long time." One reviewer even claims that this standing laptop table "saved" his back, explaining, "Hours of sitting at work caused strain to my back and this awesome desk plus a mat saved my back. No more back pain after a few days of alternate standing and sitting." And as one reviewer sums it up, "This is a great alternative to the obnoxious prices of other products which accomplish the same goal of getting you off your butt." He even disagrees with a few reviewers who say there's limited workspace, adding, "Although the relatively small work area ma