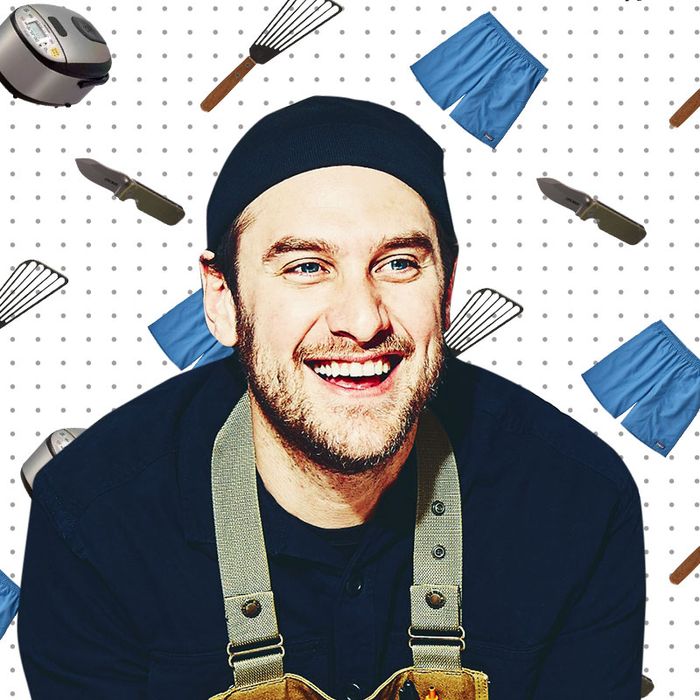 If you're like us, you've probably wondered what famous people add to their carts. Not the JAR brooch and Louis XV chair, but the hand sanitizer and the electric toothbrush. We asked Brad Leone (a.k.a. #BABrad), the host of Bon Appetit's "It's Alive" series, about the pocketknife, fish "spat," and headlamp he can't live without.
I was elk hunting in Oregon with my buddy recently, and he had a different headlamp, and when I turned mine on, he honestly could have just turned his off — this one works that well. It has the brightest light, the battery lasts forever, and it's rechargeable, which I dig. It's good for camping and grilling when you're outside and you're like, Oh fuck, I can't see what I'm cooking anymore. I keep one in the car at all times in case the car breaks down and I need to change the tire.
I mean, these are just a fantastic pair of shorts. I love Patagonia. You can wear them swimming, around the city, anywhere it's hot. They dry quickly, they're lightweight; they'll be with you for the rest of your life.
I always carry a pocketknife in my pocket for opening boxes, cutting a string, or whatever little thing comes up. And I don't want to carry around a big, stupid knife. This one is great — the perfect size, very sharp. The company is also owned by Geoff Rowley, who is a pro skater and loves hunting and is also just a total legend badass.
I'm a big tool guy — I have a woodshop and do woodwork and metalwork on the side — and this thing is a fantastic tool. It's great for sinking screws, putting down decking, or putting up a picture. My kid broke a shelf the other day, and I had to rehang it — this got that done quick. It's not going to do what a chisel does or what a saw does, but for hang-y, DIY shit, it's perfect. A workhorse.
Another workhorse. I use it for everything, not just fish: It's my go-to flipping thing. Vegetables, eggplant, steak — basically for anything you're searing and want to get under smoothly and sharply, this is your guy. And this brand, Winco, is tried-and-true.
Danner is a great company from the Pacific Northwest. The boots are waterproof and super well made, and they're great for hiking, work, or fishing or if it's raining — everything, really. They're comfortable as hell, tough as hell, and have a pretty awesome yearlong warranty. I dig 'em, always have. For straight-up rain boots, I like the ones from XTRATUF. They're not as good for your feet as the Danners, but you could stand in a puddle for ten days in those things.
I'm a big archery person. I grew up shooting bows. Some people play golf, I do this. With archery, if you have good gear, you can't blame being bad on anyone but yourself. This bow is fantastic: super-quiet, super-reliable, really well made. I've known about Mathews for a long time and decided to finally invest in one about a year ago. I hunt with this, too — I'll shoot an elk or a deer and harvest the whole animal instead of going to the grocery store and buying meat. It's a great way to be connected to the food chain, if you choose to do it.