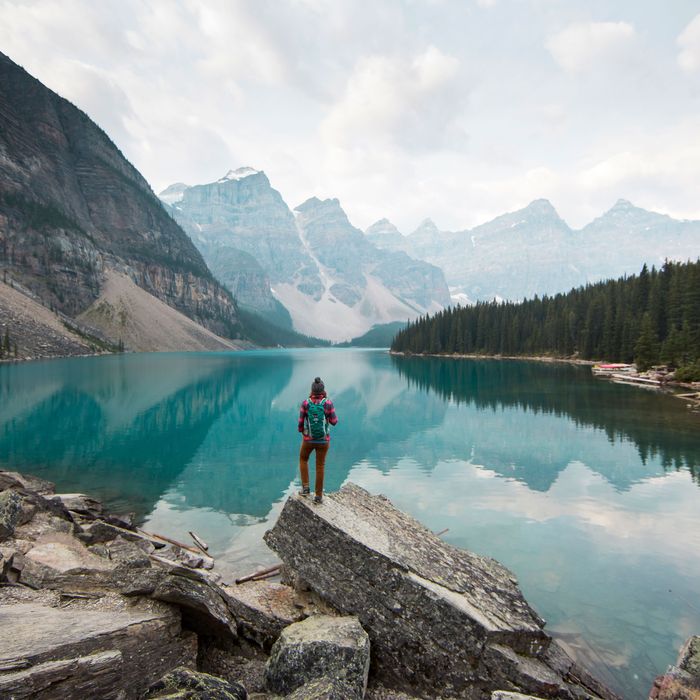 Photo: Jordan Siemens/Getty Images
Finding the right pair of hiking boots or hiking sneakers is time-consuming and difficult, though not impossible. In the search for the perfect hiking shoe, there are consequences to picking something based entirely on looks. Hiking footwear isn't cheap, and if it doesn't fit properly or fails to meet your unique hiking needs, you will have lost money, wasted time, and put yourself at risk of injury. To help avoid all that, we asked eight experienced female hikers to tell us about their favorite hiking shoes. They agreed that the best pairs are breathable, waterproof, and seriously tractional.
The best hiking boots for women
Three of the hikers we spoke with recommended Keen hiking shoes, including Sophie Radcliffe, an endurance athlete and avid hiker who has switched from traditional hiking boots to something lighter and more versatile. "I don't wear really heavy, sturdy hiking boots anymore unless I'm doing something that requires them," says Radcliffe, who instead looks for shoes she can wear for multiple activities. "I always want a shoe that's really versatile, and it has to be comfortable, lightweight, and flexible. I love my Keen Terradorra waterproof boots not only because they're fantastic boots that remain comfortable on the trail, but also because the company has a massive commitment to sustainability. They give back to support projects all around the world."
Jessica Baker does most of her hiking with her two kids in tow, so she isn't doing the most challenging trails. "My hiking shoe of choice is the Women's Moab 2 Mid Waterproof boots by Merrell. Even though they're boots, they are super-breathable and keep my feet from overheating," she says. "Maybe the best thing about them is the fact that they are waterproof. When I find myself hiking through streams or even in the rain, my feet stay completely dry."
Another pair of waterproof hiking boots came recommended by Lauren Bendinelli, a hiker who lives between Denver and Boulder, Colorado, and stresses the importance of finding the exact right size lest you lose a few toenails. "For my Rocky Mountain hikes, I'm currently loving the Vasque Women's Talus UltraDry Hiking Boot," she says. "They're waterproof — which is essential for hiking in Colorado with all the lakes and rivers — fairly lightweight, still provide some ankle support, and are super-durable. I've been wearing them hard for three summers, and they're holding up great."
"A lot of instructors are now moving to more lightweight trail-running and hiking shoes from Altra's Lone Peak line. That's the new thing," says an Outward Bound logistics coordinator who splits her time between frigid northern Minnesota and the desert by Big Bend National Park in Texas. We've also spoken to her about her favorite outdoor goods.
"If you're looking for one boot to rule them all, the vintage styling of the Danner Mountain Light is iconic, and the one-piece leather design makes for a sturdy boot that can handle anything from a casual walk around Telluride to a thru-hike of the Pacific Crest Trail," says Zina Bougri, an account manager at Backcountry. "They're the boots Reese Witherspoon is wearing in the movie Wild. Once these babies mold to your feet, if you're invested in the process, they should be absolutely comfortable within a month, if not just a few weeks."
The best low-top hiking boots and hiking sneakers for women
Anita Mahaffey is one of the three women who recommended Keen hiking shoes. She has hiked trails from Machu Picchu to Zion National park to the Swiss Alps and owns both high- and low-tops from the brand. "I was just telling my husband today that they feel like slippers," she says. "I'm sure they are not great for everyone, but I love them. I have a female hiking group with about eight women, and half of them also wear Keen boots."