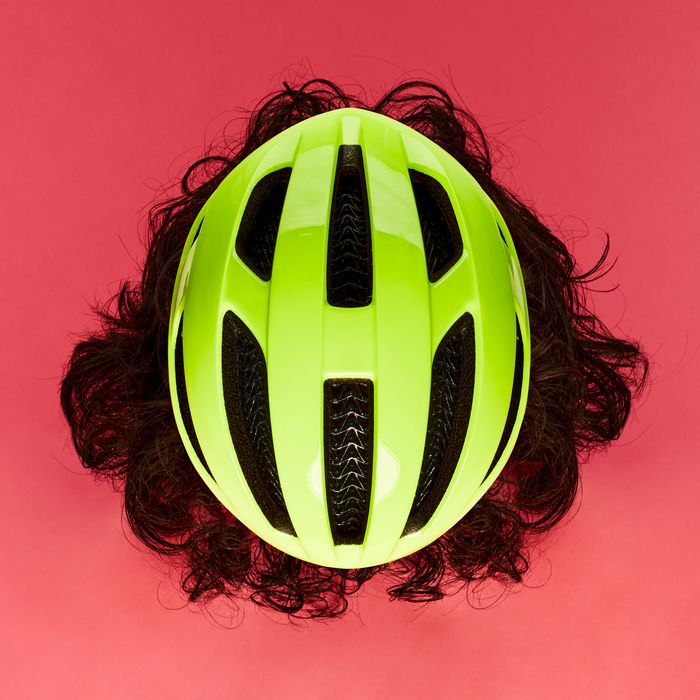 All bike helmets sold in the United States must meet the same strict Consumer Product Safety Commission standard. Which means "the protection offered by most helmets is pretty similar," says Randy Swart, the executive director of the Bicycle Helmet Safety Institute. "And it's a good level of protection."
With that knowledge, you can pretty much just pick a helmet according to your personal riding habits and how much you're willing to spend in the name of comfort and aesthetics. And you'll definitely want to make sure your new helmet fits properly. It should sit level on your head with the chin strap drawn so the helmet moves slightly downward as you open your mouth. The fit should be snug enough that you're significantly loosening and tightening the rear adjustment dial (or equivalent mechanism) in order to take the helmet on and off. A well-fitted helmet should feel comfortable and relatively weightless. "It's like a seatbelt," says Swart. "Once you put it on and buckle it, you should pretty much forget it's there."
In time for summer bike rides, find the best helmets for different kinds of riders below, as tested out by myself, fellow Strategist staffers, and a wide range of experienced cycling experts — including a budget pick that should work for both road racers and casual commuters, helmets for large and small heads, and a collapsible helmet approved by the Citi Bike crowd.
Ben Sawyer, the head mechanic at CycleMania in Portland, Maine, says there are three categories of helmet: road biking ("generally lighter weight, with better ventilation and more aerodynamic design"), mountain biking ("typically with a front visor for protection and more coverage in the back"), and commuter biking ("designed for a little bit of everything"). I've taken note of which helmets suit particular styles of riding — and also found a few versatile commuter helmets that'll work for a variety of riders.
As long as a helmet carries a CPSC sticker (and all these do), comfortably fits your head, and matches your budget, it's a smart purchase and could help save your life. For this list, though, I mainly considered helmets that have been subject to additional voluntary testing by independent authorities such as Virginia Tech, Consumer Reports, the Snell Foundation, and the American Society for Test & Material International. If you're purchasing a higher-end helmet with supposed state-of-the-art features, you might as well get one that's been put through its paces by more than one lab — especially as there's evidence that more bells and whistles might actually make some helmets less safe.
Most of our recommended helmets also feature anti-concussion technology such as MIPS. Developed by a team of Swedish scientists, MIPS is a thin web of yellow plastic attached to some helmet interiors that's designed to move and flex upon impact. The idea is that your helmet rotates, but your brain doesn't. MIPS and copycat technologies like Bontrager's WaveCel are not a CPSC requirement, and experts were divided as to whether they actually work. Swart is skeptical and pointed us to an inconclusive Snell report published in December 2021. John Watson of cycling blog Radavist is evangelical about MIPS ( "I don't see ever wanting to own a non-MIPS helmet — it's your life you're talking about"), as is Sawyer, whose store stocks only MIPS-equipped helmets. Everyone we spoke with agreed that MIPS could theoretically offer some degree of additional protection against brain injury and is unlikely to cause active harm.
It's also worth noting that helmets will lose their powers over time, mainly from sweat and sun. "Rule of thumb: Use a helmet for three to five years, because after that, the Styrofoam will deteriorate," says Five Boro Bike Club communications vice-president Alfredo Garcia. And even a brand-new helmet should be dispensed with in the event of a collision — they're single-use items. "Once you've been in a crash, never use it again," advises New York Cycle Club PR director Neile Weissman.
With bike helmets, comfort and safety are interlinked. You may end up adjusting an uncomfortable helmet to the extent that it's no longer effective — for example, pushing up the rim until it's too far above your forehead to protect against face-plants or loosening straps to the detriment of a snug fit. For racing and long-distance rides, I considered lighter and more streamlined helmets; for summer cyclists, those with extra ventilation. The helmet that fits your head is the helmet that fits your head, but we looked for brands with wide sizing availability and clear guidance on adjustability and measurements. Several experts mentioned that bike helmets in bright colorways are the safest despite the ubiquity of charcoal-gray styles. "You want the most visible color on your head that you can put there," says Swart. "At least in the daytime, it's one of the most important safety factors." I tried to find helmets available in an array of bright colors. For night riding, I also considered helmets with built-in lights.
Best overall bike helmet
Intended use: Commuting and road biking | Safety: WaveCel, five-star Virginia Tech rating | Comfort and aesthetics: Ventilation, extensive sizing, good adjustability
Blending form and function at a mid-range price point, this helmet for road biking is sleek enough to suit urban riders, being light in weight and well ventilated yet incorporating a flattering, slightly rounded silhouette. When I put this helmet on my head, I feel like I'm wearing the best possible version of the classic foam bike helmet that has existed time immemorial: It's traditional in both look and fit. It's available in five sizes, from youth to XL, with the brand providing clear guidance about how to measure your head. It's also available in a bright "radioactive yellow" colorway (the one I went with — facing off against New York City traffic is no time to be wearing subtle earth tones) that will help you stand out on the streets. Instead of MIPS, the Starvos features a newer technology called WaveCel that both Sawyer and Alex Strickland, the editor-in-chief of Adventure Cyclist magazine, mentioned favorably. "It looks kind of like a honeycomb," explains Strickland, who tells us that Bontrager used to only put WaveCel in its high-end helmets, but now "it's sort of trickled down to this $100 price point." Even with the extra protection, he promises this helmet is "supercomfortable; you don't notice that it has this extra layer of stuff in it." I agree, and would add that the adjustment dial is much more finely tunable than most. Safety-wise, the Starvos received a rare five-star rating from Virginia Tech.
Best commuter helmet
Intended use: Commuting | Safety: MIPS | Comfort and aesthetics: Pinch-free clasp, round silhouette
Christina Torres, founder of City Girl Rides, says she has long been "obsessing over Thousand bike helmets for their retro look, functionality, and sustainability practices." I like wearing mine on short, non-sporty rides — it's light and comfortable, and would definitely look great when matched with a vintage road bike or beach cruiser. Targeted at style-conscious daily riders, the brand unsurprisingly was mentioned by several of the experts I spoke with. "While the design is clean and simple, the helmets have innovative features that include vegan-friendly straps, a creative pop lock to help leave your helmet with your bike, and a simple-to-use, pinch-free magnetic clasp," says Lauren Jones, manager of marketing and product development at Brilliant Bicycle Co. Kelley agrees, saying that a lot of his customers really like this helmet, particularly for getting around L.A. It's popular among shoppers in New York City, too, according to Adam Bernstein, a sales representative at Echelon Cycles. Based on laboratory testing, Consumer Reports rated the Chapter helmet "very good" for impact absorption, "very good" for the versatility of its fit and adjustment system, and "excellent" for ease of use. However, the helmet received a "poor" rating for its ventilation system, which means you shouldn't be using this helmet for long rides on hot days.
Best (slightly sportier) commuter helmet
Intended use: Commuting | Safety: MIPS | Comfort and aesthetics: Ventilation, visor, round silhouette
Bern sent me this stylish and full-featured helmet last year, and I've been cycling in it all summer. Like the Thousand one, above, it has a specific, somewhat equestrian look that's arguably more flattering than some of the more road touring–style helmets listed here. Unlike the Thousand, it has a decent amount of ventilation, which has made my life easier when biking to the beach on New York City's unshaded streets. The dial fit is intuitive and comfortable, and while this is a hefty-looking helmet, it's surprisingly lightweight on the head. The Watts is compatible with Bern's clip-in USB-rechargeable light, sold separately. The brand also offers an optional cold-weather bike beanie.
Best road-biking helmet
Intended use: Road and commuting | Safety: MIPS, five-star Virginia Tech rating, Snell Foundation certified | Comfort and aesthetics: Easy to adjust, excellent ventilation
On that note, here's a streamlined road helmet featuring the comfort and extra ventilation you'd want for more intense biking. Charlie McCorkell of New York City's Bicycle Habitat says its ample air vents help keep your head cool whether you're biking to work, road cycling, or traversing bumpier routes. Strategist writer Jeremy Rellosa, who has owned an Echelon for four years now with "no issues," agrees: "It has so many vents, and my head feels like there's AC blowing through it." McCorkell adds that it has a "static yoke below the ear so the straps don't tangle when you hang it on your handlebar when not riding, and it never needs adjustment after the first fitting." That yoke is also great because, while most helmets need readjustment, this one doesn't — the yoke keeps the strap in place. "This is my favorite helmet feature as the helmet is always ready to go when you are." While it has not been tested by Consumer Reports, the Echelon II received certification from the Snell Foundation and a five-star Virginia Tech rating. Its racing aesthetics won't be for everyone, but that safety pedigree is hard to look past if you're biking long road distances at a reasonable speed — especially if there are cars around.
Best mountain-biking helmet
Intended use: Mountain biking | Safety: MIPS, ASTM F1952 certification | Comfort and aesthetics: Cheek pad ventilation
When it comes to the best mountain-biking helmet brands, Giro came up a lot. This model in particular received ASTM F1952 certification, which is a voluntary safety standard for downhill helmets that's significantly harder to meet than the ordinary CPSC regulations. Many popular mountain-biking helmets, such as the Bell Super Air, aren't on the ASTM list, which gave me pause. Given the higher risk of injury — particularly to head and face — I think mountain bikers should buy a helmet that meets a greater safety standard than those purchased by commuters. This one is packed with features geared toward both comfort and safety including MIPS, a removable chin guard (the helmet is ASTM-certified whether you use the guard or not), and cheek-pad ventilation for the tough push uphill. An additional note on fit: Bostjan Brzin, the founder of Bike Hike Tours, says a good mountain-bike helmet should "come further down over your temples" and extend over the back of your head a little more "to give you more protection around those critical areas of your head that could come in contact with the ground if you fall off."
Best lightweight mountain-biking helmet
Intended use: Mountain biking, commuting | Safety: MIPS | Comfort and aesthetics: Ventilation, removable visor
Though intended for mountain biking, this inexpensive and futuristic-looking helmet is lightweight enough that Bike NYC education director Richard Conroy also uses it for everyday commuting: "The visor is good in winter or when the sun is low, but most of the time I ride with it off." He likes that it sits a little lower on the head than other helmets, and has plenty of ventilation for long rides. The dial-fit system is easy to use and highly adjustable ("it just fits better on my head"), and the hard plastic exterior provides extra peace of mind if you do happen to be tackling downhill trails at high speeds.
Best helmet for hot heads
Intended use: Road, touring, and commuting | Safety: MIPS, additional impact testing | Comfort and aesthetics: Extra ventilation and light reflection
This helmet, Weissman admits, is "not cheap — but once I got it, I realized how much I hated my old helmet." Why is he such a fan? Ventilation, ventilation, ventilation. And the heat-reflecting "hydrogen white" colorway. "If you do extended rides during the summer, heat stroke should be a real concern," Weissman tells me. "You can add a cover or head wrap if a helmet has too much ventilation in winter, but there's nothing you can do to prevent a dark helmet with no vents from baking your brain on a hot day." I've only tested this helmet out during winter so far, but I agree that the ventilation on this helmet is unusually good, and it also sits deeper on the head than other helmets I've tried, which certainly feels safer. While he "could have gotten the same degree of safety for a lot cheaper," Weissman says this helmet is worth the splurge for anyone who finds themselves stopping their rides to pour iced water on their head, adding that it's "very light and very comfortable." Speaking of safety, the Ventral Air is recommended by Consumer Reports, receiving "excellent" ratings for impact absorption and (unsurprisingly) ventilation.
Best collapsible helmet
Intended use: Commuting | Safety: Non-MIPS | Comfort and aesthetics: Ventilation, packable
Psychotherapist and avid Citi Biker Esther Perel — who hails from Belgium, where cyclists rule the streets — describes this stashable Guggenheim-looking helmet as convenient, hip, and safe: "I can't even tell you how many people have gotten this helmet from watching me." The helmet was also recommended by members of the Five Boro Bike Club, especially in contrast to this competing helmet by Fend — which Garcia says will fold up smaller but has less effective straps. Though it's obviously CPSC certified, this helmet hasn't been approved by an independent lab like Virginia Tech, Snell, or Consumer Reports.
Best helmet with light
Intended use: Commuting, night riding | Safety: MIPS | Comfort and aesthetics: High visibility
You should already have lights on your bike. (In New York City, it's illegal to ride at night without a white headlight and red taillight; this USB-rechargeable set is a good pick.) But if you regularly commute before sunrise or after sunset, a light-up helmet makes you that much more visible to cars on the road. Pete Reynolds, a co-founder of the Discerning Cyclist blog, says that Lumos's light-up helmets are particularly popular among commuters in part because you can use a corresponding app to program the lights to change color when you brake or need to indicate. The Lumos is the go-to helmet for Allan Friedman, vice-president of the Five Boro Bike Club, who says it fits all his personal biking criteria, which are mainly based around safety and visibility: "It has lights, it's rechargeable, it's configurable, and it comes with MIPS." This helmet hasn't been tested or approved by an independent lab like Virginia Tech, Snell, or Consumer Reports, but it meets CPSC standards.
Best helmet with universal sizing
Intended use: Commuting, road, dirt biking | Safety: MIPS, four-star Virginia Tech rating | Comfort and aesthetics: Highly adjustable, good ventilation, mini visor
If your focus is on maximizing speed, Kelley and Watson love the Register as an inexpensive, lightweight, entry-level road helmet with MIPS. They praise its great air flow and good venting and say its mini-visor makes it handy for (off-road) dirt biking. What interested me even more about this helmet is that it's available in just one universal size and can be adjusted to fit most heads — Garcia says he picked out his for this reason and has been happy with the choice. While all of the experts I spoke with stressed that it's best to test out helmets in person in order to find the right sizing, we think this one is particularly suited to online shoppers. The Register gets four stars from Virginia Tech and is recommended by Consumer Reports.
Best budget MIPS helmet
Intended use: Commuting, road | Safety: MIPS, five-star Virginia Tech rating, Snell Foundation certification | Comfort and aesthetics: Good ventilation and adjustability
As proof that you don't have to spend a fortune to get a good-quality helmet, see this affordable model from Specialized. It's the go-to helmet of Texas- and New York City–based adventure cyclist Todd Nisbet (a.k.a. Concrete Trails), who says he likes that it's "affordable but still has MIPS protection." The helmet also features plenty of ventilation to keep your head cool when you're riding in the heat, and comes in several bright colors for visibility in traffic (Nisbet likes the coral). It is approved by the Snell Foundation, recommended by Consumer Reports, and received five stars from Virginia Tech, making it the most cross-tested helmet on this list. And while it's not the coolest helmet in the world, it's fairly anonymous and clean-looking. If you're looking to upgrade to MIPS without spending more than $50 and aren't so concerned with extra features geared toward comfort and aesthetics (some of the pricier helmets above, for example, are an ounce or two lighter in weight), this cheap and cheerful helmet is tough to beat.
Best high-visibility helmet cover
Experts I spoke with advised that bright-colored helmets are the safest, but some of the styles above are still a little muted in tone. Lee Uehara of City Bike Coach offers this easy solution for situations where you need to make your helmet easier to see from a distance: "Buy reflective and high-vis helmet covers that you can take on and off and wash." For peace of mind, she purchased one of BTR's affordable adjustable helmet covers for her son and then ended up getting one for herself too.
Our experts
• Adam Bernstein, sales representative at Echelon Cycles
• Bostjan Brzin, founder of Bike Hike Tours
• Richard Conroy, education director, Bike NYC
• Allan Friedman, vice-president of the Five Boro Bike Club
• Alfredo Garcia, communications vice-president of the Five Boro Bike Club
• Lauren Jones, manager of marketing and product development at Brilliant Bicycle Co.
• Kyle Kelley, co-owner of Golden Saddle Cyclery
• Charlie McCorkell, owner of Bicycle Habitat
• Todd Nisbet, Texas- and New York City–based adventure cyclist a.k.a. Concrete Trails
• Joseph Nocella, owner of 718 Cyclery
• Pete Reynolds, co-founder of the Discerning Cyclist blog
• Ben Sawyer, head mechanic at CycleMania
• Adam Sokol, sales representative at Ride Brooklyn
• Alex Strickland, editor-in-chief of Adventure Cyclist magazine
• Randy Swart, executive director of the Bicycle Helmet Safety Institute
• Christina Torres, founder of City Girl Rides
• Lee Uehara, education manager and coach, City Bike Coach
• Laurence Wattrus, the head of technology at cycling brand Hammerhead
• John Watson, editor of cycling blog the Radavist
• Toby Weiner, president of the Five Boro Bike Club
• Neile Weissman, public-relations director of the New York Cycle Club
• Ryan Zagata, president of Brooklyn Bicycle Co.
The Strategist is designed to surface the most useful, expert recommendations for things to buy across the vast e-commerce landscape. Some of our latest conquests include the best women's jeans, rolling luggage, pillows for side sleepers, ultra-flattering pants, and bath towels. We update links when possible, but note that deals can expire and all prices are subject to change.