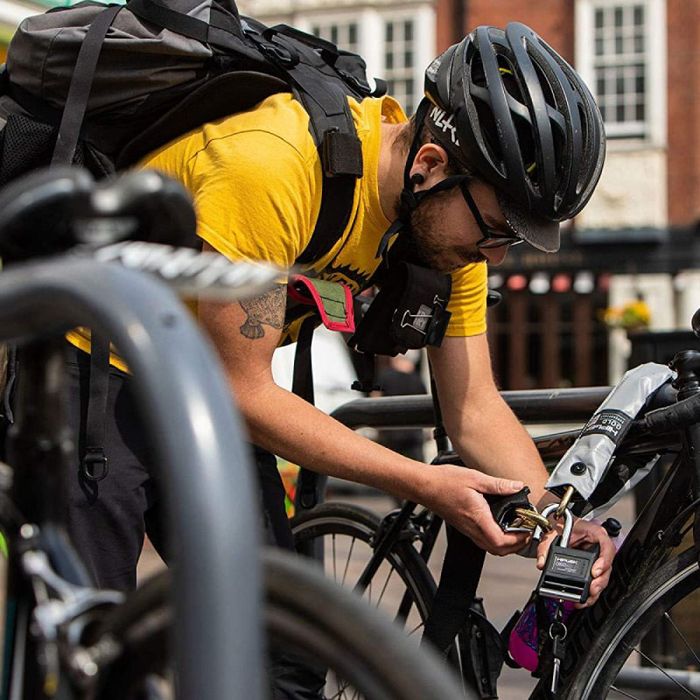 Whether it's to find an alternative to mass transit or a means of socially distanced exercising, bicycling has seen a huge surge in popularity during the pandemic. Unfortunately, so has bike theft. In October, the New York Times reported a 27 percent increase in the number of stolen bikes between March and September of last year, compared to the same period in 2019. Adam Bernstein, a sales representative at Echelon Cycles, says that, recently, one to three people have been coming into the store each day because their bike (or a part of it) has been stolen. Along with replacement parts or a new bike, they need locks. Bike thieves equip themselves with everything from bolt cutters and hammers to hacksaws and crowbars to break through weak locks, so it's important not to skimp here. While no lock is totally theftproof, the best ones are the most difficult to cut through, and their appearance alone may be enough to deter potential thieves.
Keep in mind, too, that locking your bike's frame with a standard U-lock doesn't protect parts like wheels and seats that can often be removed without any tools. Susi Wunsch, founder of the cycling lifestyle site Velojoy, sent along this diagram illustrating how multiple types of locks — including cables, chains, and skewers — can be used together to safeguard all parts of your bike. Below, Wunsch, Bernstein, and seven more cycling experts recommend the best locks for safeguarding your bike and all of its parts.
Best U-locks
Nearly everyone I spoke with considered the Kryptonite New York lock the most secure option out there. The company introduced the lock in 1994 to rise to the challenge of increased reports of bike thefts in the city. Charles McCorkell, owner of Bicycle Habitat, said Kryptonite's New York lock is extra secure because "the locking mechanism turns and locks on both sides — so it can't just be cut once — and takes twice the effort to break into. The larger diameter of the U also takes longer to cut, and the keys are almost unpickable." The 16-millimeter-thick steel is extremely difficult to cut with standard bolt cutters. While Kryptonite makes several different lock series of varying thicknesses, Emily Wendorff, a sales associate at Ride Brooklyn, says models from the brand's New York line, like this one, are "the safest locks you can get from them." The lock comes with three keys, including one with an LED light for easily unlocking your bike in the dark, and a bracket for mounting the lock on your frame for easy transport. For best results, loop the lock around both the bike's frame and rear wheel.
This hardened steel U-lock from the German brand ABUS comes recommended by Joseph Nocella, owner of 718 Cyclery & Outdoors. "In my experience, this is the lock that most bike-shop employees use," he says. "It's small, light, and strong." Wendorff uses one herself. Compared to Kryptonite locks, she says ABUS's equally heavy-duty models are "lighter weight and easier to carry around."
It's more expensive than most locks, but if you want a "smart" option, Bernstein recommends the ABUS 770. It's equipped with a motion-detecting alarm and Bluetooth, which allows you to unlock it through an app on your phone instead of using a key.
If you live in a relatively safe area or will be locking up your bike for only a few minutes at a time, Wendorff says you can get away with a lock from Kryptonite's entry-level line. Although it's thinner than the New York U-lock, it's also a lot cheaper at well under $100, and it comes with a cable to connect your wheel to your frame.
Best chain and cable locks
If you're locking your bike for a long period of time in an especially high-theft area, Rich Conroy, director of education at Bike New York, recommends Kryptonite's Fahgettaboudit steel chain and dead bolt. "The advantage of a cable or chain is that they can go around larger objects that a U-lock won't fit," he said, and "cables can be easy to cut though." While this set is extremely effective at protecting your frame and wheels, all that impregnable steel does come with some heft, though, and with this set, you'll be riding around with an extra ten pounds. Some choose to loop the chain around their waist for easier carrying — just don't lose your key à la Ilana Wexler.