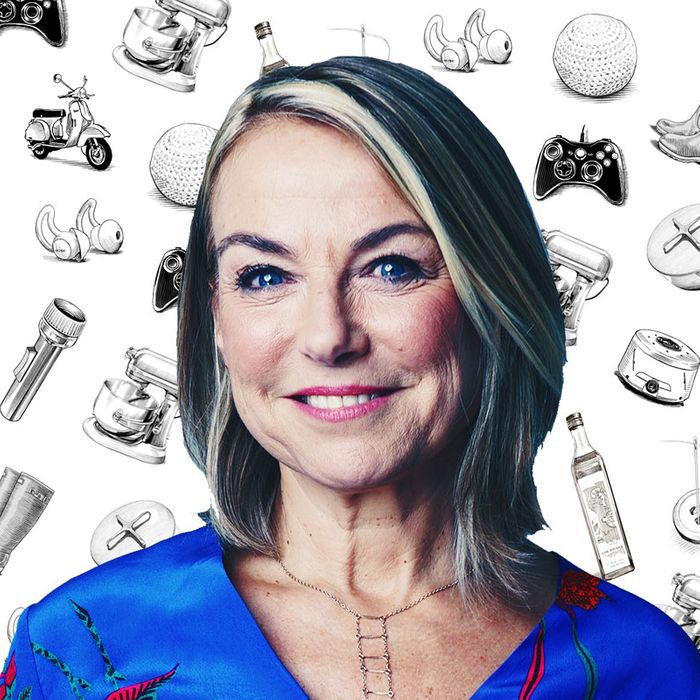 Photo-Illustration: The Strategist; Photo: Ernesto Urdaneta; Illustration: Joe McKendry
If you're like us, you've probably wondered what famous people add to their carts. Not the JAR brooch and Louis XV chair but the hair spray and the electric toothbrush. We asked psychotherapist, author, and podcast host Esther Perel — who recently released the game Where Should We Begin — about the makeup bag, tea, and chocolate she can't live without.
This is my podcast recording mic. I have a Blue Yeti that I use at other times, but this is the one that travels with me. I've done an entire season of Where Should We Begin and of How's Work? remote, and I did it thanks to this little mic that could go with me anywhere. Not having my office anymore, the mic became this representation of my work. I've never had a connection to an object like that. But not having an office, combined with remote work, combined with the challenge of reaching people all over the world — it's the mic that brings my voice to them in their house so they can hear me. It's like we've never been more physically removed and more intimately connected, and this becomes an element of that connection.
In Belgium, we all bike and we don't necessarily wear helmets. But in New York, it took one friend of mine to say that the skull is as thin as an eggshell, and from that moment on I've always imagined if I ever fall, this eggshell is going to crack. I'm not taking that risk anymore. I needed a convenient helmet that I can carry inside my bag, so a collapsible helmet really allows you to be hip and safe and responsible and discreet. I can't even tell you how many people have gotten this helmet from watching me. I primarily circulate through New York on a Citi Bike. I basically have a helmet in my pocketbook on an almost ongoing basis.
I happened to consult with Fresh for a while, and so I got to know their products. That's the first time I paid attention to masks, and then I began to enjoy actually putting them on. This one, you go to bed with and you just wake up fresh. I think that much of skin care is about if it feels nice, and it makes sense to me. Skin needs to be hydrated. Skin is a membrane — if you water the plants, you water your skin — so it has a logic for me that is strong enough that I'm going to keep doing it.
I've been wearing Bobbi Brown lipsticks basically since 2006. When I was on my first book tour, I was offered a session to learn how to do makeup at the Bobbi Brown counter. I had never done press interviews and presentations of the book, so it was a lesson of how to put myself together. I had a whole conversation with this woman about lipstick. My idea of lipstick was red. I had this notion that you don't have to put anything on your face but lipstick. She explained to me that you want to notice it, but you don't want it to just be the only thing. This is more gentle, subtle, but you know it's there. It was visible without being the only thing you see, and I like playing on nuances like that.
I have been wearing Goldish for decades now. I met the founder on the day my younger son was born. He's 25. She heard me singing to him, and we started walking together. I said I just came out of the hospital, and just gave birth yesterday, and she invited me for breakfast the next morning. That is among the most beautiful things that somebody can do for you at that moment. It's acknowledging you, it's seeing you in this moment of transition in your life. I've been wearing her jewelry ever since. I can't do a talk anymore without wearing my bracelet. It's almost become a talisman for me. I'm not usually symbolic in that way, but it really has become a part of me.