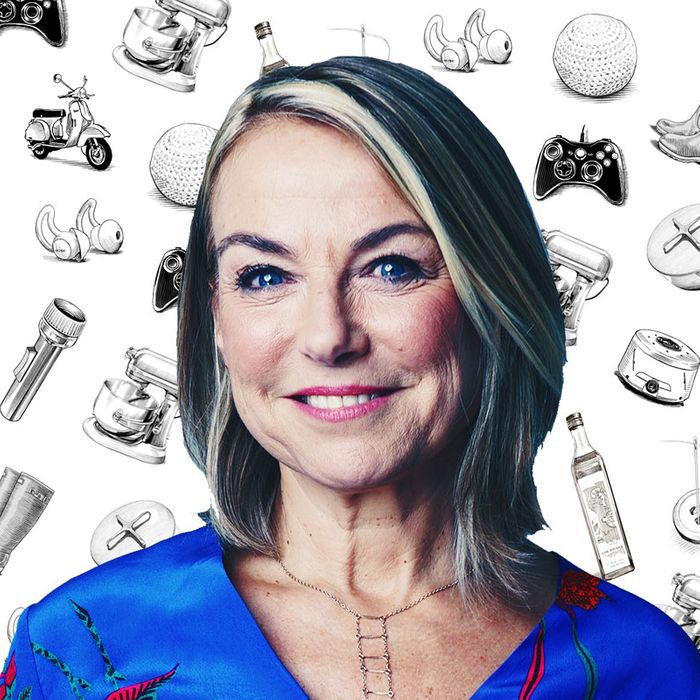 Photo-Illustration: The Strategist; Photo: Ernesto Urdaneta; Illustration: Joe McKendry
If you're like us, you've probably wondered what famous people add to their carts. Not the JAR brooch and Louis XV chair but the hair spray and the electric toothbrush. We asked psychotherapist, author, and podcast host Esther Perel — who recently released the game Where Should We Begin — about the makeup bag, tea, and chocolate she can't live without.
This is my podcast recording mic. I have a Blue Yeti that I use at other times, but this is the one that travels with me. I've done an entire season of Where Should We Begin and of How's Work? remote, and I did it thanks to this little mic that could go with me anywhere. Not having my office anymore, the mic became this representation of my work. I've never had a connection to an object like that. But not having an office, combined with remote work, combined with the challenge of reaching people all over the world — it's the mic that brings my voice to them in their house so they can hear me. It's like we've never been more physically removed and more intimately connected, and this becomes an element of that connection.
In Belgium, we all bike and we don't necessarily wear helmets. But in New York, it took one friend of mine to say that the skull is as thin as an eggshell, and from that moment on I've always imagined if I ever fall, this eggshell is going to crack. I'm not taking that risk anymore. I needed a convenient helmet that I can carry inside my bag, so a collapsible helmet really allows you to be hip and safe and responsible and discreet. I can't even tell you how many people have gotten this helmet from watching me. I primarily circulate through New York on a Citi Bike. I basically have a helmet in my pocketbook on an almost ongoing basis.
I happened to consult with Fresh for a while, and so I got to know their products. That's the first time I paid attention to masks, and then I began to enjoy actually putting them on. This one, you go to bed with and you just wake up fresh. I think that much of skin care is about if it feels nice, and it makes sense to me. Skin needs to be hydrated. Skin is a membrane — if you water the plants, you water your skin — so it has a logic for me that is strong enough that I'm going to keep doing it.
I've been wearing Bobbi Brown lipsticks basically since 2006. When I was on my first book tour, I was offered a session to learn how to do makeup at the Bobbi Brown counter. I had never done press interviews and presentations of the book, so it was a lesson of how to put myself together. I had a whole conversation with this woman about lipstick. My idea of lipstick was red. I had this notion that you don't have to put anything on your face but lipstick. She explained to me that you want to notice it, but you don't want it to just be the only thing. This is more gentle, subtle, but you know it's there. It was visible without being the only thing you see, and I like playing on nuances like that.
I have been wearing Goldish for decades now. I met the founder on the day my younger son was born. He's 25. She heard me singing to him, and we started walking together. I said I just came out of the hospital, and just gave birth yesterday, and she invited me for breakfast the next morning. That is among the most beautiful things that somebody can do for you at that moment. It's acknowledging you, it's seeing you in this moment of transition in your life. I've been wearing her jewelry ever since. I can't do a talk anymore without wearing my bracelet. It's almost become a talisman for me. I'm not usually symbolic in that way, but it really has become a part of me.
I've practiced yoga for decades. I had a regular lesson once a week, then came the pandemic. I realized I needed yoga more, as we're sitting the whole day. But going to class online wasn't really working for me. If I meet a friend virtually, I would show up because I'm accountable to my friends, sometimes more than to myself. So I created a little yoga group with friends on three continents, and we have met four times a week since March 20, 2020. Sometimes I miss one, but the class has never been canceled. It became such a cohesive force during the pandemic. People lost parents; people had babies. When we would meet, we would talk a few minutes before. When we were done, whoever needed to be checked on, to check in, to ask for help, we would do that. It's probably one of the nicest collective experiences that I created during the pandemic. This yoga mat came everywhere I went. When I was traveling to see friends this summer, I would ask if there was a yoga mat, and if there wasn't one, I would send one so that they would have a mat in their house for them and also for me when I arrived. The Manduka mat is thick. It's ecofriendly, and it's a nice piece. It was like a beautiful gift that would arrive at these people's houses before I did.
I am very much a Belgian that loves her chocolate. I don't necessarily know it's the finest, and they're not bitter chocolates, but Côte d'Or's double lait is a chocolate praline that melts in your mouth. You almost have like a Proustian experience as you eat it and you remember chunks of your life. I love pralines. I love the whole ritual of choosing which praline to eat, reading what's inside this one, what's inside that one, tasting half of it and sharing with others. It's a real ritual. These are the ones I grew up on. Anybody who comes to visit me from Belgium knows to bring them. You can find Côte d'Or in some specialty stores, but not the double lait. It's when people arrive from Belgium that I get them. That's why it becomes so special. They know to bring the waffles and the chocolates.
The music box is a wooden box with a hand maneuver that you put little SIM cards in. It just becomes the joy of the evening. It's an absolute communal instrument because everybody can play it. There is a common experience around holding the box, being the producer of the music and inviting people to dance. It's a joyous piece — it's become one of my favorite gifts. I received mine in Paris through a friend, and when people come in the house and they see la box, it's like you're part of those who have discovered this magical piece of joy and exuberance. It plays anything you put in. It's different from connecting your phone to Spotify, because the instrument is among you — everybody plays.
Anne & Valentin is among the more creative, beautiful lines of glasses, between the colors and the mixes of materials. Every few years, I get a pair. I'm probably on my third pair of Anne & Valentin. I once lost a pair in an airplane, and I found it on a website where you resell stuff, and I knew it was mine because it had my prescription in it. I tried to buy it back from whoever had found it and was now selling it, but it had already been sold. I went back to Paris at a different time and found another pair. Now I need to change the lenses, but I will probably keep these frames for a lot longer. Even if you don't need glasses, and you're interested in design, then I say go and take a quick look at Anne & Valentin.
Where Should We Begin is a game of stories that I created, together with my team, during the pandemic. I was missing my dinner gatherings, connecting, meeting new people, expressing my curiosity, experiencing intimacy. Play is a frame that gives us permission to be curious, even with the people we supposedly know already, so I wanted a framework of play that invites us to tell the stories we don't often tell to unlock the storyteller within, and that gives us a fun way to engage with new people. I play a few times a week. I've played it abroad to see how people play it in different cultures, with different backgrounds, and how the cards translate in different languages. I've played it in small groups, and I've played it in rather large groups, so we change the rules and adapt it, but every evening leaves us surprised at the power of storytelling as a bridge to connect to people. You can play it with people that you know well and be surprised how much you still have to learn about them, and then you can play with people that you've never met, and realize how beautiful prompts invite intimacy, connection, and curiosity.
[Editor's Note: This is currently available for preorder and is scheduled to ship later this month.]
The Strategist is designed to surface the most useful, expert recommendations for things to buy across the vast e-commerce landscape. Some of our latest conquests include the best acne treatments, rolling luggage, pillows for side sleepers, natural anxiety remedies, and bath towels. We update links when possible, but note that deals can expire and all prices are subject to change.