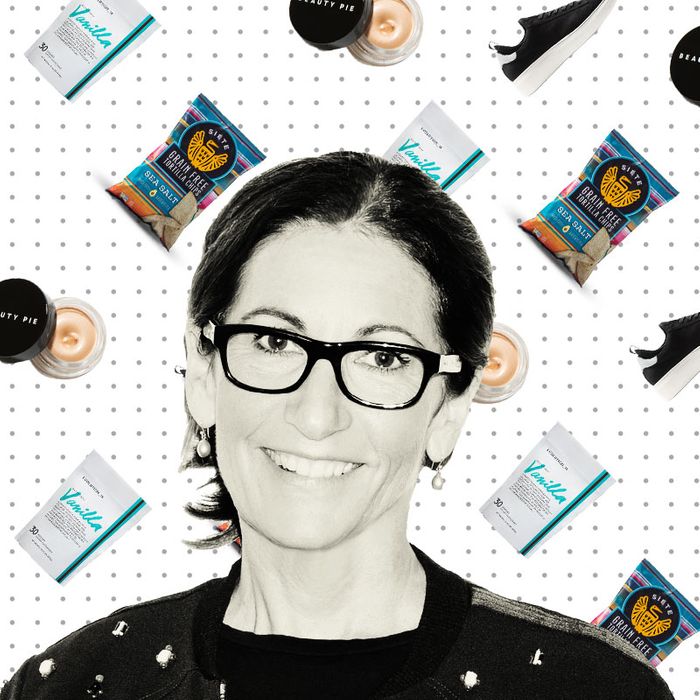 If you're like us, you've probably wondered what famous people add to their carts. Not the JAR brooch and Louis XV chair, but the hand sanitizer and the electric toothbrush. We asked Bobbi Brown, founder of Bobbi Brown makeup and Just Bobbi, about the natural deodorant, black sneakers, and ultrafast hair dryer she can't live without.
I can't imagine not using an all-natural, organic deodorant, and this one works, basically. That's it. I also like the packaging. Your deodorant sits on top of your cabinet for all time, so it might as well look nice.
I just discovered these sneakers through a friend and wore them all through Paris on a recent trip — even when we went to nice restaurants or bars, I wore these, instead of dress shoes or heels, with black skinny pants. They have a bit of height to them, but they're mostly just comfortable 24-hour shoes. You can't spend a day in Gucci sneakers, but these you can wear all day.
These are so good. They're not just gluten-free; they're also grain-free because they're made from cassava flour. It doesn't taste exactly like a tortilla chip — it tastes even better. My kids actually prefer them over tortilla chips. They're made by a Mexican family in Austin, and the only problem I have is that you end up eating the whole bag.
I'm always looking for the perfect upgraded Hanes T-shirt. When I was a makeup artist in Paris, the models would all roll in wearing Hanes and jeans right out of bed, and of course they looked amazing. I tried the look, and it didn't work on me. I wear this instead because it fits really nicely and holds up, unlike other T-shirts that can look ratty after one wash. You throw a Chanel blazer on it and you're ready for anything.
Beauty Pie is this cool company out of Europe, and the founder came up with this great concept where you pay to join the membership club and no markup. It's amazing. I use this the most out of anything. It gives you just the right illumination. I use it all over my face and put moisturizer on top. It helps me look so done up. A lot of people like to put it on the cheek and forehead, where they want to look illuminated, but I use it everywhere. Sometimes I even mix it in my moisturizer.