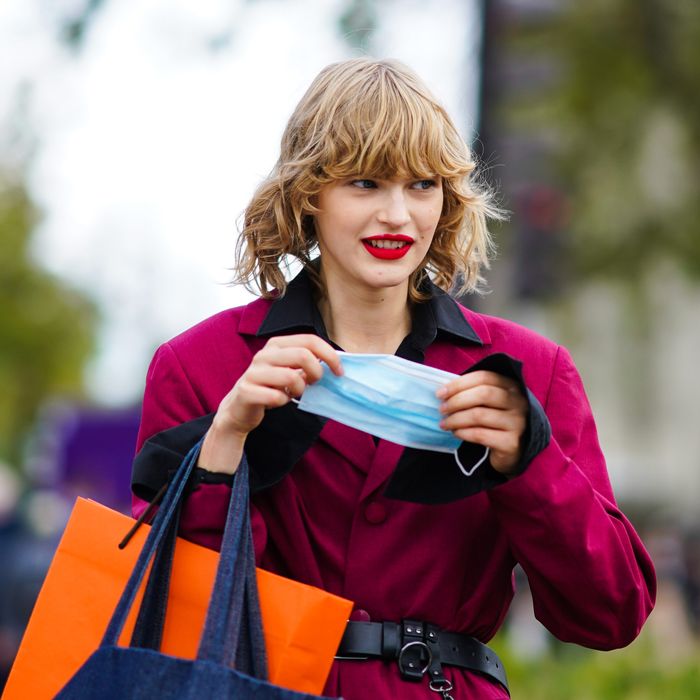 Photo: Edward Berthelot/Getty/Getty Images
As face masks became a daily reality, many of us retired our lipsticks, since our eyes were suddenly the only part of our faces on display. But if you miss the power of a red lip (or have applied lipstick for a Zoom meeting, just to have it smudge onto your mask while running an errand later in the day), there are plenty of mask-proof lip formulas out there. Perhaps unsurprisingly, "liquid lipsticks are going to be big for face mask wearers as they are long-wearing and smudge-proof," explains makeup artist Pauline Briscoe. In addition to liquid lipsticks, our 11 experts, which include makeup artists and beauty editors, recommended a range of matte lipsticks, lip pencils, and even lipstick sealants that will survive your face mask.
Best liquid lipsticks


Two of the beauty editors we spoke to swear by this newer MAC formula. Compared to their ever popular Retro Matte Liquid lip (which makes an appearance a little bit lower on this list), Powder Kiss has a whipped, mousse-like texture which beauty editor Thatiana Diaz says "lives up to its name with a cushiony cloud feel on your lips" that creates a "blurred, natural finish for those days where you'd rather keep it more simple underneath your mask." Beauty editor and writer Khalea Underwood agrees: "This formula is one of the most comfortable liquid iterations I've ever tried, and because the pigment is so rich, I only need a few swipes."
"KVD Vegan Beauty's Everlasting Liquid Lipstick stays put for hours of wear and the pigment pay off is unparalleled," says makeup artist Jessica deBen, whose favorite shades include Lovecraft, Lolita, and Outlaw. "They have a lovely formula and are packed with natural conditioners including Vitamin E and sunflower seed wax for smooth application and comfortable wear," adds Briscoe.
Cult-favorite Fenty Beauty's lip paints provide "amazing wearable shades with a long lasting finish," according to Briscoe. The Stunna lip paint in Uncensored is also a long-time favorite of Rio Viera-Newton who writes that even after a four course-meal at a Mediterranean-food buffet (plus two-and-a-half glasses of wine), "the lipstick looked essentially the same as it did five-and-a-half hours (plus one messy meal) earlier." And if it can survive all that, it can surely withstand your mask.
For a luxury lip stain (that's worth the money), Yves Saintd Laurent's three liquid lipsticks were namechecked twice. Margina Dennis says that the Vinyl Cream Lip Stain, Glossy Stain, and Water Stain Glow Lip Stain don't disappoint when it comes to creating a "long-wearing look without being matte or drying your lips out." She suggests allowing the first coat to completely dry before applying another layer. Of the three YSL stains, Briscoe has the most love for this one, the Water Stain Glow Lip Stain. It's the sheerest of the bunch and gives the lips a pretty, glossy hue that lasts.
"For someone that is looking for a vast spectrum of 90 amazing colors (from black to green), I recommend Sephora Collection Cream Lipstain Liquid Lipstick," says Amy Zdunowski-Roeder. While liquid lipsticks tend to feel very heavy on the lips, this does the opposite, she says, because "they are infused with avocado oil which keeps hydration in check." Among all of the long-lasting lip products she uses, Zdunowski-Roeder told us she finds that these last the longest and, "will not dry out your lips or make them crack." It's also a favorite of our beauty writer Tembe Denton-Hurst, who writes that "In addition to being fairly opaque (I have two-toned lips and it covers my brown lip just as well as my pink one), it actually stays on, but not in an uncomfortable, moisture-sucking way."
Makeup artist Jennifer Nam suggests this lipstick from MAC. She says the formula dries down quickly, but doesn't set so firmly that you can't blend it. "When using liquid lipsticks from any brand, it's best not to consume too many oily foods like olive oil or fries because the oil will break down the lipstick," says Nam. Similarly when you want them off at the end of the day, only an oil-based makeup remover do. Her go-to: Almay's aloe-infused makeup remover pads, which are hypoallergenic and fragrance-free.
According to Diaz, this lipstick is so good, she can leave it at home—no reapplication needed. It's survived face masks, sweat, a fried seafood lunch, and kisses from her fiancé. "I would trust this lipstick to last through a day at the waterpark," she says.
"The Lip Bar matte vegan liquid lip colors are winners for adding moisture while maintaining staying power underneath your mask," due to the synthetic beeswax-infused formula, says celebrity makeup artist Yolonda Frederick-Thompson.
Nam also loves Chanel's double-ended long-wear liquid lipstick which features both a liquid lipstick and a top coat, which she says has "excellent staying power" when applied correctly. "You should blot your lip balm off and wipe your lips before applying the color and wait a few moments for it dry," she explains. "Once you feel that step one is dry, you can choose to leave your lipstick as a matte texture or you can paint a coat of the lip gloss for a glassy effect."
For a super affordable option, Diaz trusts NYX's liquid lipstick because it "won't dry out your lips and has lasted over nine hours. Yes, I've counted," she says. "It fades evenly on your lips as the day goes on, so it doesn't look messy but more like a flush of color."