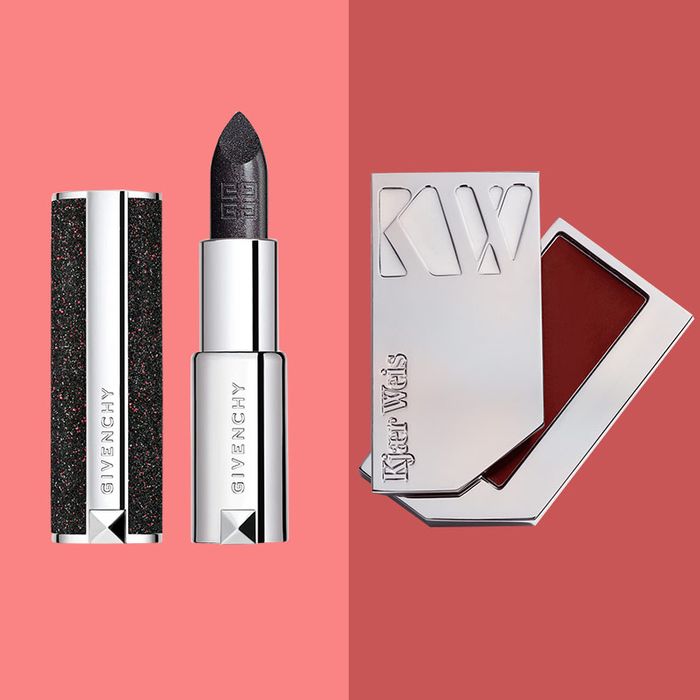 Ask anyone to name their most parched body part in this winter of our skin-care discontent, and they're sure to tell you their lips. "The lips are especially vulnerable," says New York dermatologist Howard Sobel, "what with their lack of oil glands, their muscle contractions whenever we speak, and the lip licking we all do." At home, I slather Vermont Bag Balm over my mouth (otherwise used on cow udders), as well as Elizabeth Arden's Eight Hour Cream. But what about when I want a little color for going out? Are there lipsticks and lip tints that can soothe like a salve?
Yes, I discovered. Yes. The following 15 lip colors have such megadoses of emollients that I regard them as virtual treatment products. Of course, especially because of the abundance of botanical oils in the ingredients (sunflower seed, almond, jojoba, camellia, olive) — which hover on the lips' surface but hardly penetrate, says Sobel — they do tend to rub off more quickly than your waxier standard lipsticks. So you'll likely need to reapply them every hour or two (and sometimes — I've noted where — you'll want to use a lip brush). But there are choices here for everyone, ranging from $6 to $65 and often delivering a mind-bogglingly pleasurable texture — nothing gooey or overly glossy — along with great pigment.
My favorite semi-sheer anti-chap lip color
What. A. Find. Coloured Balm from Kiko Milano, an Italian professional makeup line I'd never heard of until I stumbled into its often packed-to-the-gills Times Square store, feels like my lips are being swabbed in melted butter. Credit goes to its shea butter and vitamins A, C, and E contents. The lipstick is semi-sheer enough for those who prefer a clean-scrubbed look, but pigmented enough not to appear washed out, with a pleasingly moderate shine level. I was tempted to buy each of the six shades — they're all terrific. Pink-nude-brown Almond, the one I chose, has become an everyday favorite. And kudos for the minimalist Moderne silvery tube (whose circular logo reminds me of Versace's). I recommend using a lip brush for this one.
My favorite luminous anti-chap lip color
To the lab scientists at Dior: Here's a big, fat, dewy smooch for developing not just one but a full collection of deeply emollient lip quenchers in nuanced, fashion-right shades. Dior Addict Stellar Shine is available in 33 High Shine, Satin, and Shimmer finishes, and their futuristic killer-wattage glow will be perfect for navigating the Roaring '20s (the 2020s, that is). As for its soothing quotient, thanks to high doses of beeswax and safflower oil, it resolutely hugs my lips. I'm partial to the vivid peach shade called Constellation, whose micro-specks of shimmer draw attention from the vertical lines above my lips.
My favorite deeply pigmented anti-chap lip color
Slightly less glow-y than Stellar Shine, but with a similar lip-loving glide — and multi-hour staying power — Dior Addict Lacquer Stick never stops feeling heavenly on my lips. And its pigment saturation is so high that I almost have a hard time rubbing it off. (But no complaints.) Of all 28 shades, I'm currently most taken with plum-red Sulfurous and L.A. Pink — a rare cool pink that my pale complexion can handle. I like the contrast of wearing these glow-y space-age shades with my early '60s lavender tweed suit — or anything else vintage.
My favorite crayon-style anti-chap lip color
Is it the Eclipta alba herb that grows in Bangladesh? The eggplant-seed extract? Something in the vegan Juice Beauty Phyto Pigments Luminous Lip Crayon gives at least an hour of a melting sensation on my lips. All eight shades are muddied muteds, my favorite being a taupe-y nude called Laguna.
My favorite moody anti-chap lip color
I'm besotted with this one. Beckoning in its sparkly black tube, Givenchy's luscious new Le Rouge Night Noir lineup is reminiscent of a witch's brew with bits of glitter strewn in. It's made with pearl powder and skin-conditioning esters; each of the half-dozen seemingly outré, black-tinged colors (purplish, grayish, and indigoish) effortlessly slide onto my lips, where they soften and lighten to near translucency, while retaining a tint of their original murky hues. Wearing them, my lips look like they've had an hour-long massage or done some torrid kissing. As for their staying power, unblotted, they survived my consuming a BLT, leaving no traces on the toast. Plummy No. 5 is my current favorite, though I'd be tempted to rotate all six of them.
My favorite balm-lipstick hybrid anti-chap lip color
Next, a poseur, of sorts — the Laura Mercier Lip Parfait Creamy Colourbalm. It's creamy, all right, but with such color depth that only one swipe is needed. So it's more like a real lipstick with balm benefits that leave my lips moisture-saturated. The technological feat is thanks to lab ingredients like an emollient derived from skin-smoothing malic acid. It doesn't settle into my lip lines either. As for durability, if I avoid temptation (linguine with lemon-garlic-butter sauce), this one lasts for several chap-free hours. My spicy shade of choice: Cinn Ful. (Get it?)
My favorite SPF anti-chap lip color
Known for its skin-care and hair-care products, Kiehl's rarely ventures into makeup. But when it does, it's makeup that's invariably good for us, as in its SPF50 BB Cream and its blissfully hydrating and smoothing Butterstick Lip Treatment, which my makeup-artist friend Brigitte Reiss-Andersen swears by. She is so right. Containing both coconut oil and what's described as butter derived from lemon peel, not only is it heaven on my lips, but all five shades (plus colorless) are of the moment. I'm drawn to the pale petal pink of Simply Roses, as well as Naturally Nude. As a bonus, it's got broad-spectrum UV protection. Second bonus: It comes in an extra-secure screw-top tube. Thoughtful! I wear this one even when my lips aren't chapped.
My favorite nude anti-chap lip color
How important are nudes? Very, according to the makeup artist Charlotte Tilbury, whose eponymous product line catapulted to instantaneous fame with its effervescent matte nude Pillow Talk lipstick. Extending the Pillow Talk franchise, she introduced Superstar Lips, six near-translucent shimmering nudes in Shimmer, Metallic, and High Shine finishes that contain hyaluronic acid and feel like manuka honey hovering on my lips (but without the stickiness). "A flattering, nuanced nude shade is empowering and never overwhelming," she's told the Strategist. With my pale, pinkish-yellow-toned complexion, I'm partial to tawny Everlasting Nude as well as berry-tinged Walk of Shame. Just one question: Why the extra-slim tube, Charlotte?
My favorite natural-looking anti-chap lip color
The certified organic Kjaer-Weis Lip Tint is a thickish, scoopable concoction that mimics my lips' low-shine texture. Key ingredients? Shea butter, lemon-peel oil, and protective carnauba wax. A single layer goes on sheer. By the second or third layer, I'm not only dealing with rich color, but with the sensation of rubbing fudge on my lips. In fact, I have to refrain from smacking my lips with this one. Two shades I'm smitten with are golden-brown Captivate and blackberry Beloved. And then there's the refillable slide-opening compact, which I adore from a design viewpoint. Substantial enough to double as a paperweight, this is a keepsake makeup case that's morphed into a jewel.
My favorite splurgy (velvety) anti-chap lip color
The aptly named Lipstick Cashmere from the geniuses at Clé de Peau, out of Japan, combines deep pigments with a shockingly gorgeous matte velvet texture that effortlessly stays on for several hours at a time, and even passes the garlic-bread test. It comes in eight shades. The one that's impossible not to buy is bold red Legend, which calls to mind the vivid reds of Japan's geisha tradition. It's $65 and worth every penny.
My favorite splurgy (shiny) anti-chap lip color
The intense lip pleasure I get from the moment I slide on Sisley's Phyto-Lip Shine — which I think of as a cross between a salve and a full-fledged lipstick — feels as if my parched lips are painted with mango mousse. No wonder. Mango butter is a key ingredient. And its 14 shades, while pigment rich, have a light-attracting luminosity. Though long-lasting, this is one lipstick I reapply just for an extra hit of its soothing glide. And when I remove the residue at the end of the day (yes, there's always some residue), my lips are smoother and softer than before. The raisin-toned Sheer Plum is my no-brainer go-to, but I'm also tempted by Sheer Coral. It's best to apply this one with a lip brush.
My favorite wildcrafted anti-chap lip color
I've found no 100 percent natural lip color gentler or more luminous than Axiology Sheer Balm, which practically swivels itself out of its tube and begs to slither onto my lips. This is a virtual lip pomade in stick form, containing avocado butter and avocado, coconut, castor, and grape-seed essential oils, with mica added for metallic shimmer. It comes in three neutral shades — a copper-pumpkin, a pale pink, and a delicate yellow-gold called Fortune. That last one turned grapefruit pink on my lips, which, to my surprise, looks great on. It's also useful as a topcoat for less shiny lipsticks.
My favorite sporty anti-chap lip color
Sun Bum, purveyor of surfers' and divers' sunscreens, has ventured into makeup, specifically Tinted Sunscreen Lip Balm SPF 15. Easy-glide and sweat-resistant, this lip protectant has enough pigment to qualify as a lipstick-light. Infused with coconut oil, it gives off an immediate coconut scent (which quickly dissipates). And keep in mind, if it's good enough for big-wave surfing, it'll be good enough in blustery winds. Among the range of five everyone-can-wear neutrals, my favorite is browny-red Raisin Hell. This one, too, is ideally applied with a lip brush. As for the tube, its woodgrain surface puzzled me until Tom Rinks, Sun Bum's founder and president, explained that it "was 100 percent inspired by the mid-century-modern furniture designers Charles and Ray whose style was insane." Not what I was expecting — but I like it.
My favorite (sheer) in-a-pot anti-chap lip color
For instant creaminess combined with near translucency that's fingertip-swoopable out of a little glass jar (making resistance impossible), I turn to all-natural RMS Lip Shine — made with certified organic coconut oil, cocoa butter, and nutrient-rich buriti oil. This one's got good staying power. Gold-tinged, berry-toned Enchanted is my shade of choice, though I wouldn't say no to plummy Trance and caramel Moment.
My favorite (rich) in-a-pot anti-chap lip color
Also beckoning in a little glass jar, Lip Whip by Kari Gran, with the consistency of dense pudding, just begs to get swiped onto my lips. Even a tiny bit of this naturally derived cream deposits rich color and immediate flaking relief. Must be the multiple oils it contains — castor, sunflower seed, camellia seed, and olive — with a kicker of peppermint oil to create an instant buzz. Ruby-red Suji and hazy pink Cinnamon are standout shades.
The Strategist is designed to surface the most useful, expert recommendations for things to buy across the vast e-commerce landscape. Some of our latest conquests include the best acne treatments, rolling luggage, pillows for side sleepers, natural anxiety remedies, and bath towels. We update links when possible, but note that deals can expire and all prices are subject to change.