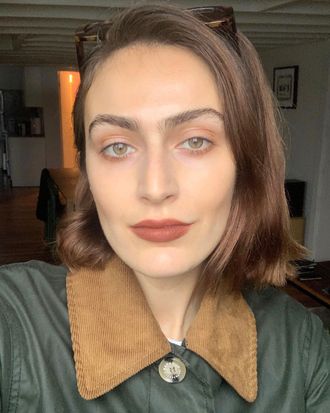 There are few beauty looks I adore more than bare, fresh skin and a classic, brown-toned '90s lip. While celebrities like Drew Barrymore, Cindy Crawford, and Naomi Campbell cemented the brown, bitten lip into the beauty hall of fame, Gen Z starlets like Gigi Hadid, Zendaya, and Kylie Jenner have done their part to keep the trend alive.
The other day, I was scrolling through my Instagram feed and a photo caught my attention. It was a shot of up-and-coming actress Cleopatra Coleman for 1883 Magazine — she had beautiful, glowy, clean skin paired with the most gorgeous, deep-brown lip. I squealed. And immediately messaged the makeup artist behind the look, Dana Delaney, asking if she could share the products she used. She said she'd be delighted. "There's something about the neutrality and effortlessness of the look," she said. "It just makes you look like you're not trying too hard. Which is always cool." Below: all the products she used (and some I used in place of ones she suggested that I didn't have) to create what is, in my opinion, a totally and completely perfect '90s-inspired look.
Skin
Since Dana was going for a '90s feel, she wanted the skin to have a demi-matte finish. For that, she used the Shiseido SynchroSkin. The foundation, she explained, has medium, buildable coverage and gives the skin a great matte base.
I, however, used Cover FX's Foundation to re-create the look. Typically, I'm more of a dewy-skin girl. But in the spirit of the '90s and Dana's vision, I decided to use the only matte foundation I really know and love. This foundation is medium coverage, lightweight, and buildable, and it makes my skin look smooth and poreless. I will definitely be using it more frequently now, for special occasions or nights out when I want a little bit more coverage than usual.
Cheeks & Eyes
Since this editorial was really about the lip, Dana wanted to keep cheeks and eyes minimal but still wanted to ensure there was some depth in both places. She kept it super-simple and used her fingers to tap some Milk Makeup Contour sticks in both Baked and Blazed along Coleman's cheekbones and eyelids. I loved that Dana decided to use this product, as it's one of my all-time favorites for subtly bronzing the skin and warming up the eyelids.
Though Dana used a matte foundation to get that classic '90s velvety skin, she still wanted to give Coleman a youthful, lit-from-within glow. In order to achieve this in the most natural way possible, she wanted to use a highlighter that had no shimmer or sheen. So she tapped the clear, balm end of Pat Mcgrath's Skin Fetish Balm + Highlighter duo along the cheekbones.
Instead of Pat McGrath's, I used Tower's 28 Balm, which is much cheaper and is also what I reach for when I'm hoping to achieve that dewy, glazed look with zero shimmer. Not only is this product easy to use and not overly sticky, it also contains healing ingredients like chamomile and green-tea extract, which means it's soothing on dry, scaly winter skin.
Brows
Dana wanted a natural yet full look for the brows. So she brushed them up with Soap Brows (if you need a reminder: This means you rub a wet spoolie into a clear, glycerin soap, then brush your brows up with it). The result is a fuller, more dramatic appearance.
Dana then filled in Coleman's sparse bits with Glossier's brow flick in both black and brown.
Lip
Dana said that her top two '90s lip inspirations are Lisa Bonet and Fran Drescher in The Nanny. She also told me that the number-one, single most important rule when creating a '90s lip is to choose a product that is both ultra matte and tonally nude. She explained that tone is everything with this look: It can't be so dark that it looks vampy, and it can't be so light that it looks pinky or muted. Dana also mentioned that earthy true browns tend to be the most universally flattering. "A lot of lipsticks parade as browns but they have too much red in them," she said. "It's difficult to find a true earth-tone brown, but M.A.C has by far the best selection I've found. My go-to is to mix two matte M.A.C lipsticks — Consensual and Derrière."