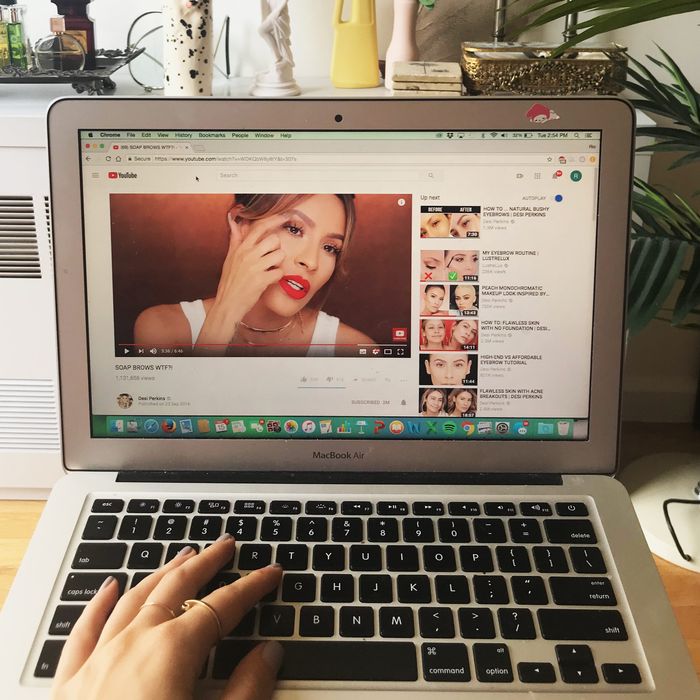 The author, watching YouTube videos.
Photo: Rio Viera-Newton
YouTube beauty gurus can convince me to buy practically anything. The ones I watch religiously are Desi Perkins, Gothamista, and Lisa Eldridge, and their unmatched enthusiasm combined with the live-action results (there's none of the is-that-Photoshopped skepticism I get on Instagram) make it difficult to resist impulse buying anything they demo.
The downside, as always with impulse shopping, is that I've bought a few things I'd categorize as complete and utter trash. Like the self-tanner suggested by a very popular YouTuber that turned me a bright shade of orange — I'm still haunted and traumatized by it.
But over the course of dozens (hundreds?) of hours of YouTube beauty videos, I've honed a few tricks to avoid repeating the Self-Tanner Disaster of 2016. The hero rule is to only take recommendations from people who have the same skin type and issues as you. The second is to try to not fall victim to impulse buying by waiting until you've heard the beauty blogger mention the product in question at least twice. This one especially matters with skin care: Often the recommender might think a product was great, but then she'll realize down the line that her skin improvements had to do with a diet change or improved hydration. The third rule is, it's always smart to look at product reviews on Sephora and MakeupAlley.
This system has led me to my most beloved products: I don't know who or what I'd be without my Tarte Shape Tape (recommended by Alissa Ashley) or my Neogen PHA pads (recommended by Gothamista). Below, you'll find the products that YouTube beauty bloggers made me buy, and that I've loved (and repurchased).