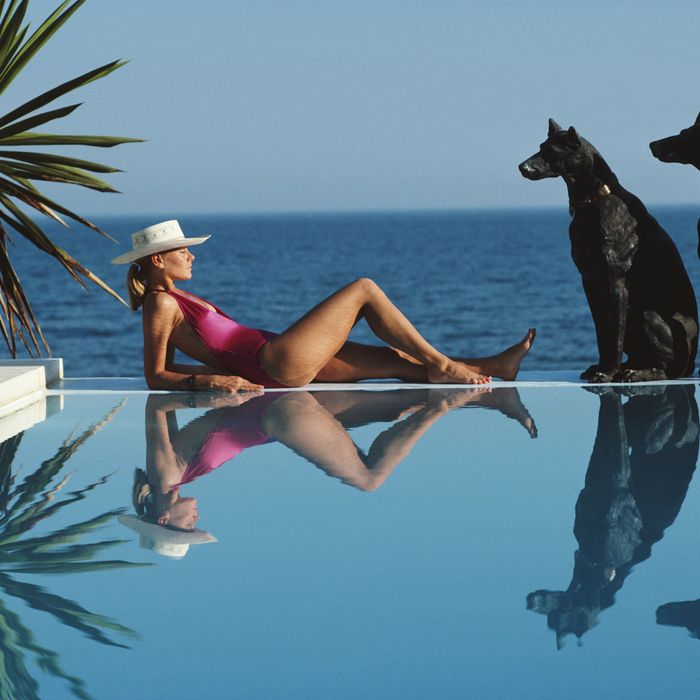 Photo: Slim Aarons/Getty Images
Here at the Strategist, we like to think of ourselves as crazy (in the good way) about the stuff we buy, but as much as we'd like to, we can't try everything. Which is why we have People's Choice, in which we find the best-reviewed products and single out the most convincing ones. (You can learn more about our rating system and how we pick each item here.)
And while we've written about lots of sun-care products before — including the best product to fake a tan, the best natural sunscreens, and the best facial sunscreens — here, we've rounded up the best self-tanners, as praised by the most enthusiastic reviewers on Amazon.
Best-rated self-tanner
Photo: Copyright: Jon-Paul Davis, all moral rights asserted.
Over 4,000 reviewers granted this self-tanner five stars because, as one explains, "it goes on evenly and sinks into the skin quickly. It also doesn't rub off on clothes, sheets, upholstery like other sunless tanners." Others say it's very easy to apply, including one reviewer who claims they'll be wearing it all summer long: "It really works, looks natural, and lasts if you read and follow the directions." Another reviewer who explicitly "does not tan," uses the "idiot-proof" Fake Bake to gain a light, summer glow, writing, "I'd argue that, when used properly, this is the best sunless tanner. The color guard in combination with the mitt makes sure I get every single square inch of my body, no streaks. It dried in minutes, and I was able to dress quickly. The liquid develops into a wonderful brown (not orange) color, and it was even and believable." A few complained that they didn't love the mitt for application, saying it was a bit awkward to use, but one reviewer, who says she's so pale her stomach "just blinds people," found the mitt helpful, noting, "I find it helps me get an even, streak and blotch free application. This is the lowest maintenance sunless tanner I've ever used. It doesn't feel like a chore."
Best-rated (less expensive) self-tanner
"Natural glow" is how many are describing their tan after using this lotion. "Self tanners can be risky when you're super fair skinned, but this stuff is perfect for me. Rarely get lines or streaks (usually my own fault for sloppy application) and it gives a great, natural glow," writes one reviewer, who swears, "Will use this over and over — if they discontinue, I'll cry. Literally." Many gravitate towards the natural formula, saying it's tough to find a self-tanner that isn't loaded with chemicals, especially for those with sensitive skin. One reviewer sums it all up, writing, "Quick toasty color that deepened with repeated use. Zero orange tones. Blended beautifully and was easily absorbed — no streaks or crease marks. Gentle on my sensitive skin … And the cost was phenomenal, given that so many tanners are in the $30 to $50 range."
Best self-tanner wipes
"Easy" is a word that comes up in hundreds of reviews of these self-tanner wipes, with one customer calling them, "ridiculously easy to use" with "no mess, no stains, no problem." That reviewer adds, "This gives you that bronzy sun goddess vibe with just one application." Reviewers who find typical self-tanner too difficult to apply evenly appreciated this wipe-on option. "If you're worried about self spray tan being streaky, this is a much more reliable option. Not streaky and also light enough that you can build over several days instead of instantly turning orange," boasts one. Many love how natural this bronze looks, and as one reviewer explains, "No one should go into a tanner or lay in the sun. Period. But we all want that sun-glow kiss. This product will do that. Very happy. Yes, I miss the warmth of the sun but I can feel the warmth still layered in sunblock and hats."
Best (less expensive) self-tanning wipes
"I have used these tanning towelettes for years and I'm a huge fan," says one reviewer. "They give a very natural looking tan … not orange or fake looking like a lot of other products I've tried." Dozens also praise it for being easy to apply. "Honestly this one is the easiest with the least mess and least risk of any mistake with the application," writes one reviewer, while another says, "It is foolproof and gives realistic natural looking color quickly." These wipes are also long-lasting, and reviewers report actually reusing them over the course of couple days. "Once or twice lightly over my arms, legs and face gives the best results," one reports. "I often use only half-a-sheet at a time saving the other half tightly wrapped for one to two days later."
Best self-tanner mousse
Reviewers were impressed with how much cleaner and easier this mousse is to use than self-tanners in a spray bottle. "The mousse is very easy to apply and I love that you can see it instantly, so you know where you should rub in more or where to add more. It blends very nicely," comments one reviewer. Another reviewer who admits she has a "tanning obsession" but stopped regularly tanning due to skin cancer risk and the expense never found a self-tanner she loved until this one, writes, "It was so easy to put on and dried really fast (unlike the self sprays I've tried in the past). And it looks so natural. I'm not disappointed at all and I already know I'm going to order another bottle when this one gets low." Many even felt it was completely transfer-proof, like one who writes, "I've gone to sleep with this stuff on wearing a white t-shirt and the t-shirt does not get any color on it, so I know it doesn't come off. My tan lasts for about a week, sometimes a little longer."
Best (less expensive) self-tanner mousse
"This is hands down the best tanning method I have ever used," writes one user about this self-tanning mousse. "I've even canceled my tanning membership because this makes me tan faster, is healthier, and looks completely natural." Another compares the results to that from the aforementioned (and more expensive) St. Tropez mousse: "It is slightly darker than the St. Tropez and it goes on just as easy and is streak free," they write. "I put it on one leg and the St. Tropez on the other leg and they both looked great" though she estimates the St. Moriz is about "10 percent" darker. And while many reviewers are impressed by how well this self-tanner applies, at least one is also impressed by the way it fades: "My tan lasted for about a week with no re-application and showers every day as well as swimming in the ocean and pool. It faded gracefully with no splotches at all."
Best dark self-tanner mousse
"If you are a naturally bronzer person, or just looking for a darker tan, USE THIS, not the original," says one reviewer, and more than 15 percent of reviewers praise this darker-toned self-tanner from St. Tropez for delivering a dark tan without the orange look. "It is a bit unnerving seeing it on your skin at first because it makes you look like you're a little dirty but once you rinse off it makes your skin look bronze and tan without the 'orange' look," one says. Many chalk this up to the formula's green undertone, which counteracts any hints of orange. And even when being used over and over, it doesn't get too aggressive. "I apply it three times per week first and then do once to twice the next week to maintain the really dark color I like," one explains.
Best (less expensive) dark self-tanning mousse
"For someone who is white enough to scare Casper the friendly ghost, I no longer look like a Victorian-era sick person on her death bed," thanks to this dark tanning foam, according to one reviewer. They add that it's "So easy to use, spreads well, no fake look, does not leave streaks or that dreaded orange color." The fact that this formula is dark not only helps with a long lasting deep tan — "It gives a nice, deep olive tan and it lasts quite a long time, typically eight to ten days at least for me" — but it also helps with the application process. "I love that that foam is dark, so that you can see where you're applying," one explains. Its lack of discernible odor is another selling point, along with the fact that it doesn't transfer easily. "It doesn't smell, it doesn't leave stains on the bed when you sleep, my clothes that had the tan residue are cleaned, and you can't even tell, the tan lasts for me about four to five days," a reviewer concludes.
Best self-tanner for face
People love that this self-tanner gives a natural, healthy looking glow to their face without being labor intensive to apply. One who describes it as "goof-proof" writes, "There's no way to get unflattering streaks and blobs of color, because it takes two days to see even the mildest hint of color, and the glow you get is so sheer that it would disappear in a day or two without even a weak scrub." She concludes, "It's great if you typically detest self-tanners, or have had mishaps in the past, because this can't be screwed up even if you try." Many even use this as an everyday moisturizer, not just for tanning purposes, like one who writes, "I like that it isn't a heavy moisturizer, and it gives my pale face a hint of color. It doesn't make me look overly tan or fake." One reviewer with sensitive skin even felt this worked for her, writing, "I have acne-prone skin and I use this as a moisturizer on top of my acne product. It doesn't make me breakout."
Best self-tanner serums
Customers bought this tanning serum to bronze their face without putting a typically thick, creamy lotion onto their skin. "This is by far the best facial self-tanner I've ever used. It doesn't smell, it didn't streak and didn't look fake at all. It feels nice and light without being greasy. It soaks into the skin immediately. It also didn't clog my pores either," boasts one. Another with sensitive skin felt she could even use this, writing, "I use this at night and wake up with the most beautiful natural tan and hydrated skin. I have sensitive skin and everything makes my skin flare up, however, this product is natural and gives me a nice sun kissed without irritation." Another astute shopper notes that the serum not only "smells good and glides on your face" to give you "a light bronze color" but also is "an anti aging product with certified organic oils and extracts rich products to help reduce the appearance of fine lines and wrinkles." As she says, it's a "win-win."
About one-fifth of reviewers love the glow this serum gives. One reviewer calls this, "the best face tanner I have ever used," because it's "not blotchy, and you look like you have a glow, not like a scary orange alien." Another adds, "It goes on very smoothly, doesn't make my face either greasy or dry throughout the day and hasn't caused any breakouts." And even though one says the "serum goes on clear," many report it still gives their skin a nice tint. One reviewer, who "mix[es] it with my moisturizer daily," says, "It makes my skin noticeably more tan."
Best natural self-tanner
Almost 3,000 reviewers gave this self-tanner five stars, and over 1,000 of them rave about the natural ingredients and the natural-looking glow. A holistic esthetician boasts about this product: "I love that they use real, organic ingredients and that I can feel confident recommending it to my clients (which I absolutely do). Aside from the ingredients being the best, the color I get is incredible and I love that it's buildable if you want to get a darker tan." Another reviewer diagnosed with lupus explains that she can't naturally tan in the sun anymore and needs "to use natural products." She loves this self-tanner because "it maintains my tan while making my skin feel moisturized and allows it to fade in a more natural way. I highly recommend it for anyone that wants a chemical free product." Another felt the organic ingredients were a perk, but overall, just loved the results, like one who writes, "The bronze color is very natural looking. I am very fair, and it looks really good. I actually look naturally tan with this stuff."
Best instant self-tanner