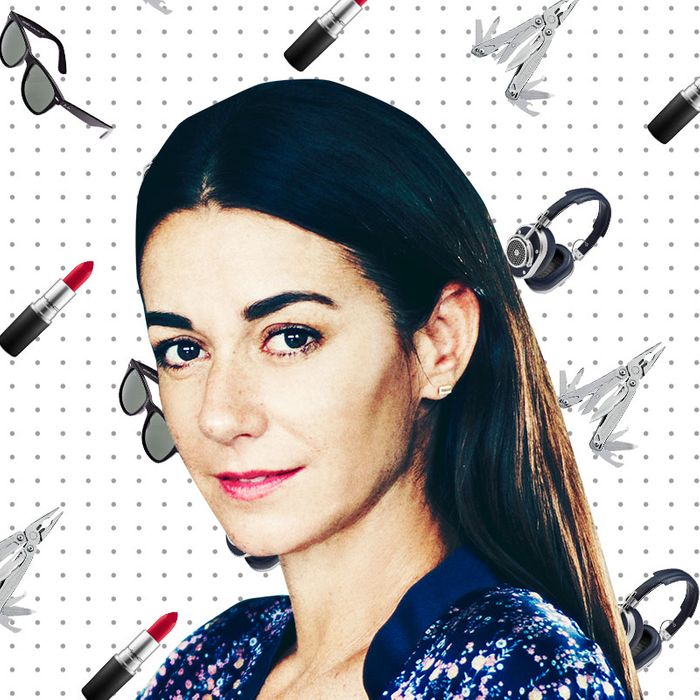 Photo: Courtesy Marie-Louise Scio; retailers
If you're like us, you've probably wondered what famous people add to their carts. Not the JAR brooch and Louis XV chair, but the hand sanitizer and the electric toothbrush. We asked Marie-Louise Scio, the CEO and creative director of Pellicano Hotels, about the diary, lip balm, and multi-tool she can't live without.
Growing up, my mother basically only wore her hair pulled back — she would do a chignon — and she always looked put together. I don't think I look as put together as she did, but I always wear my hair up in a ponytail; I have since I was 6. And I go bananas if I don't have an elastic band. The very, very thin ones are completely useless, and really thick ones aren't good because they're not elastic enough. Then there's the medium-sized elastic ones, like these. When you put one on your wrist it won't cut your circulation — another important point. I have long brown hair, so I wear black or brown hair ties to camouflage the band as much as possible.
Sound is very important to me. I am a big music fan — I like electronic, classical, '60s experimental, like Terry Riley. And I love rock. So I like good-quality audio. Master & Dynamic I think makes some of the best headphones. These are "noise-isolating," so you just hear literally what is playing. I discovered them at the Edition Hotel in London, where I found some in my room. I didn't know of Master & Dynamic then; I used to use Sennheiser headphones, but now I stick to these. Mine are blue and silver. They feel great; they're heavy, but a lot of over-ear headphones are heavy. You put them on and you're kind of in your zone.
It's unbelievable, but I write what I need to do in two places: on my phone, and in my diary. The latter especially for when I'm in my office and doing my to-do list, so I can cross it out. The Portobello diary has all the days of the month and the week, and lined paper at the back for writing notes or doing sketches. I like the paper: It's really thin and it makes a noise kind of like that of Air Mail paper — it's crunchy. There's just something about writing on it. I only write with a ballpoint pen because it makes a specific sound on the paper; it crumples in a certain way. The sound and the paper quality is really something special. I keep these; I have a whole shelf. My father gives them to me for Christmas every year. He has my initials put in, it's sweet.
I always have my Smythson, and I always have a book. There's something about a physical book — I like taking notes in the book, underlining it. I tend to keep my books and I like to go back to them. I think a physical book creates that bubble, that space — like the headphones. If you're reading on your phone, you're getting emails and all that. It's nice to feel paper and the thickness of a page; there's something romantic about that. Signs I found via Chelsea Handler's Instagram account. She posted about it, and I'm a firm believer that one doesn't actually leave this world, but stays in a form of energy, so was really curious about the book. So far, it's great. I'm still reading — I always have less time to read than I want.
I'm really sensitive to synthetic smells. I go bonkers walking through the duty-free section at airports because of the smell. This lip balm doesn't have any artificial smell; some people love it, some people don't. I think it's a sign of quality that it's not overloaded with extra stuff your skin doesn't need. I discovered Biologique through a friend of mine, then I put its products at the spa at one of our hotels — that's how I found the lip balm. I really am a lip-balm fanatic and now have a hard time going back to anything else. I'm a fan of regular Chapstick, but this is a bit richer than that, and has a bit of gloss. It's extremely good, extremely natural, smells real and actually lasts. The consistency is like honey. I put a little bit on in the morning; it's immensely satisfying and lasts all day.
These work with anything — they're just super-classic sunglasses that you can wear with a tracksuit to the gym, or to a work meeting. I've been wearing Wayfarers forever. They're stylish but not precious. In terms of style, I like things that last — I'm not particularly into something that is trendy. I like clean shapes and forms and design that is durable, not seasonal. And sunglasses are so seasonal. Every summer there is the big pair of sunglasses that you see everyone and their mother wearing. Then they vanish. I'm just not into that.