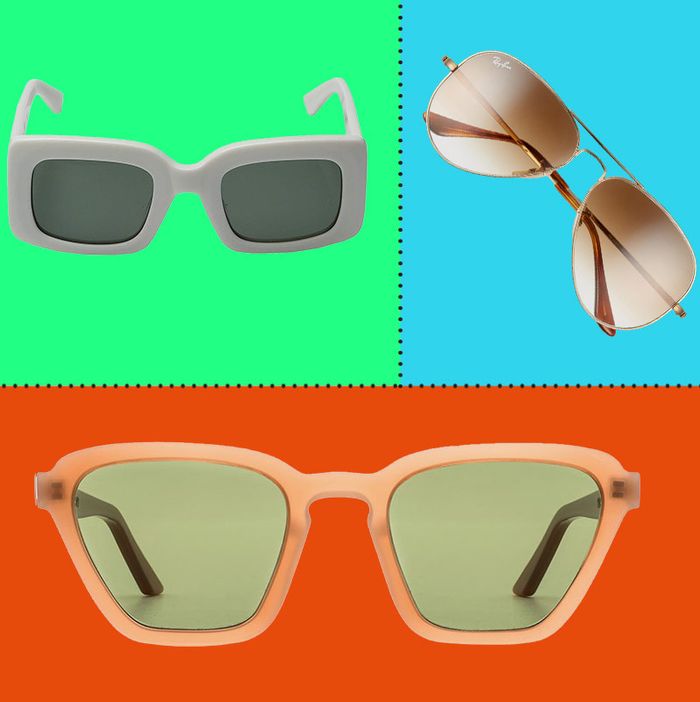 Some of the shades we love.
Photo: Courtesy of retailers
If you follow our monthly Strategist Haul, you're familiar with the idiosyncrasies of our editors' and writers' shopping habits. While we think of those as the highlights, there are plenty of other, less glamorous things we buy — and love — on the regular too. So whether you've wondered about the work bags we tote around or the underwear we're most loyal to, this is the Stuff We Buy Ourselves. In this edition, the sunglasses our editors will wear all summer long.
Liza Corsillo, writer
I have two pairs of sunglasses in rotation right now because sometimes I just want to protect my eyes and other times I want to look cute in a selfie on Instagram. These Ray-Ban Wayfarers in tortoiseshell are basic in the best sense of the word. They go with every outfit imaginable, from jean shorts to dressier stuff, and because they're such a classic style, they more or less disappear from view. When I'm wearing them, I easily forget they're on my face, which is high praise in my book. I've had my pair since 2015, and, despite a few scratches, they're in great condition.
For the times when I want to make more of a statement, I wear these white rectangular oversize shades from Raen — a sunglasses brand I love that recently started making optical frames as well. I have an oval face, and I've read and written enough about the most flattering sunglasses for different face shapes to know that these offset my rounded jawline nicely — also Rihanna has this exact pair!
Dominique Pariso, writer
I used to stick to cheap plastic sunglasses because I had a bad habit of losing them. But then one day while I was walking around, I found this pair of Ray-Bans on the ground, not a scratch on them. The cool part is that, while I never would've gone for this particular shape, when I popped them on my (very wide) face, they fit perfectly. I feel like after all the pairs I've lost, my sunglasses luck has finally balanced out. And I'm now doing my absolute best to hold tight to these.
Chloe Anello, junior writer
I'm extremely hard on my sunglasses. I leave them in my car for weeks on end, toss them into my bag without a case, and stretch them out by pushing them up on top of my head. I have also lost more sunglasses than I can count. Long story short, I typically buy only the cheap ones. But I wanted a pair that actually fit my face and were comfortable to wear for long periods of time, so I bought these. They're a classic, making the price tag completely worth it because I'll wear them for years (four and counting!) without feeling like they're no longer in style. I also love that they can be easily adjusted at any glasses store as soon as they stretch out (again making them worth the price). I'm even impressed with how clean they look after four years of constant use. I still purchase inexpensive pairs for high-risk events like a concert or the beach, but buying these was definitely a great decision.
Karen Adelson, writer
I reviewed these a few months ago (full disclosure: They were given to me by the brand), and I'm honestly a little surprised by how much I'm still using (and loving) them. You'd think the novelty of sunglasses that play music and give you walking directions from your phone via Bluetooth would wear off, but I really enjoy walking down the street in my own little sound bubble. With their Wayfarer-like style, they're also just good-looking sunglasses that don't call attention to themselves.
When I want to wear sunglasses and also be social, I'll go with these Warby Parkers instead. The tortoiseshell is very pretty, and they're the right size for my smallish face (the brand calls them "narrow"). They fit securely, too, so when I inevitably get sweaty in the sun, they're not sliding down my nose like other sunglasses often do.
Hilary Reid, writer
I've had these sunglasses for about five years now and actually got them for free: A friend modeled for Warby Parker and received a store credit for five pairs of glasses, one of which she generously gave to me. I chose these at the store, and they've turned out to be reliably neutral — they're never particularly in or out of style, and I haven't gotten sick of the tortoiseshell frames. When I needed prescription lenses, it was easy enough to have the old ones replaced, and when I had worn them until they were stretching out, I brought them back to Warby Parker, where an employee heated the nose bridge with a tool that looked suspiciously like a crème-brûlée torch and bent them a little, and now they fit perfectly again. My only complaint is that I wish they protected more of my eye area — so I have my sights set (sorry) on another pair of neutral tortoise frames: the Del Rey from Garrett Leight, which cost more than twice as much as the Warby Parkers but are elegant and well made and seem like a worthy splurge.
Jenna Milliner-Waddell, junior writer