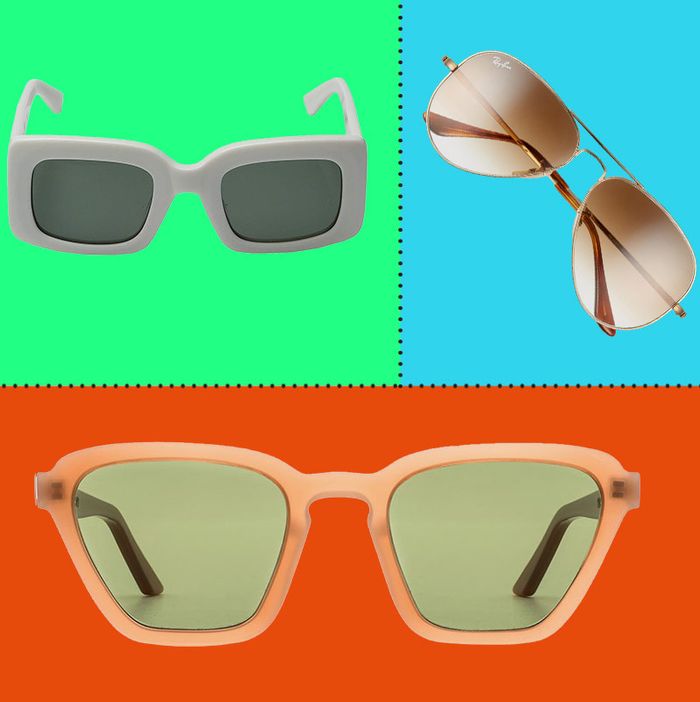 Some of the shades we love.
Photo: Courtesy of retailers
If you follow our monthly Strategist Haul, you're familiar with the idiosyncrasies of our editors' and writers' shopping habits. While we think of those as the highlights, there are plenty of other, less glamorous things we buy — and love — on the regular too. So whether you've wondered about the work bags we tote around or the underwear we're most loyal to, this is the Stuff We Buy Ourselves. In this edition, the sunglasses our editors will wear all summer long.
Liza Corsillo, writer
I have two pairs of sunglasses in rotation right now because sometimes I just want to protect my eyes and other times I want to look cute in a selfie on Instagram. These Ray-Ban Wayfarers in tortoiseshell are basic in the best sense of the word. They go with every outfit imaginable, from jean shorts to dressier stuff, and because they're such a classic style, they more or less disappear from view. When I'm wearing them, I easily forget they're on my face, which is high praise in my book. I've had my pair since 2015, and, despite a few scratches, they're in great condition.
For the times when I want to make more of a statement, I wear these white rectangular oversize shades from Raen — a sunglasses brand I love that recently started making optical frames as well. I have an oval face, and I've read and written enough about the most flattering sunglasses for different face shapes to know that these offset my rounded jawline nicely — also Rihanna has this exact pair!
Dominique Pariso, writer
I used to stick to cheap plastic sunglasses because I had a bad habit of losing them. But then one day while I was walking around, I found this pair of Ray-Bans on the ground, not a scratch on them. The cool part is that, while I never would've gone for this particular shape, when I popped them on my (very wide) face, they fit perfectly. I feel like after all the pairs I've lost, my sunglasses luck has finally balanced out. And I'm now doing my absolute best to hold tight to these.
Chloe Anello, junior writer
I'm extremely hard on my sunglasses. I leave them in my car for weeks on end, toss them into my bag without a case, and stretch them out by pushing them up on top of my head. I have also lost more sunglasses than I can count. Long story short, I typically buy only the cheap ones. But I wanted a pair that actually fit my face and were comfortable to wear for long periods of time, so I bought these. They're a classic, making the price tag completely worth it because I'll wear them for years (four and counting!) without feeling like they're no longer in style. I also love that they can be easily adjusted at any glasses store as soon as they stretch out (again making them worth the price). I'm even impressed with how clean they look after four years of constant use. I still purchase inexpensive pairs for high-risk events like a concert or the beach, but buying these was definitely a great decision.
Karen Adelson, writer
I reviewed these a few months ago (full disclosure: They were given to me by the brand), and I'm honestly a little surprised by how much I'm still using (and loving) them. You'd think the novelty of sunglasses that play music and give you walking directions from your phone via Bluetooth would wear off, but I really enjoy walking down the street in my own little sound bubble. With their Wayfarer-like style, they're also just good-looking sunglasses that don't call attention to themselves.
When I want to wear sunglasses and also be social, I'll go with these Warby Parkers instead. The tortoiseshell is very pretty, and they're the right size for my smallish face (the brand calls them "narrow"). They fit securely, too, so when I inevitably get sweaty in the sun, they're not sliding down my nose like other sunglasses often do.
Jenna Milliner-Waddell, junior writer
I don't even like sunglasses. I often find them to be distracting, not effective, and, worst of all, another thing I have to be responsible for. That said, I have nothing but love for my Karen Walkers. They're one of the few pairs I've owned that actually do their job, i.e., block the sun. Online, they're described as having the "everyday practicality of good UV protection and high sun-glare reduction," which I thought was the basic qualification of any sunglasses. But apparently, these are a rare find. In addition to blocking the rays, they're pretty stylish and timeless, and I plan on wearing them for years. These are definitely expensive but very sturdy, and the price point motivates me to take the best care of them.
Anthony Rotunno, senior editor
Anyone who wears prescription glasses every day knows the struggle that is finding sunglasses come the warmer months. Your options range from bad (spending a couple hundred bucks on a prescription pair you'll wear only a few months a year) to worse (keeping a set of contact lenses on hand to put in during those few hours when you want to wear nonprescription sunglasses). And both still require toting two pairs of glasses and their cumbersome cases around, since you'll always need to put on your regular glasses when you take your sunglasses off or your contacts out. That's why a few years ago, I invested in these Garrett Leight frames: You can buy a pair of tinted clip-on lenses to attach to them when you want to block the sun. They fit over your prescription lenses, so there's never a need to take those off, and they come with a small case for protection when you're not using them. The circular frame shape is classic, too, so unlike trendier pairs, these will always be in fashion. The exact style of Wilson frame that I — and by sheer coincidence, deputy editor Jason Chen — have seems to be no longer made, but this gold-and-tortoise combo is a worthy alternative and, more important, would look just as good with the clip-on lenses.
Katy Schneider, associate editor
I bought these little oval sunglasses in Mexico City last month because I lost my other, more rectangular pair from a Berlin-based company that I cannot for the life of me remember the name of somewhere in my own apartment. I should note that the pricing here appears to be in pesos — they're about $45, not $900. Now I kind of want them in tortoiseshell, too!
[Editor's note: Viavanilla no longer makes these sunglasses, but their Bimba style is nearly identical and available in two colors — dark brown and a tortoiseshell-esque pattern — for $65.]
Simone Kitchens, senior editor
I'd been wearing a pair of metal frames for the past year, but then my friend's company, Lowercase, did a collab with Nu Swim and I was back on resin. This shape sort of satisfies the lingering cat-eye moment, but the flat lenses are actually my favorite detail. And while I usually lean more tortoiseshell, this muted "tobacco" shade looks equally good when you are pale in the spring and less pale in the early summer.
David Notis, writer
Moscot no longer seems to make the frame I have — the Tummel in tortoise, 45 cm — but this one is really similar. The brand does still make the Tummel in black, but only in 42 cm or 49 cm widths, so this 46 cm Gelt frame felt like the closest spiritual match.
My original frames were a gift from a friend; he found them lying around, I forget where, and thought I might be into them. I should note that these nice Moscot frames, left behind somewhere for my friend to find, had clear nonprescription lenses in them. (There's some poetic justice to the whole thing, maybe, because it's pretty uncommon for someone to lose glasses, I think — if you actually need them to correct your vision, you're going to notice if they're not on.)
Anyway, I loved the look of them, but they were a little too loud for everyday glasses. (I confirmed this after sending a few selfies to trusted friends and confidants). But I did think they might work well as sunglasses, so I brought them to Moscot and for something like $65 they popped out the clear lenses — ahem — and installed dark ones.
The Strategist is designed to surface the most useful, expert recommendations for things to buy across the vast e-commerce landscape. Some of our latest conquests include the best acne treatments, rolling luggage, pillows for side sleepers, natural anxiety remedies, and bath towels. We update links when possible, but note that deals can expire and all prices are subject to change.