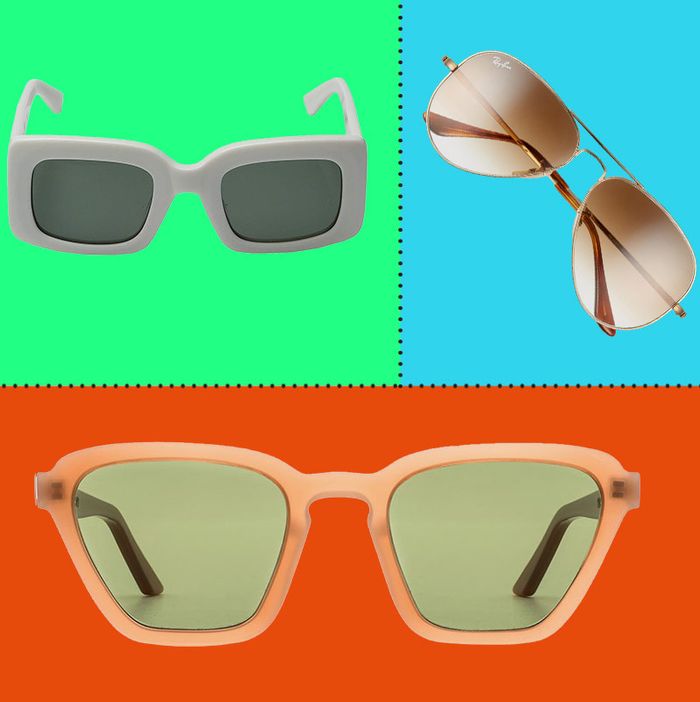 Some of the shades we love.
Photo: Courtesy of retailers
If you follow our monthly Strategist Haul, you're familiar with the idiosyncrasies of our editors' and writers' shopping habits. While we think of those as the highlights, there are plenty of other, less glamorous things we buy — and love — on the regular too. So whether you've wondered about the work bags we tote around or the underwear we're most loyal to, this is the Stuff We Buy Ourselves. In this edition, the sunglasses our editors will wear all summer long.
Liza Corsillo, writer
I have two pairs of sunglasses in rotation right now because sometimes I just want to protect my eyes and other times I want to look cute in a selfie on Instagram. These Ray-Ban Wayfarers in tortoiseshell are basic in the best sense of the word. They go with every outfit imaginable, from jean shorts to dressier stuff, and because they're such a classic style, they more or less disappear from view. When I'm wearing them, I easily forget they're on my face, which is high praise in my book. I've had my pair since 2015, and, despite a few scratches, they're in great condition.
For the times when I want to make more of a statement, I wear these white rectangular oversize shades from Raen — a sunglasses brand I love that recently started making optical frames as well. I have an oval face, and I've read and written enough about the most flattering sunglasses for different face shapes to know that these offset my rounded jawline nicely — also Rihanna has this exact pair!
Dominique Pariso, writer
I used to stick to cheap plastic sunglasses because I had a bad habit of losing them. But then one day while I was walking around, I found this pair of Ray-Bans on the ground, not a scratch on them. The cool part is that, while I never would've gone for this particular shape, when I popped them on my (very wide) face, they fit perfectly. I feel like after all the pairs I've lost, my sunglasses luck has finally balanced out. And I'm now doing my absolute best to hold tight to these.
Chloe Anello, junior writer