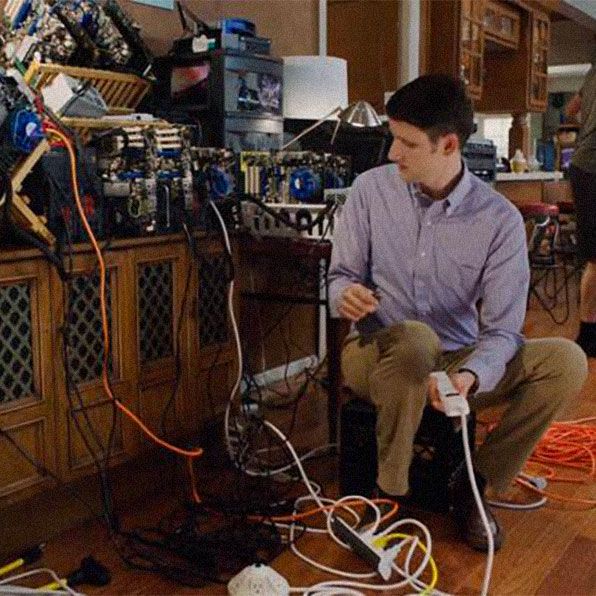 Here at the Strategist, we like to think of ourselves as crazy (in the good way) about the stuff we buy, but as much as we'd like to, we can't try everything. Which is why we have People's Choice, in which we find the best-reviewed products and single out the most convincing ones. (You can learn more about our rating system and how we pick each item here.)
And while we've written about lots of home tech — including the best cable modems, computer graphics cards, and external hard drives — here, we've rounded up the best Wi-Fi routers, as praised by the most enthusiastic reviewers on Amazon.
Best-rated Wi-Fi router
With over 14,000 positive reviews, this WiFi router gets top marks for speed. "Our speeds are excellent," one reviewer writes, while another claims, "I almost doubled my speeds." One reviewer even says, "This is the first router where I get almost identical speeds as if I were connected to wire." Users are also impressed by how many devices they can use with this router without losing performance and how strong the signal is. "We have a four-level house with the router in a bedroom in the upper floor which has always meant I got little-to-no signal in my man cave located in the basement," one user writes about their life pre-Netgear, but they rave, "Now I have not only a signal in my man cave but fast service at that!" They continue, "The signal travels down three flights of stairs and turns three sharp corners but it somehow finds my laptop down there."
Lots of reviewers also praise the Netgear app that makes this router easy to setup. "You download the app and it sets it up right from there, no pc connection required," one says. Another writes, "I like the fact that I can reboot my router if I ever need to from my smartphone. Let that sink in for a moment…I don't have to spend five minutes on my hands and knees trying to find the right cord to unplug wait 60 seconds then plug it back in."
Best-rated (less expensive) Wi-Fi router
According to one reviewer this travel router is "essential SHTF prepper gear." They describe it as their go-to device for power outages, saying "just last week during a 7-hour power outage powered by a USB power bank I had my internet up and running during the entire power outage." In addition to emergency situations, frequent travelers say this comes in handy. "I bought this router for use as a hotspot/range extender for my hotel room during travel," one writes, adding, "I just used it for a long 10-day stay and it was wonderful." They add, "We had our laptops, cell phones, tablets and nVidia shield all connected without any issues."
In addition to hotel stays, users have found other creative ways to use this router like this one who put it in their car. "My main purpose for purchasing this router was to set up an 'internet-less' mobile WiFi network in my vehicle for long road trips," one writes, adding, "Now, everyone in the vehicle can connect to the laptop 'server' via this router and enjoy the movie of their choice on their phones or tablets. Really cuts down on the incessant 'Are we there yet?'"
And now for some micro-picks for every Wi-Fi router you might be looking for.
Best Wi-Fi router for VPN
Reviewers describe this router as pretty much a plug-and-play option. "It has all the functionality it needs right out of the box for someone who wants a great router but doesn't necessarily want to do a completely custom set up," one reviewer writes. Another says, "Setup was flawless." In fact, they add, "Actually, there was no 'set-up.' I plugged it in, accessed it wirelessly on my phones and laptop, tapped in the new access code, and we were up and running." The built-in VPN is another commonly cited feature among reviewers."I bought this to work with ExpressVPN," one writes, adding, "The set up was straightforward and easy. I was able to load ExpressVPNs software and have it protecting my web traffic in about 15 minutes." Another says, "I like the built-in VPN features so there's no need to flash the router." One user who calls this the "Bugatti of routers" says it's great for gaming as well. "Netgear claimed this router was designed for gamers and wow were they right," they say. "So, now my son can play with as many players he can have over without a problem. The next big gain was on signal. Now I get full bars even way out in my garage! There is no place in my home where I don't have the best possible signal."
Best Wi-Fi router for a smart home
Reviewers love that this router is easy to setup and comes with an app, which allows for "firmware updates and checking connections," one reviewer writes. Another describes the unit as "quick and easy to install, and I'm getting the most out of my gigablast service now." Many also praise how well this works with their smarthomes, with one saying it "handles my whole smart home and nest cameras with great streaming Wi-Fi capabilities." Dozens also comment on this router's range, as well, like this reviewer who says, "This router gets to the corners of my 19th century, 4-story row house."
Best dual-band Wi-Fi router
"The difference since installing the NETGEAR AC1200 is like night and day," one reviewer writes comparing this model to their old router. "Not only is my signal now reaching out to my apartment parking lot with relatively good strength, but the my upload and download speeds are out of this world compared to before." Another calls it "the fastest internet I've ever experienced." Dozens of reviewers call out both the dual-channels for their speed. "I needed better signal strength and this router range is great for the 5 GHz signal and I have full strength on my devices throughout my 2,400 square foot house," one writes, adding "Range for the 2.4 GHz signal is reasonable and I still get good signal throughout my house." Another notes, "The 5GHz connection made streaming with my Fire TV Stick a breeze with fast startup and no random buffering and the 2.4GHz connection makes surfing on my laptop so much faster."
Best Wi-Fi router for gamers
Reviewers use words like "monster" and beastly" to describe this Wi-Fi router, which hundreds of reviewers say is perfect for gamers. "If you are an online gamer, this router is God's gift to you and should be revered as such," one writes. They also report "not one shred of lag or buffering on any of the 15+ devices connected (security cameras, Thermostat, xbox, Apple TVs, phones, laptops, lights, echo, etc.)." Another multi-device reviewer says, "We also have about 30+ devices connecting at any given time of day and have always had issues with lag spikes in games too… Not anymore." Users specifically call out this router's Duma operating system as a top feature. "The Duma software is great and easy to configure and set up the way you want it to," one user says. "The range is significantly improved over the previous unit we used and the Duma OS software offers unrivaled network customization options with an appealing and easy to use interface," another notes. It's customizable feature is particularly helpful for gamers as one points out "being able to select which devices get priority for games, and even which game to optimize for network play is just bonus."
Best Wi-Fi router with parental controls
One reviewer "purchased this solely for the Parental Controls aspect," though it's certainly a popular feature for many reviewers to control kids' screen time. "The parental controls feature is exactly what I wanted," one writes. "I can block internet access for my kids' devices at night, so they don't spend all night on the internet." Another says, "I'm able to add parental control and cut off the internet from kids devices — find this very useful and easy to do." When users have this device in full effect however, they are impressed by the connectivity and speeds, with one even saying, "I have 17 devices in my house that can connect to the internet and it isn't too uncommon for 8 of them to be connected at once with up to 5 of those streaming a movie or video game." They add, "So far this one has handled that volume with no problems." In terms of range, one user claims "My phone picks up the Wi-Fi signal half a city block down."