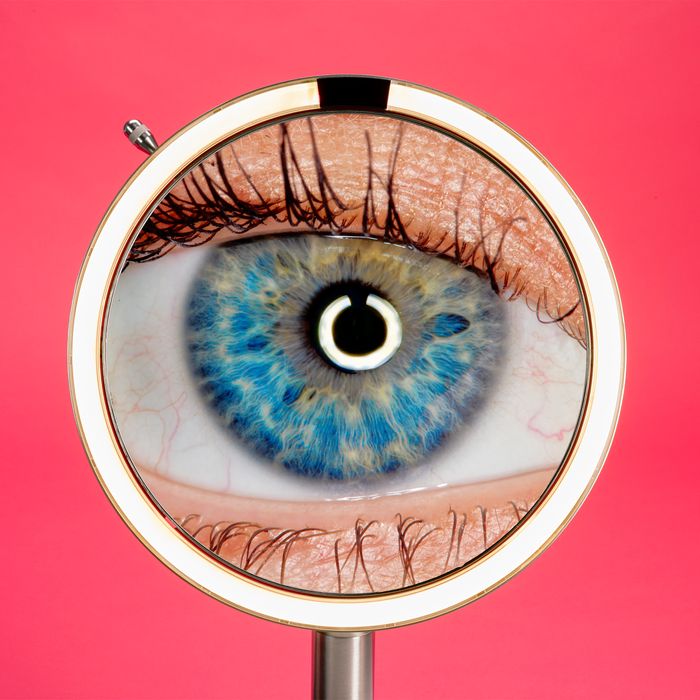 Whether you're going for a natural daytime makeup look, applying fiddly false lashes, or attacking the tiniest stray hairs with your tweezers, a lighted makeup mirror will help make sure you step outside looking like the very best version of you. With so many options currently on the market, we talked to makeup enthusiasts and professionals alike to find out which lighted makeup mirrors are the most likely to give you a flawless finish.
Best overall | Best less expensive | Best trifold | Best Hollywood-style | Best travel-friendly | Best compact
What we're looking for
Type of light: The intensely heated incandescent lightbulbs surrounding backstage dressing-room mirrors are mostly a thing of the past. The majority of lighted makeup mirrors today — including all of the mirrors on this list — use LED lights, which are more energy-efficient and offer more versatility. Some mirrors have lights built in under the glass, emitting a calmer, softer light that's ideal for natural daily makeup. They can also emit a range of light temperatures that serve different purposes: A warm light is best for applying makeup for a night out or candlelit dinner; a daylight setting is best for applying makeup for brunch or outdoor activities; and a cool light is best for a day spent in an office or classroom. Some makeup mirrors will allow you to toggle between light temperatures to suit a variety of looks and situations.
Energy source: Lighted mirrors can be battery-operated, rechargeable, or plug-in, which affects how portable the mirror is. If you plan for your mirror to take up permanent residence on your vanity, one that needs to be connected to an outlet might not bother you. But if you intend to move your mirror around or travel with it, battery-operated or rechargeable options are your best bet.
Shape and size: Makeup mirrors can either be wall-mounted or freestanding, and come in a variety of shapes and sizes, including circular, oblong, rectangular, and trifold. The one you choose really just depends on personal preference, but you should also keep in mind your available space and how much room you want the mirror to take up — from a small corner of your desk to the full span of your vanity.
Magnification: Makeup mirrors come in different magnification levels, from 2x to more than 10x, to let you get up and close and personal and ensure that every aspect of your makeup is picture-perfect. Most mirrors provide a standard reflection with no magnification as well as an additional magnification between 2x and 5x, which is enough to offer a more precise and detailed view but not so much that your image becomes distorted. Mirrors with 10x magnification or above are best suited for extremely detailed work, such as intricate eyeliner art or brow tweezing.
Additional features: Makeup mirrors have gotten high-tech! There are some that feature integrated speakers, phone chargers, and phone stands, some that dim and brighten when you touch them or automatically light up when you approach, even some that can analyze your skin. Additionally, like any electronic device, your lighted mirror could potentially break or stop working, so you may want to consider whether a warranty policy is in place (especially since some can get expensive).
Best overall lighted makeup mirror
Natural daylight, candlelight | Rechargeable | Circular, 8" | 1x, 5x, and 10x magnification | Automatic motion sensor, touch-control, 5-year warranty
Furnished with a host of features, this elegant (and expensive) Simplehuman mirror is the Tesla of lighted makeup mirrors. The double-sided design gives you three different magnification options; one side offers a true-size standard reflection as well as a small 10x magnified window that is perfect for precise detail work, while the other side offers 5x magnification that "illuminates all the nuances of makeup application," according to Strategist senior editor Crystal Martin, who owns a single-sided model of this mirror that is only equipped with 5x magnification. Both models are outfitted with a sensor that turns the light on "automatically when you get within a few inches of it."
When it comes to the light itself, Simplehuman's "Tru-Lux" technology simulates sunlight's full color spectrum so closely that when it's on, it's "just like looking at yourself in the natural sunlight … And everyone knows, if you look good in the sunlight, you look good everywhere," says Martin. In addition to the daylight temperature, you can also switch to a softer, warmer candlelight temperature if you're doing your makeup for a night out. Lightly running a finger along the rim of the light allows you to dim and brighten the light output, so you can ensure your makeup is color-correct and appropriate for any and all occasions.
Best (less expensive) lighted makeup mirror
Natural daylight, soft white, neutral white | Rechargeable | Oblong, 9.5" | 1x magnification only | Touch-control, 2-year warranty
For those who don't feel a need for extra bells and whistles and just want a mirror to get the job done, Fancii's Vera mirror is a sleek, attractive option that's budget-friendly and beloved on social media. In fact, Cortne Bonilla, branded content manager at Vox Media, first noticed the mirror in the background of a TikTok video and immediately messaged the creator to ask where it was from. "It's very minimal and chic and looks very nice on my counter," Bonilla says. "I love the light for doing eyeliner, brows, plucking hairs. It just makes everything so much easier." Though this mirror doesn't offer any magnification, it does come with three dimmable light temperatures: a soft warm white, a cool neutral white, and a natural daylight setting that Bonilla credits for helping her do her daytime makeup better and cover dark spots on her skin more effectively.
When testing this mirror myself, I found its elongated oval shape to be a distinct plus, as it allowed me to check out my entire profile from the chest up; while circular mirrors were better for providing tight close-ups of my face, the Vera's extended length reflected my entire head, neck, and shoulders, so I could use it to dust some highlighter on my décolletage or curl and straighten my hair as well.
Best trifold lighted makeup mirror
Natural white, warm white, cool white | Battery-operated or plug-in | Trifold, 7.7'" x 3.2" | 1x, 2x, 3x, and 10x magnification | 90-degree and 180-degree rotation
A trifold mirror, while typically bulkier than regular mirrors, lets you view your face from various side angles in addition to head-on. This Easehold mirror comes with four magnification levels (regular, 2x, 3x, and 10x) and holds the distinction of being the top-rated makeup mirror among Amazon reviewers, with over 8,500 five-star reviews praising its rotational abilities and multiple light settings. "The vanity design is very efficient; I can see all sides of my face so I won't miss a spot!" one reviewer enthuses. "[It's] a perfect size and it doesn't take up much space." Another agrees that viewing multiple angles of your face at once is very helpful: "The side mirrors (which assure you see your flaws from the side too) work great for me in managing my piercings," they say. "I [also] wax my eyebrows with it. Tweeze the stray hairs. Apply makeup. The wings fold in so it's thin and easy to store." It comes with three dimmable light temperatures (daytime, office, and evening) that are "bright but not glaring, and they don't distort or filter skin tone or makeup coloration," according to a third reviewer. "The mirror is the perfect size for my dining room table sized dressing table. I use it off to my right with my 10x mirror off to my left, and between the two, there's nothing going on here without me knowing about it!"
Best Hollywood-style lighted makeup mirror
Natural daylight, warm white, cool white | Plug-in | Rectangular, 29" x 19" | 1x and 5x magnification | Touch control, 1-year warranty
If you want to feel like a glamorous old-Hollywood movie star, this mirror from Impressions Vanity mimics the look of lighted dressing-room mirrors — with some contemporary touches. While the mirrors of yore were studded with incandescent bulbs, this one uses LED bulbs, saving energy and allowing you to switch between natural, cool, and warm lighting. The company also offers a multitude of sizes and designs, from $100 tabletop mirrors to over-$1,000 full-size vanity mirrors, so you can choose one that best fits your space and budget.
Makeup artist and content creator Liv Reese initially bought a smaller model that could fit in her makeup case, but loved it so much that she upgraded to this larger Tri-Tone Plus version. "It has feet, so it can sit on your vanity, or you can anchor it to your wall. There's also a button in the middle to dim the brightness," Reese explains. "Because I shoot content all day, every day ,and at different times of the day, depending on what natural light I'm getting, I'll adjust it."
Some larger vanity mirrors from this brand also come with features such as a digital thermostat, so that you can apply an extra blast of setting spray if it's a hot day out, and Bluetooth connectivity and speakers, so that you can listen to your favorite playlist or podcast while getting ready. Content creator Trinity Nicole sprang for her "dream vanity," Impression Vanity's nearly 45-inch-long Hollywood Premiere Pro Vanity Mirror, and "is absolutely in love with it!!" She reports that the speakers "are loud and clear" when she's listening to music while doing her hair and makeup and that the mirror is so big that she can see nearly her entire outfit in it. "It gives off a very luxurious vibe to my bedroom," she adds. "I feel like a princess in my mirror!"
Best travel-friendly lighted makeup mirror
HD daylight | Rechargeable | Rectangular, 9.5" x 13" | 1x and 5x or 10x magnification | Adjustable stand, magnetic phone clip, Bluetooth functionality, 1-year warranty
For jet-setters who are frequently doing their makeup away from home, the Riki skinny mirror is "so slim that it looks like an iPad," according to Monique Jayme, a prestige beauty adviser at Ulta Beauty — she even uses a laptop case to carry it around. "I like how sleek and skinny it is and how much space it saves." The Riki's lightweight, rectangular silhouette was also a plus for makeup artist and content creator Stefanie Fritz, who wanted a mirror that was "more modern and streamlined." She only needs to charge it for a few hours, and then she can just "put it on the counter for a client or to film, and I don't have to carry around any cords with me."
Instead of a solid band of light, the Riki has dots of light all around its perimeter — but that doesn't mean that the light it emits isn't powerful. When Jayme takes photos or films videos, she uses this mirror as a de facto ring light "because it's so bright … Even the first setting itself is already bright. I usually don't go higher than that because it would be blinding!" she says. Though the brightness can be adjusted between five different stages, it's only available in one color temperature: the slick, high-octane lighting often seen in vlogs and makeup tutorials. That may also explain why it comes with a magnetic phone holder and built-in Bluetooth connectivity for streaming and selfie-taking — rather than awkwardly maneuvering to press buttons on your phone, you can hold the mirror in front of your face for the most flattering angle, then press the "camera" button in the lower right-hand corner. I'm not planning to start a YouTube channel anytime soon, but I did use the mirror to take photos of my clothes for Depop; the mirror and stand adjusted easily, the phone holder was very convenient, and the photos came out bright and clear, almost as if they were taken in an actual studio. I'd say the Riki would be a great choice for those who are frequently on the go or who have influencer aspirations.
Best lighted compact mirror
Natural daylight | Rechargeable | Compact, 4" | 1x and 10x magnification | Automatic shutoff, 2-year warranty
Maybe you don't need to carry around a full-blown makeup mirror, but you still want a lightweight and portable mirror that will help with touch-ups here and there. A lighted compact mirror, such as the Fancii Mila mirror, can be tucked into "literally anything," according to makeup artist and content creator Roxanne Latulippe. "It fits in my makeup bag, it fits in my smaller purses. I carry it everywhere with me." The top mirror has normal magnification while the bottom mirror has 10x magnification, and the light will automatically turn off when you snap it shut. It also comes with a velvet pouch to protect it from scratches. Latulippe has carried this compact mirror around with her for over two years, and it "still works amazing," she says. "If you really take care of it, it's going to last you a really long time." I tested the compact by bringing it along on a night out, and it was perfect for fixing my smudged eyeliner in a dark club bathroom. Though its longevity remains to be seen, it was bouncing around in my bag through several hours of dancing and emerged without a scratch.
Some Strategist-approved makeup organizers to keep your makeup safe
Our experts
• Cortne Bonilla, Vox Media branded content editor
• Crystal Martin, Strategist senior editor
• Liv Reese, makeup artist and content creator
• Monique Jayme, prestige beauty adviser at Ulta Beauty
• Roxanne Latulippe, makeup artist and content creator
• Stefanie Fritz, makeup artist and content creator
• Trinity Nicole, content creator
The Strategist is designed to surface the most useful, expert recommendations for things to buy across the vast e-commerce landscape. Some of our latest conquests include the best women's jeans, rolling luggage, pillows for side sleepers, ultra-flattering pants, and bath towels. We update links when possible, but note that deals can expire and all prices are subject to change.
Every editorial product is independently selected. If you buy something through our links, New York may earn an affiliate commission.