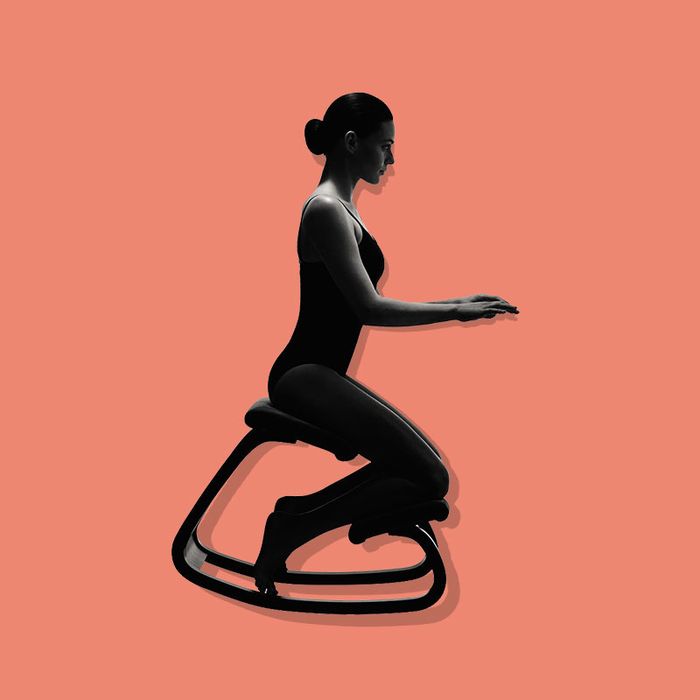 The expensive Norwegian one rocks, but the cheap version runs on casters.
Photo: Retailer
Editor's Note: This article first appeared on the Strategist in February 2017, and over three years later, it remains an example of a product that does what it's supposed to do — exceptionally well. So we're republishing it today as part of Ingenious Design Week.
You've probably read all the alarmist literature about how bad sitting is for you, how it might (nay, will) kill you. Maybe you got moderately worried and make semi-regular attempts to walk around every hour. Maybe you got terrified and bought a standing desk, used it for two days, and then permanently plopped back down.
I was one of those people. I tried standing for a while, but got achy in a weird way that was more tedious than it was painful, and quickly gave it up. I'd forgotten about the endeavor by the time I went to a party at a friend's house and caught sight of a fire-hydrant-size piece of upholstered furniture. It sort of resembled Pilates equipment, or something you might find at a Waldorf school. It was somehow at once wholesome and totally perverse. "What is that?" I demanded.
"It's a kneeling chair!" my friend answered, and then proceeded to demonstrate how one squats into it: rear elevated, knees lowered, posture made perfect. I got on (in?) myself and didn't get up for the rest of the night. I just sort of wheeled around, drink in hand.
I bought one the next day, and have been kneeling ever since. The original kneeling chair was designed by a Norwegian (of course), and can still be found online in various fabrics and pale wood. You can also get a cheapo version made of plastic and polyester, which is ugly but ergonomically just as good. I really recommend either of them. Unlike a regular chair, the shape forces you to engage your core, and naturally keeps your spine upright. Your back muscles strengthen, and circulation improves. Sure, the chair makes you look like an industrious frog, but you'll never get back pains again. Of course, it also makes for a nice conversation piece. Anything that forces a hostess to assume a physically humiliating position for the edification of her guests is good in my book.
The Strategist is a new site designed to surface the most useful, expert recommendations for things to buy across the vast e-commerce landscape. Some of our latest conquests include the best notebook, black T-shirts, fashion-editor-approved jeans, toothbrush, and apartment décor. Note that all prices are subject to change.

If you buy something through our links, New York may earn an affiliate commission.